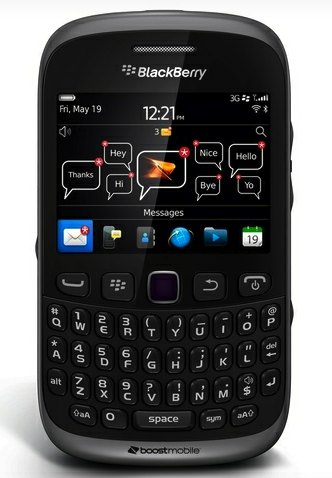 New in the 9300 series is RIM's entry-level Curve 9310 smartphone, which comes with OS 7.1 pre-loaded. The Curve 9310 is a small phone, just as it has always been but as usual it has just the right key size, travel, and click response. The 2.4-inch LCD screen has no touch capability but has WiFi, a 3.2MP camera, expandable storage, and exceptional battery life. 
The Curve 9310 on Boost Mobile has reasonable plan pricing. It starts at $45 per month for unlimited voice, texting, and BBM which is almost half of Verizon's base plan for its Curve 9310. Another good thing on Boost: your price goes down as you pay your bills on time $5 every six months, until 18 months in, at which point you're paying just $30 per month. What a great deal. Do keep in mind however Boost runs on Sprint's national network, which isn't quite as strong as Verizon's and the 3G data speeds.
The Curve 9310 is fairly simple to navigate, with basic apps to keep you busy. It's still great with push email. The Curve 9310 is still GPS enabled on Boost, but there are no preloaded GPS apps.
This is considered to be the "cheap" phone of the RIM product line. It's certainly a bargain at $99.99 outright with a pre-paid Boost Mobile plan or $49.99 with 2-yr agreement on Verizon Wireless.