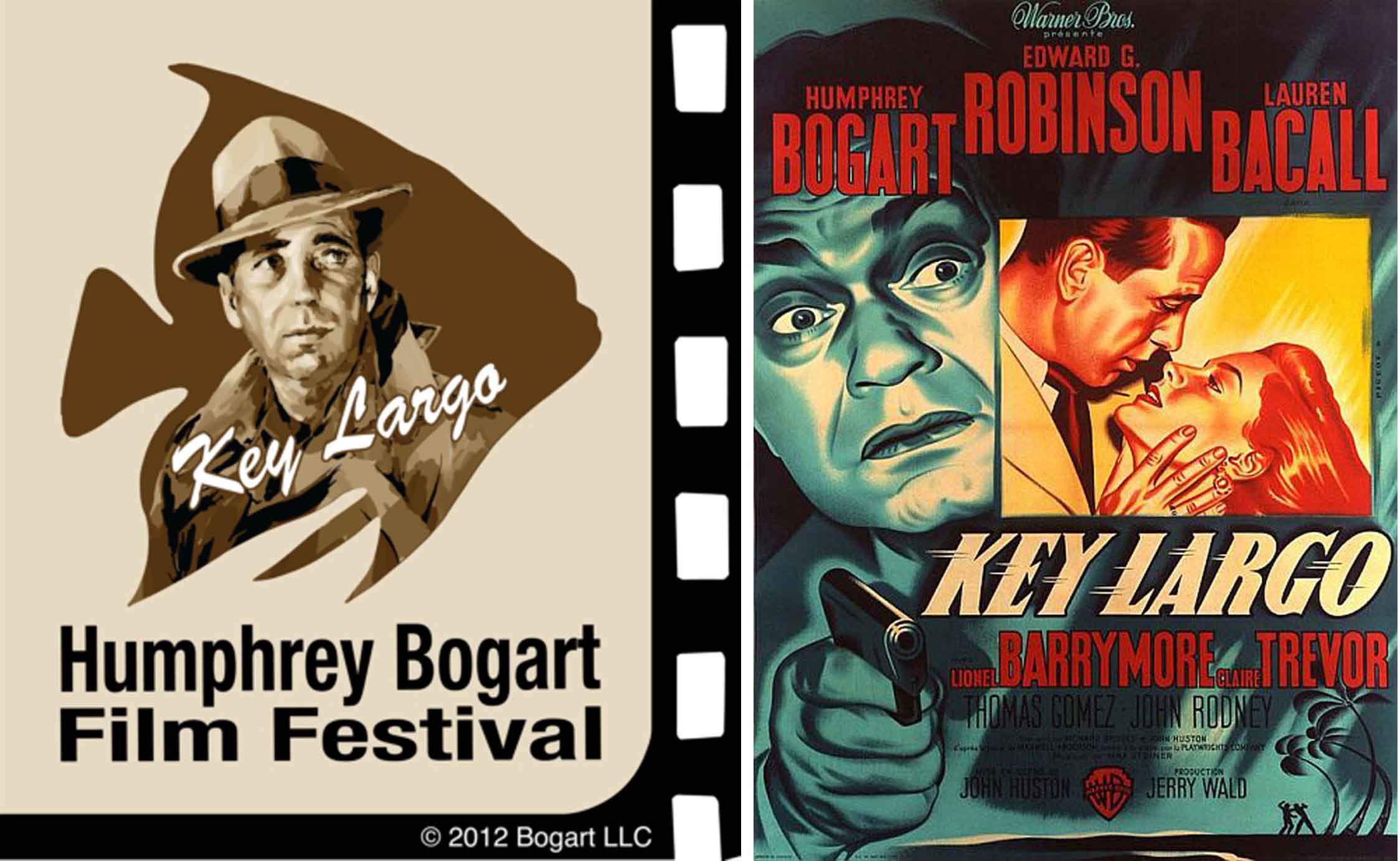 "I think this is the beginning of a beautiful…" film festival. The Humphrey Bogart Estate and the Key Largo Chamber of Commerce have created an annual Humphrey Bogart Film Festival in honor of the cinematic legend.

"We have long been looking for a natural home for a family-backed Bogie film fest, and we believe there is no better place than Key Largo," said Stephen Humphrey Bogart, son of the iconic performer and his Key Largo co-star, Lauren Bacall.  "My father and mother starred in 'Key Largo,' and the actual boat from 'The African Queen' is here in Key Largo.  It just feels right to honor my father and his movies in this beautiful place, which has such an organic connection to his legacy."
Each year, the Humphrey Bogart Film Festival will screen a rotating selection of Bogie classics and a group of movies centered around that year's theme.  There will be a formal Bogart Ball, an outside screening of Casablanca, a display of Bogart memorabilia, question and answer sessions with Stephen Bogart, and tours on the fully-restored African Queen.  Additional festival elements will be announced as the inaugural event continues to take shape.
"Part of the reason the festival is being announced now is that the Bogart Estate would love for Bogie fans to play a role in creating the festival," said Robbert de Klerk, managing partner of Bogart LLC, the entity through which the Bogart Estate manages Bogie's legacy.  "Fans can visit the festival website at www.bogartfilmfestival.com to vote for the Bogart movies they'd like to see on the big screen.  Soon, fans will also be able to buy tickets, hotel packages, and merchandise on the site.  All of us are excited to welcome the first group of Bogie fans to Key Largo in May 2013.  We plan to work hard to make sure the Humphrey Bogart Film Festival becomes an annual must-see event in Key Largo."
"It feels great to welcome Humphrey Bogart back to Key Largo," said Russell Yagel, who led the effort of the Key Largo Chamber of Commerce to bring the Bogart Film Festival to Key Largo.  "In 1948, Humphrey Bogart starred in 'Key Largo.'  Now, 65 years later, for Key Largo to become the home of the only Bogart Estate-backed Humphrey Bogart Film Festival is just wonderful."