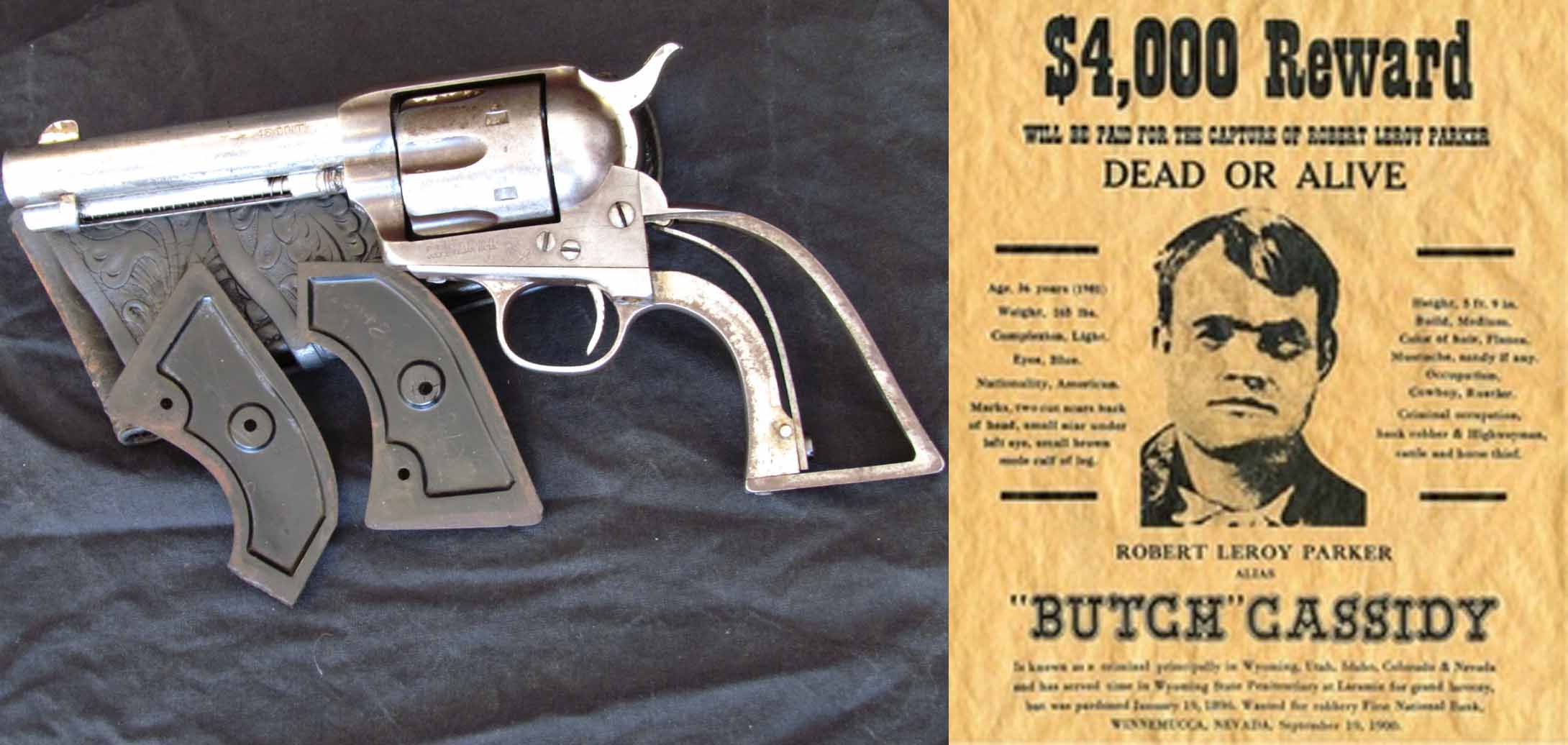 There is a definite passion for collecting authentic American outlaw memorabilia. Historical items connect us to the past and iconic figures. In June 2011, the last remaining original tintype portrait of Billy the Kid sold at auction to famous businessman Bill Koch for a staggering $2.3 million after a bidding shootout. 
A new auction kicks off with a bang on September 30th, 2012 in Ventura, CA. Get ready to walk ten paces and draw your auction paddle! Santa Monica consulting firm RMK Services will be teaming up with California Auctioneers to put up a Colt .45 Revolver (serial no. 158402) for auction. Documents verify its ownership to be none other than the infamous Butch Cassidy himself during the 1890s.
With the myth of American outlaws looming large, it seems that none looms larger in 2012 than Butch Cassidy's. Larry Pointer's controversial book Bandit Invincible: The Story of Butch Cassidy was released early this year, while a couple months later, Cassidy's great nephew, Bill Betenson, came out with his own book Butch Cassidy, My Uncle, providing an inside perspective on the man behind the myth. And, of course, we all know the 1969 film, "Butch Cassidy and the Sundance Kid" starring Robert Redford and Paul Newman.
Fate connected RMK Services CEO Aileen Riako Watanabe to the owner of Butch Cassidy's famous revolver and through her research, she has gathered invaluable information from sources like Bill Betenson, who appears as a guest in the upcoming documentary; an 87-year-old neighbor of the Cassidy family in Circleville, Utah and Donovan & Diane Cooper, her partners in research for the project.  RMK's most well-informed resource was Larry Pointer.
"The documentary and the entire set of documents support the undisputed fact that this weapon belonged to Butch Cassidy himself. We partnered with Red Sky Productions to make a short documentary about this incredible weapon.  We are hoping the gun will bring in bidders from all over the world. In my opinion, there has never been a gun linked back to Cassidy with so much recorded documentation," said Watanabe.
Now is your chance to take a piece of Cassidy's ever-expanding legend through owning his infamous Colt .45 revolver.