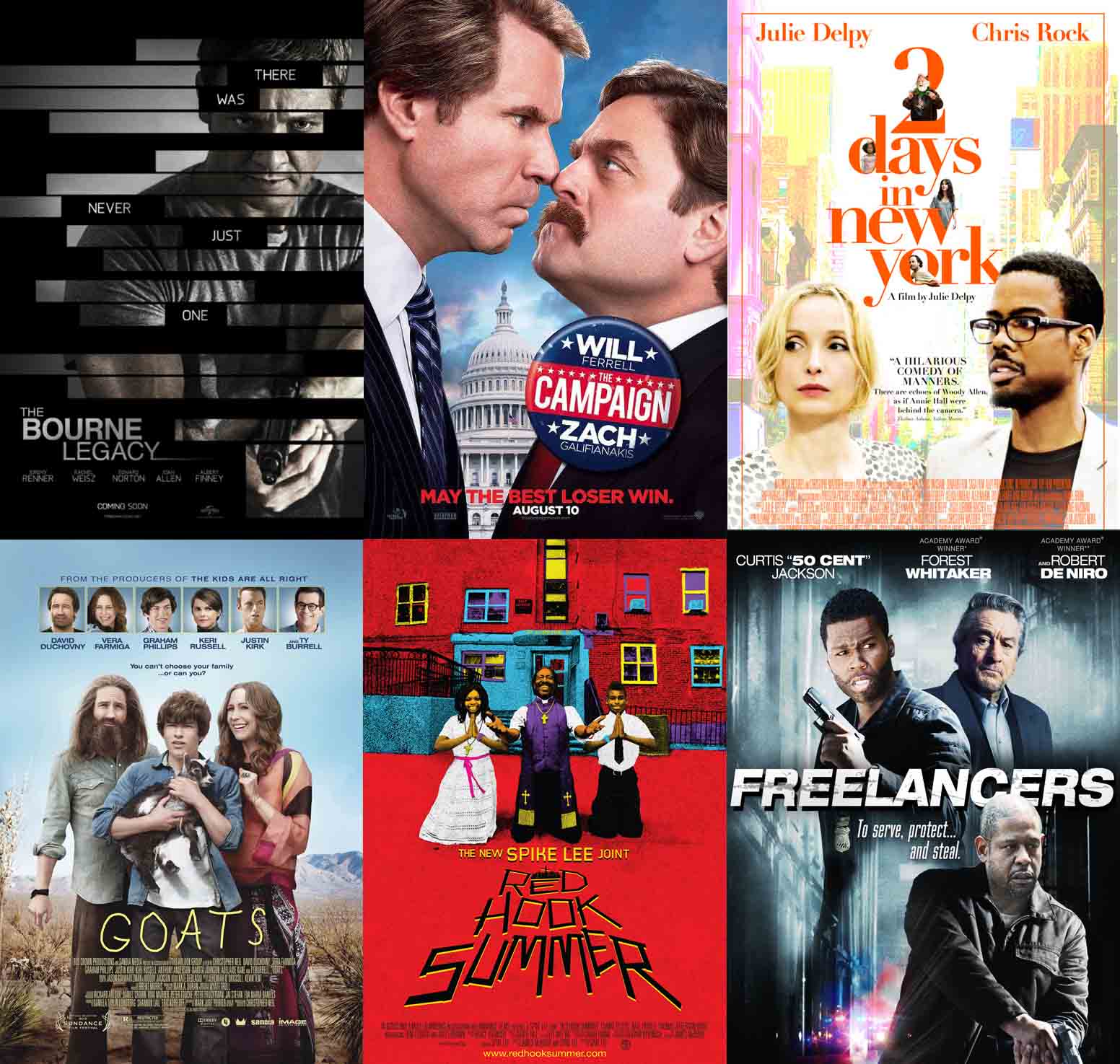 All films released 8.10.12

The Bourne Legacy
Jeremy Renner plays Aaron Cross in the latest edition of the high octane, globe spanning, Bourne Franchise. See review for a full story. http://www.thebournelegacy.net/
The Campaign
Will Ferrell and Zach Galifianakis play rival politicians in this political farce. See review for full story. http://thecampaignmovie.warnerbros.com/
2 Days in New York
Hip talk-radio host and journalist Mingus (Chris Rock) and his French photographer girlfriend, Marion (Julie Delpy), live cozily in a New York apartment with their cat and two young children from previous relationships. But when Marion's jolly father, her oversexed sister, and her sister's outrageous boyfriend unceremoniously descend upon them for an overseas visit, it initiates two unforgettable days of family mayhem. http://www.magpictures.com/2daysinnewyork/
Freelancers
The son of a slain NYPD officer follows in his father's footsteps by joining the same force and team of rogue "Gotham cops" as his Dad. His new boss, Sarcone (Robert De Niro), tests the new recruit in every facet to determine if he is worthy of joining his team. When the real truth behind his father's death is revealed, however, the need for revenge takes over and the new recruit won't cease until street justice has been fully served.
Goats
As Ellis (Graham Phillips) gets ready to leave his home in Tucson for his freshman year at an East Coast prep school, he has to learn to cope with separating from his scatter-brained, new age mother (Vera Farmiga) and the only real father he has ever known: Goat Man (David Duchovny).
Red Hook Summer
In Spike Lee's newest film, a middle-class boy from Atlanta (Jules Brown) finds his life flipped upside down as he spends the summer with his devout religious grandfather (Thomas Jefferson Byrd) in the projects of Red Hook, Brooklyn.