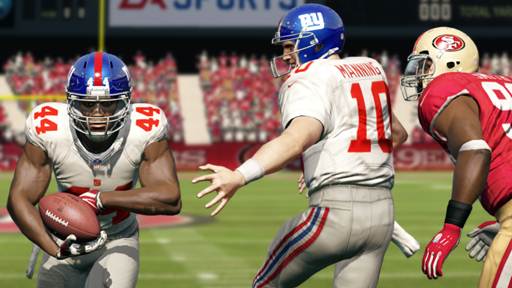 Football season starts early as fans can now download the free Madden NFL 13 (launching 8/28/12) demo through Xbox LIVE® and PlayStation Network®. Revisit the dramatic 2012 NFC Championship game as the New York Giants take on the San Francisco 49ers, featuring brand new Nike uniforms, or opt for a bicoastal matchup with the Seattle Seahawks vs. Washington Redskins in their classic Nike throwback jerseys. The demo will provide fans with the opportunity to dive into some of the new features of Madden NFL 13, including Total Control Passing, Ball Hawk and the highly anticipated debut of the Infinity Engine. Fans can also get their first taste of new commentary team Jim Nantz and Phil Simms in the 3-D broadcast booth.
The game delivers physics you can feel on every play, and will connect you to the NFL and other fans like never before. Powered by the all-new Infinity Engine, every impact on the field is more intense; every battle is more authentic; and no two plays will every look or feel the same.
This year the passing game has been completely revamped, with new features on both sides of the ball. Total Control Passing provides more options than ever, and allows quarterbacks to lead receivers away from coverage and into open spaces on the field. Conversely, opportunistic defenders can utilize the new Ball Hawk mechanic to aggressively attack passes in flight and attempt swats and interceptions. Ball Hawk rewards risk-takers with more spectacular defensive plays; but be careful, as missed attempts can lead to wide-open receivers and big plays for the offense.
Subscribe to EA SPORTS Season Ticket and Get More Out of Madden NFL 13
Available for $24.99, EA SPORTS Season Ticket offers subscribers several benefits across Madden NFL 13, NHL 13, FIFA Soccer 13, Tiger Woods PGA Tour 14, and NCAA Football 14. For more information, or to subscribe, please visit www.easports.com/seasonticket.