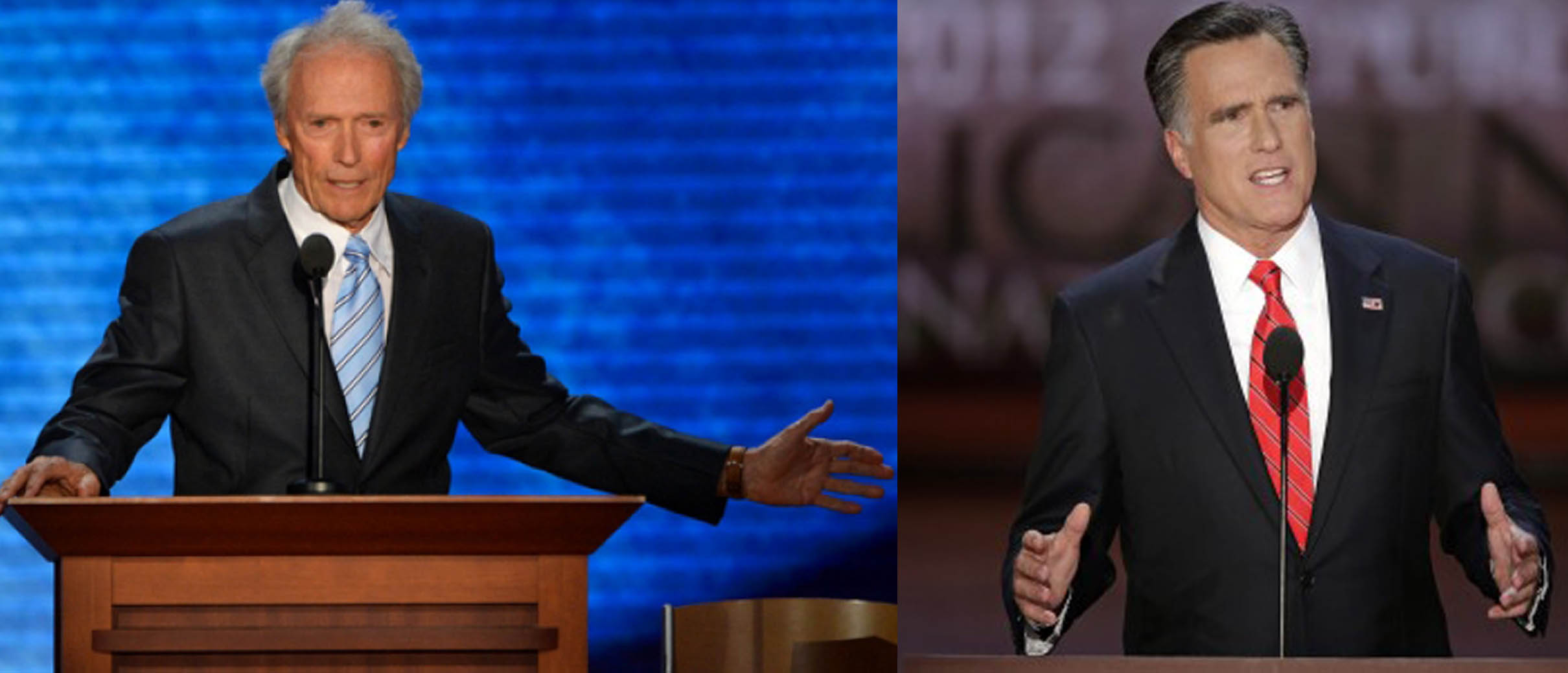 "Save a little for Mitt," Clint Eastwood said to the crowd as they cheered with grand applause when he took the stage on the final night of the Republican National Convention. Pointing out that the Democrats are known to be endorsed by Hollywood, he also reminded the viewers that there were a few "like-minded" Republicans in the entertainment industry. A surprise guest speaker had been announced, but no one expected the Academy Award winning director to take the stage. Appearing behind him was a very large silhouette on a red background representing one of his famous Western characters. It was quite obvious that he was not fond of President Obama while addressing himself to an empty chair. "We need someone else to come along and solve the problem," Eastwood said. "What do you mean shut up?" he asked Obama.
"Getting personal" with Romney was a clever move on the Republican party's part, so was having Eastwood give a speech. His presence could catch the attention of those who may have had no intention of watching. Naturally, this also stirred controversy with the media and the public. Therefore, mission accomplished. 
The Republican National Convention allowed those who may have been misinformed or disinterested in Mitt Romney, to get to know a little bit more about who he is, what he believes in and where he comes from. What we did know was that he was a Mormon and a wealthy businessman. How he got there, no one really knew. What we learned may have surprised some; his father was born in Mexico, his company was behind the success of Staples among others, he built his wealth on his own and his wife was not of Mormon faith when they first met. We learned of his family values, which came to light during Ann Romney's speech on the opening evening. She received a warm welcome from the audience and conquered the media.
The Romneys' seemed much more reachable than they were a week ago. Standing in a packed arena in Tampa, FL, Thursday night, Gov. Mitt Romney formally accepted the party's nomination for president. Though we detected some stage fright at the beginning of his speech, the Republican candidate promised to restore faith, strength and financial stability to the Country. His message, "We Believe In America" proceeded how he plans to reinstate the economy with his five step plan:
First, by 2020,North America will be energy independent by taking full advantage of our oil and coal and gas and nuclear and renewables.
Second, we will give our fellow citizens the skills they need for the jobs of today and the careers of tomorrow. When it comes to the school your child will attend, every parent should have a choice, and every child should have a chance.
Third, we will make trade work for America by forging new trade agreements. And when nations cheat in trade, there will be unmistakable consequences.
Fourth, to assure every entrepreneur and every job creator that their investments in America will not vanish as have those in Greece ,we will cut the deficit and put America on track to a balanced budget.
And fifth, we will champion SMALL businesses, America's engine of job growth. That means reducing taxes on business, not raising them. It means simplifying and modernizing the regulations that hurt small business the most. And it means that we must rein in the skyrocketing cost of healthcare by repealing and replacing Obamacare…
Romney repeatedly pointed out the people's disappointment in President Obama's performance. "But tonight I'd ask a simple question: If you felt that excitement when you voted for Barack Obama, shouldn't you feel that way now that he's President Obama? You know there's something wrong with the kind of job he's done as president when the best feeling you had was the day you voted for him," Romney said. He ended his speech by saying, "My promise is to help you and your family," as he was joined on stage by his running mate, Paul Ryan.
Of course, it all sounds good and we all want to believe in what can be done for all of us and our country. Now let's see what the Democrats have to say.
The Democratic National Convention will take place in Charlotte, NC from September 4th to September 6th, 2012.