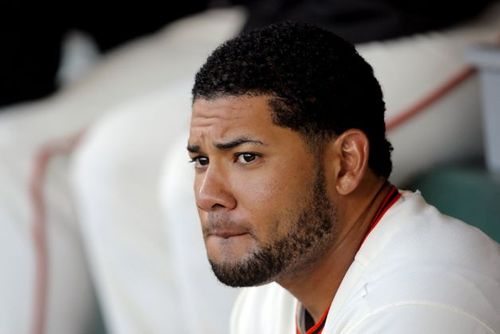 In an ideal world, athletes and celebrities alike would take responsibility for their mistakes. All too often, however, we are reminded that those in the limelight will go to great lengths to conceal the truth behind their gaffes in a (usually futile) effort to maintain a positive public image. Such is the case with star San Francisco Giant outfielder Melky Cabrera, whose scheme to justify a positive test for synthetic testosterone was recently uncovered by Major League Baseball (MLB) Investigators, the New York Daily News has reported.
Last week, when news of Cabrera's suspension broke, it was accompanied by a seemingly heartfelt statement by Melky accepting full responsibility for his actions.
"My positive test was the result of my use of a substance I should not have used," he said.  "I accept my suspension under the Joint Drug Program and I will try to move on with my life. I am deeply sorry for my mistake and I apologize to my teammates, to the San Francisco Giants organization and to the fans for letting them down."
How refreshing, right? Well, not so much.  Since that time, disturbing details have come to light about Cabrera's actions in the immediate aftermath of his failed test. According to the New York Daily News, before the public was notified about the positive test, Cabrera and his representatives mounted a campaign to avoid his 50-game suspension that included creating a fake website featuring a fake topical cream, which Cabrera then claimed inadvertently boosted his testosterone level, all in an effort to protect his image. This bizarre scheme was quickly uncovered by MLB investigators, however, and has now backfired in spectacular fashion.
The purpose of the scheme was to fool MLB and the players' union, while presenting them with the website and resulting phony product information, into believing Cabrera had ordered a supplement fraudulently spiked with testosterone, therefore causing the positive drug test. Players who test positive are allowed, as part of the collective bargaining agreement that covers MLB's drug program, to try and prove they ingested a banned substance through no fault of their own.
MLB Investigators, hot on the trail of Cabrera's elaborate ruse traveled to the Dominican Republic, acquired a jar of it and sent the substance to the World Anti-Doping Agency's testing labs in Utah. When the WADA told MLB that the substance did indeed contain synthetic testosterone, MLB's suspicions about the product's legitimacy were aroused, causing it to dig a little deeper. Several weeks later, after some excellent sleuthing, the website was discovered to be part of an intricate cover-up orchestrated by Cabrera.
"They acquired more than one website to advertise a product they created," the Daily News source familiar with the case said. "It was outlandish enough that Major League Baseball went to the Dominican Republic to buy it from some guy."
A man named Juan Nunez allegedly paid $10,000 to set up the site and to alter existing sites with phony ads for the cream, according to an MLB source. Cabrera is represented by brothers Sam and Seth Levinson of ACES, a sports management company based in Brooklyn. The Levinsons told the Daily News that Nunez was a "paid consultant" of their agency, yet they insist they had nothing to do with the ruse. Sounds about right.
"The MLBPA has clearly stated that ACES has no connection to the website or this matter and, as reported, Juan Nunez has taken full responsibility for his acts," Seth Levinson told The Associated Press. "There is nothing more we can add, and we will allow our reputation in the industry for 27 years to speak for itself."
Meanwhile, Cabrera's associates and his entourage, including trainers, handlers and agents, have now drawn the focus of famed investigator Jeff Novitzky, along with agents from MLB's Department of Investigation, according to the report.  Novitzky is the Food and Drug Administration special agent who, in his prior job as an IRS special agent, ran the investigation into the Bay Area Laboratory Co-Operative (BALCO). That probe led to the seizure of the baseball drug list and the indictment of home run king Barry Bonds.
Cabrera was enjoying the best season of his big league career, helping the Giants contend for a postseason berth. He was hitting .346 with 11 homers and 60 RBIs but will miss the rest of the regular season and the start of the playoffs, if the Giants advance that far.  A former member of the New York Yankees, Atlanta Braves and Kansas City Royals, Cabrera will be eligible for free agency after the World Series.
By Lance Williams