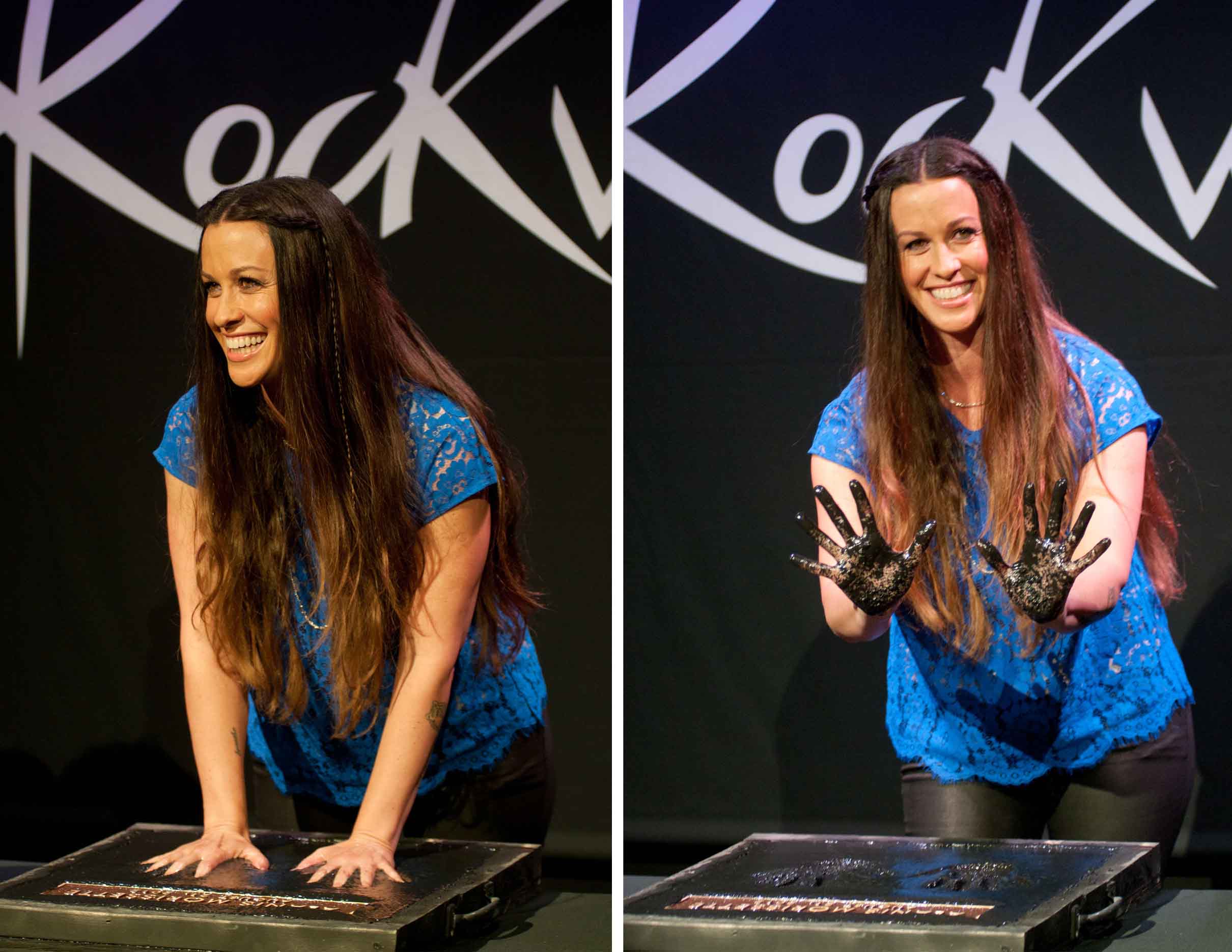 Photo Credit by Jeff Carrillo for LATFUSA. All Rights Reserved
Pushing her hands firmly into wet cement inside of Hollywood's Guitar Center, Alanis Morissette proved that when it comes to music, she has quite literally left an indelible impression. Today the Canadian-American musician took her rightful place among the ranks of some of music's greatest performers as she was inducted into the Guitar Center's RockWalk of fame. The Guitar Center's RockWalk, became a reality on November 13, 1985 with inaugural inductions including Stevie Wonder, Eddie Van Halen, Developer of the Gibson Les Paul guitar Ted McCarty, Martin Guitar founder C.F. Martin III, Marshall Amplifier creator Jim Marshall. As the newest RockWalk inductee, Alanis Morissette's handprints will reside alongside the handprints, signatures, and faces of other equally accomplished musicians and innovators such as Eric Clapton, Jimmy Page, Iron Maiden, Carlos Santana, Johnny Cash, Van Halen, AC/DC, Marvin Gaye, James Brown, Stevie Wonder, and Queen, among numerous others. All Guitar Center RockWalk inductees are chosen solely by past honorees. In this way, inductees are chosen by real "music authorities," those who would best be able to gauge his or her contribution to music history. This mark of respect is just one more honor in an already long list for Morissette who has snagged seven Grammy's, sixteen Juno Awards, two Golden Globe nominations, and sold over 60 million albums worldwide.
Introducing the singer was her good friend and Clueless star, Alicia Silverstone. Silverstone spoke about how "inspiring" Morissette was "for all us women." This was punctuated by the fact that Morissette is one of very few females (such as the likes of Janis Joplin, and Bonnie Raitt) to be inducted into the RockWalk.
The free-spirited singer-songwriter kept her speech short saying that it was an honor for her to be inducted. "My friends are always encouraging me to enjoy the ego-ic aspects of this career, and here I am, very grateful." As she left the stage the artist smiled and said, "God speed, and I'll see you around." Fans won't have to wait too long to hear from her again, as Morissette's eighth album, "Havoc and Bright Lights," is set to be released August 28th.
The RockWalk's induction provided the perfect prelude for Morissette's fall tour that kicks off August 25th.
By Darianne Dobbie