(ABC) – DAN + SHAY
With only a handful of strategically placed audience members, The 2020 American Music Awards looked very different this year. ABC traded in its 'family friendly' content for twerking and, well… more twerking. Host, Taraji P. Henson opened the show with a dance number… if we can even call that dancing. Later in the evening, Megan Thee Stallion did the same. Let's just say, the twerking was not twerktastic. American Music Awards has always been about the stellar performances from music legends and rising music stars. Those particular numbers don't do the longstanding award show justice, they simply cater to the TikTok nation.
Fortunately, Dan+Shay, Justin Bieber, Taylor Swift and The Weeknd, all topped the winners circle with three wins a piece, bringing Taylor's record for most career AMA wins to a whopping 32.
Justin Bieber's opened with his songs "Lonely," with Benny Blanco on piano, and "Holy," brought to fans by T-Mobile.
Shawn Mendes and Bieber's world premiere performance of their newly released single "Monster" set the stage for the collaborations to come throughout the night.
Katy Perry was joined by Darius Rucker for an intimate and heartfelt special collaboration of "Only Love."
The Weeknd lit up Downtown Los Angeles with an electrifying performance of "In Your Eyes," featuring saxophone legend Kenny G, and "Save Your Tears," accompanied by a vibrant fireworks display.
Jennifer Lopez and Maluma, steamed up the stage with a sultry rendition of "Pa' Ti" and "Lonely." The duo rehearsed 50 hours in less than two weeks to deliver the jaw dropping, world premiere performance to the stage.
Dan + Shay had everyone singing along at home with their fan-favorite, chart-topper "I Should Probably Go To Bed."
BTS closed out the night, remote from Seoul, South Korea, with a vibrant nearly six-minute performance of their newly released song "Life Goes On" and fan favorite hit "Dynamite."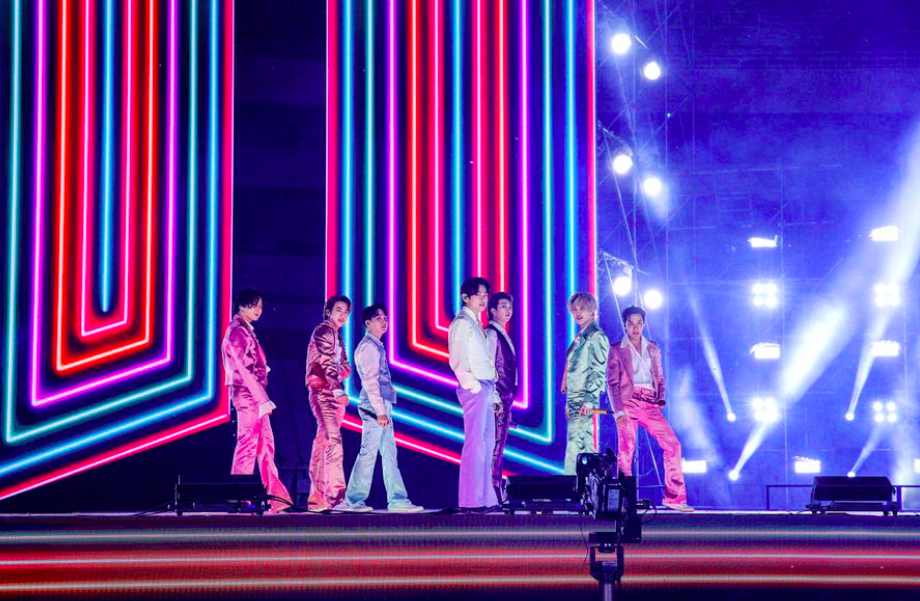 Presenters throughout the evening included: Anthony Anderson, Cara Delevingne, Christian Serratos, Ciara, David Dobrik, Derek Hough, G-Eazy, Kristen Cavallari, Laverne Cox, Megan Fox, Paris Hilton, and Tayshia Adams.
AMERICAN MUSIC AWARDS 2020 WINNERS
Artist of the Year:
Taylor Swift
New Artist of the Year:
Doja Cat
Collaboration of the Year:
Dan + Shay with Justin Bieber "10,000 Hours"
Favorite Social Artist:
BTS
Favorite Music Video:
Taylor Swift "cardigan"
Favorite Male Artist – Pop/Rock:
Justin Bieber
Favorite Female Artist – Pop/Rock:
Taylor Swift
Favorite Duo of Group – Pop/Rock:
BTS
Favorite Album – Pop/Rock:
Harry Styles "Fine Line"
Favorite Song – Pop/Rock:
Dua Lipa "Don't Start Now"
Favorite Male Artist – Country:
Kane Brown
Favorite Female Artist – Country:
Maren Morris
Favorite Duo of Group – Country:
Dan + Shay
Favorite Album – Country:
Blake Shelton "Fully Loaded: God's Country"
Favorite Song – Country:
Dan + Shay with Justin Bieber "10,000 Hours"
Favorite Male Artist – Rap/Hip Hop:
Juice WRLD
Favorite Female Artist – Rap/Hip Hop:
Nicki Minaj
Favorite Album – Rap/Hip Hop:
Roddy Ricch "Please Excuse Me For Being Antisocial"
Favorite Song – Rap/Hip Hop:
Cardi B ft. Megan Thee Stallion "WAP"
Favorite Male Artist – Soul/R&B:
The Weeknd
Favorite Female Artist – Soul/R&B:
Doja Cat
Favorite Album – Soul/R&B:
The Weeknd "After Hours"
Favorite Song – Soul/R&B:
The Weeknd "Heartless"
Favorite Male Artist – Latin:
Bad Bunny
Favorite Female Artist – Latin:
Becky G
Favorite Album – Latin:
Bad Bunny "YHLQMDLG"
Favorite Song – Latin:
KAROL G & Nicki Minaj "Tusa"
Favorite Artist – Alternative Rock:
Twenty One Pilots
Favorite Artist – Adult Contemporary:
Jonas Brothers
Favorite Artist – Contemporary Inspirational:
Lauren Daigle
Favorite Artist – Electronic Dance Music (EDM):
Lady Gaga
Favorite Soundtrack:
Birds of Prey: The Album