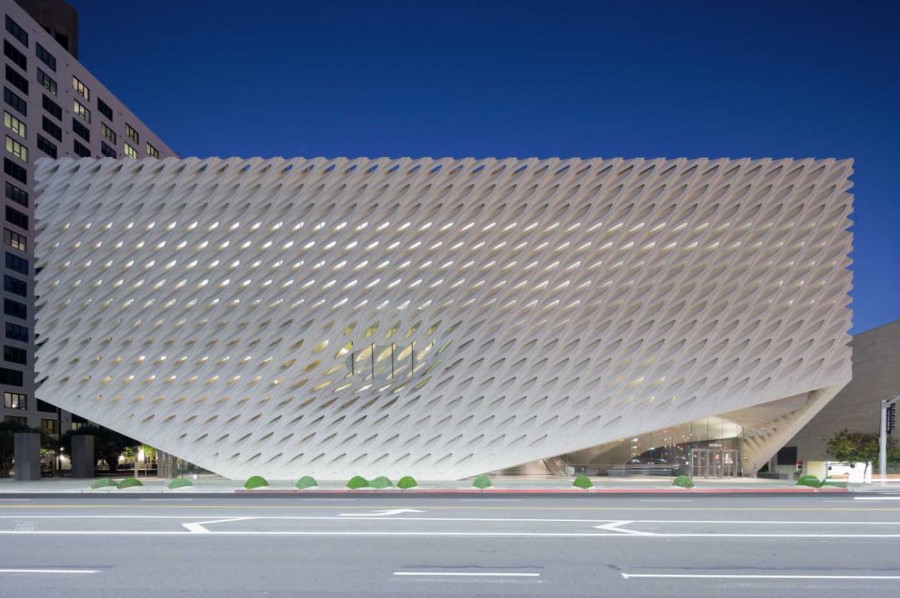 The architecture alone is an art exhibit in itself. For the first time in its 40-year history, the postwar and contemporary art collection assembled by philanthropists Eli and Edythe Broad will be shown to the public in its most comprehensive installation when The Broad opens on September 20th.
Although many of the artworks in the internationally renowned 2,000-piece collection have been seen by the public in relative isolation through The Broad Art Foundation's 30-year lending library to museums around the world, the inaugural installation at The Broad's new landmark building on Grand Avenue in downtown Los Angeles will feature a sweeping,chronological journey through its contemporary art collection that has never before beenpossible in such depth.
Founding Director Joanne Heyler, who is curating the inaugural installation, has selected more than 250 works—by over 60 artists including Jasper Johns, Robert Rauschenberg, Ed Ruscha, Andy Warhol, Roy Lichtenstein, John Baldessari, Mark Bradford, Jeff Koons, Barbara Kruger and Kara Walker— that best represent the Broad collection's view of a halfcentury of contemporary art.
The three-story museum, designed by architects Diller Scofidio + Renfro in collaboration with Gensler, features 50,000 square feet of exhibition space on two floors. The inauguralinstallation will begin on the third floor, with its soaring 23-foot-high ceiling, filtered natural lightand 35,000 square feet of column-free gallery space, giving visitors a constant andunobstructed view of the 318 skylights overhead. The third-floor installation presents achronological journey from the 1950s through the 1990s, punctuated throughout by single artistgalleries.
The installation will begin with classic 1960s works by Andy Warhol, as wellas a luminous gallery of Cy Twombly painting and sculpture, and will track the Broadcollection's strengths through the decades. The installation continues in the first-floor galleries,bringing the journey through contemporary art to the present with some of the most recentacquisitions and artworks such as Yayoi Kusama's immersive Infinity Mirrored Room – TheSouls of Millions of Light Years Away and a colorful, epic 82-foot-long painting by TakashiMurakami, a meditation on the recovery of Japan from the catastrophic 2011 Tohokuearthquake and tsunami.
"This installation is an incredible opportunity to highlight the collection's breadth anddemonstrate in full force the Broads' nearly five-decade engagement with art," Heyler said.
"We are not only able to present exciting moments of the collection's well-known depth inartists like Twombly, Lichtenstein, Koons, and Warhol, but we also have exploredinterconnections between artists, and are showing works not previously associated with thecollection and shared for the first time with Los Angeles audiences, including many of ourmost recent acquisitions."
The Broad will be open to the public six days a week at the following times: Tuesdays and Wednesdays from 11 a.m. to 5 p.m.; Thursdays and Fridays from 11 a.m. to 8 p.m.; Saturdays from 10 a.m. to 8 p.m.; and Sundays from 10 a.m. to 6 p.m. The Broad will be closed to the public on Mondays, as well as on Thanksgiving Day and Christmas Day.

General admission to The Broad is free. Advance online reservations are encouraged, but not required. For visitors who want to ensure a specific date and time for their visit, and avoid wait times during busy periods, The Broad provides advance reservation of timed tickets online at no charge. Tickets have entry times beginning every half hour. Free tickets will be available for reservation at www.thebroad.org/tickets beginning Monday, Aug. 31 at 10 a.m. PDT for visits beginning on Sept. 20 and running through the end of the year. Tickets are also available for same day or future visits onsite at the museum, 221 S. Grand Avenue in downtown Los Angeles. www.thebroad.org