We love to find a new coffee collection. It's even better when the company gives back; especially to one of our favorite causes: Animals.
Grounds & Hounds Coffee Co.'s mission is to eradicate unnecessary animal euthanasia and improve animal welfare. Their passion as a company is to provide and amazing coffee experience for their supporters every time they brew a cup of their coffee. 20% of all Grounds & Hounds profits help fund rescue initiatives.
We tried their PERFECT START VARIETY PACK of k-cup flavors, which is perfect for office life. It includes:
RESCUE ROAST: They brought together their favorite Latin and South American growing regions creating a full bodied, velvet-smooth coffee, beautifully balanced tasting notes, with distinct notes of caramel and dark chocolate, followed by subtle notes of raisin and toasted pecan on the finish.
BELLY RUB: Full-bodied medium-dark roast blend to date! Aromatic notes of Apple Pie and Cinnamon spice capture your attention, followed by bursts of savory milk chocolate and sweet honeycomb on the first sip.
GOOD BOY: Their darkest (and possibly most delicious) dark roast blend yet is made of 100% organic beans roasted to the perfect Italian roast level, displaying mouthwatering notes of Brown Sugar, Buttercream, Molasses, and Bakers Chocolate.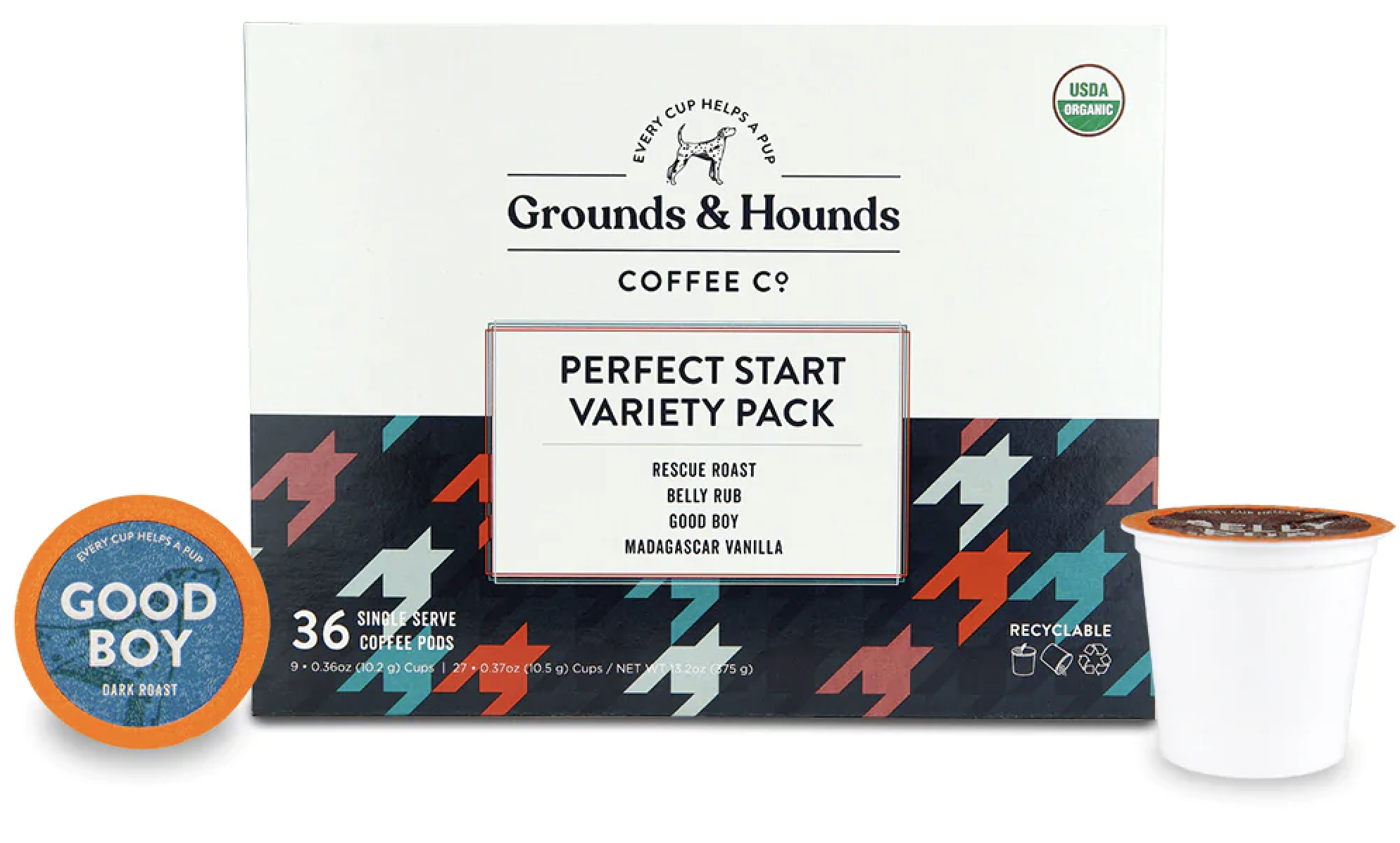 MADAGASCAR VANILLA: This blend feature nostalgia-inducing notes of vanilla ice cream, graham cracker, and milk chocolate with a kiss of sweet cherry on the finish! 
Their beans are 100% Arabica and sourced from the best growing regions throughout the world.
The company small batch roasts their coffee focusing on developing rich, savory, and full-bodied blends, ranging from light & bright to smoky & sweet. From blends to single origins, their goal is to provide every rescue-loving, coffee-sipping superhero with an opportunity to join their mission and the perfect excuse to slow down and spend 15 more minutes with your best furry friend each morning!