We live in a world where immediate satisfaction is what everyone strives for. You want something and you better have it by tomorrow – or heck – by the end of the day!
When it comes to the kitchen, if you're constantly on-the-go, working long hours and/or feeding the family with a last minute recipe… the answer to immediate satisfaction is PowerXL products.
Everything you see in the commercials are true; from their coffee makers to their microwaves and juicers. They deliver without wasting anytime. LATF just tested the PowerXL Air Fryer Oven Pro 6-Qt. at our offices and we're giving it: TWO THUMBS UP.
Air fryers are the latest kitchen sensation. They're easy-to-setup, easy-to-use and easy-to-clean. The PowerXL Air Fryer Oven is a powerhouse, whether you're crisping frozen fries or making a rotisserie chicken for the family.
Tested and Approved: We took leftover fried chicken and french fries. These are two foods that you would probably throw away because microwaving them the next day only makes it taste worse. We placed the chicken and fries on individual air flow racks with the drip tray on the bottom. Using the "French Fry" icon setting at 400 degrees and 15 minutes, the chicken and fries were just as crispy as they were when they were delivered fresh! It took less than 15 minutes too!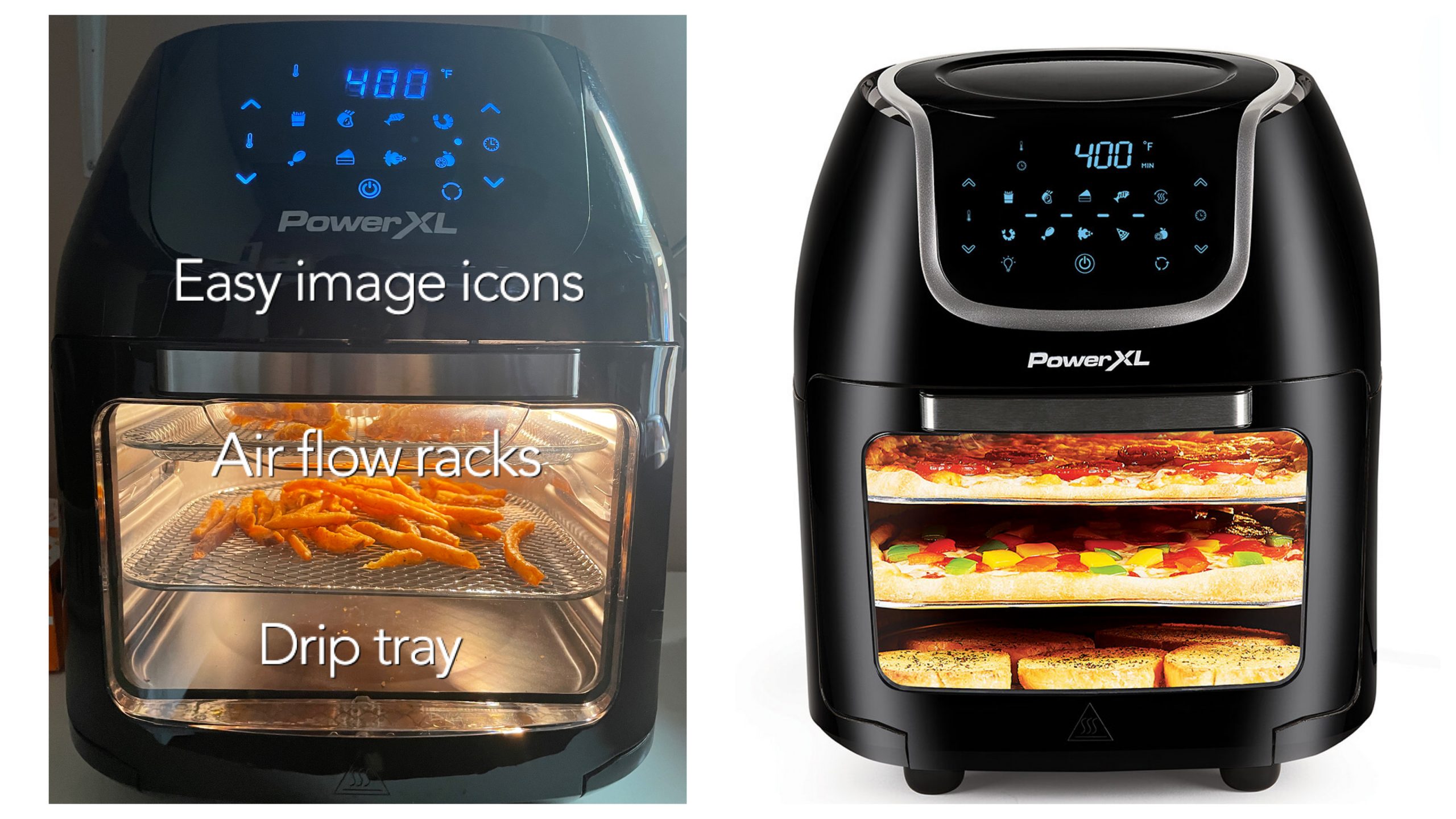 The high-performance air fryer and rotisserie multi-cooker comes in a few sizes. They have 6-10 quart capacity. Think of it as an all-in-one kitchen appliance that can serve as a:
Deep Fryer
Rotisserie Oven
Dehydrator
Oven Toaster (we baked 1/2 a baguette to perfection in under 3 minutes!)
Pizza Grill
This is a powerful machine so be sure to check the settings. At times, your dish might cook faster and before the countdown timer is up. You can easily check by opening the oven door and gauging for yourself – if it still needs time, just close the door and it will start again automatically.
It comes in several color options: Black, Slate, Cinnamon, White, Navy, Sea Foam, Light Gray, Red, Cream, Eggplant
Warranty: 90-Day Money-Back Guarantee
Once you receive the air fryer, it's easy to setup and comes with:
Drip Tray
Fetch Tool
Rotisserie Set
Rotating Mesh basket
Skewer Racks
Skewers
Air Flow Racks
Check out the recipe book that comes with it for quick and delicious recipes.
Shop the PowerXL Air Fryer Oven here
https://powerxlproducts.com/