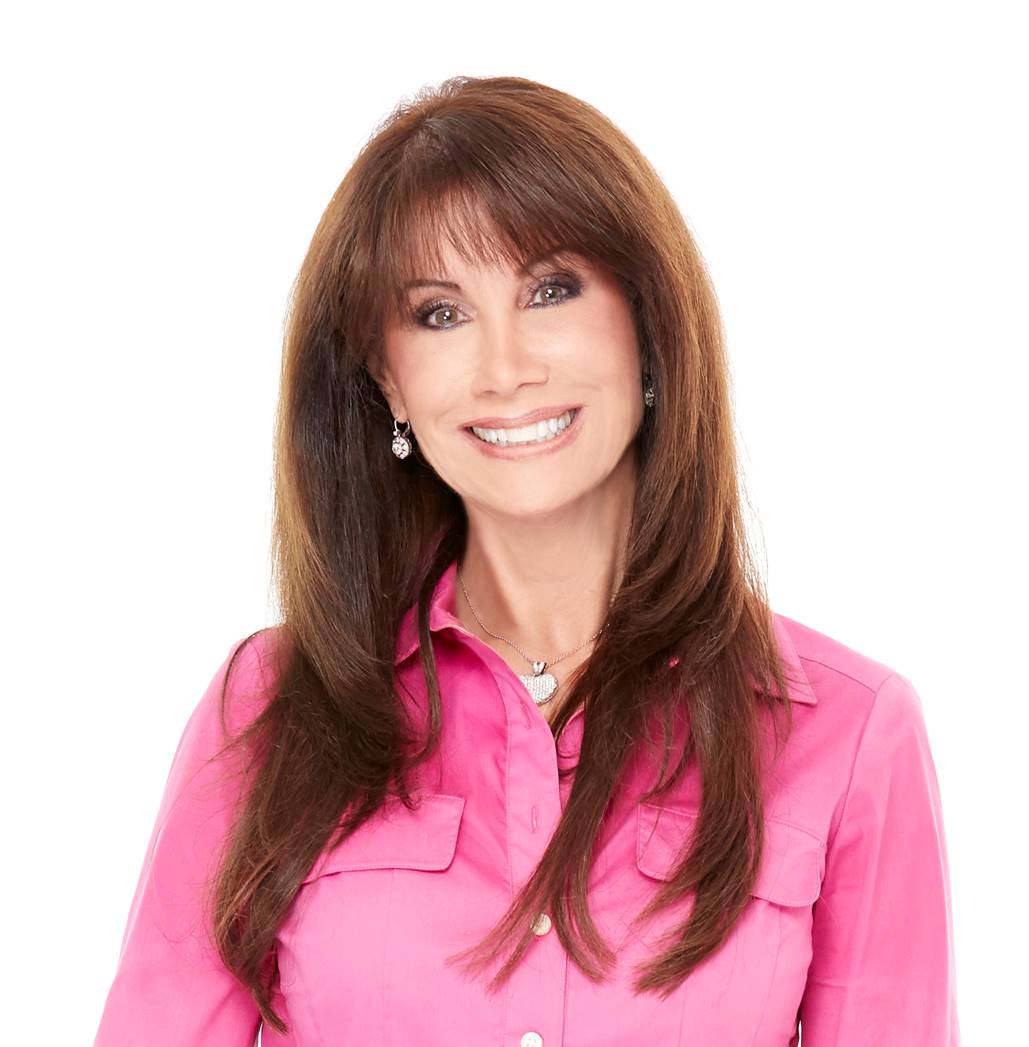 Sera Labs is described as a premier brand company offering products that are natural and holistic, dedicated to health and wellness. Until a few weeks ago, I had never heard of Sera Labs. Since then, I found out that it was founded in 2018 by renowned entrepreneur Nancy Duitch. Her innovative products are cutting-edge technology and made from superior ingredients.
In 2020, Sera Labs became a subsidiary of CURE Pharmaceuticals, a pioneering developer of supplement delivery systems founded by ZICAM co-founder Rob Davidson. It is also in December 2020 that Nicole Kidman became the Global Brand Ambassador and Strategic Partner for Seratopical Skincare. Nicole is not only the face of the brand, but she plans on playing an integral role in the strategic direction of product development and messaging as seen on the Seratopical site. This partnership will allow for women of all skin tones and types to look and feel their best by using Sera Labs' industry best ingredients.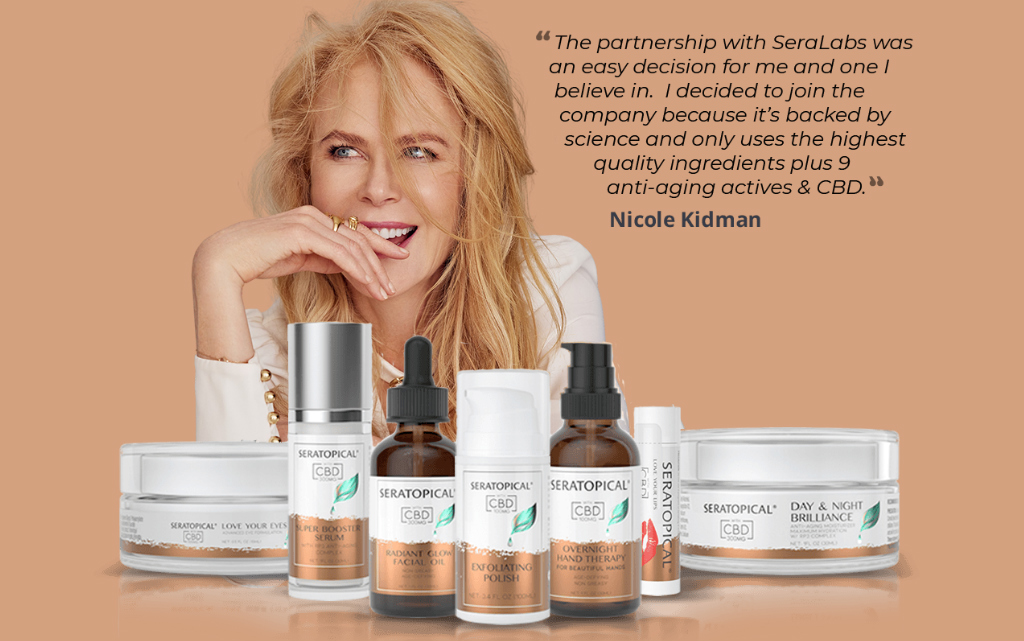 Most topical CBD products contain all-natural ingredients, such as; manuka honey, coconut oil, and essential oils, including peppermint and lavender. Topical CBD products can also help slow signs of aging by reducing inflammation and counteracting free-radical damage. Incorporating a CBD moisturizer or lotion into your skincare routine can diminish fine lines, dullness, and wrinkles. To further promote hydration and tighten the appearance of your skin, opt for a CBD-infused collagen serum. The line is comprised of seven face products:

1 – SeraTopical Exfoliating Facial Polish & Cleanser with CBD:
A powerfully purifying cocktail of CBD and micro-powder that helps combat against daily wear and tear from environmental exposure to pollution by effectively clearing pores of excess oil, dead skin, and buildup. This polish also helps maintain the skin's delicate moisture balance and even your skin tone. Use it morning and night on the face and neck.
2 – SeraTopical Super Booster Serum with CBD:
This powerful, multitasking treatment addresses multiple signs of aging by delivering the powerful benefits of CBD along with their exclusive RP3 anti-aging complex in one serum. This concentrated formula includes powerfully rejuvenating antioxidants and peptides that help reduce the appearance of fine lines and wrinkles, aid in diminishing the appearance of age spots, help improve the look of skin discoloration, help improve the appearance of elasticity of the skin, and help firm and tighten the appearance of sagging skin. Apply on clean, dry skin. Gently massage on face and neck using smooth upward movements. Allow to absorb before applying other products. Keep out of eyes.
3 – Seratopical Day & Night Brilliance with CBD:
This lightweight moisturizer helps to boost the skin's natural hydration with proprietary ingredients, infused with CBD, and blended into a cutting-edge formula that quenches skin and is a powerful sensual delight. This moisturizer absorbs quickly into the skin to deliver hydration and boost radiance. Gently massage on face and neck using smooth upward movements. Allow to absorb before applying other products. Keep out of eyes.
4 – SeraTopical Love Your Eyes Anti-Aging Serum with CBD: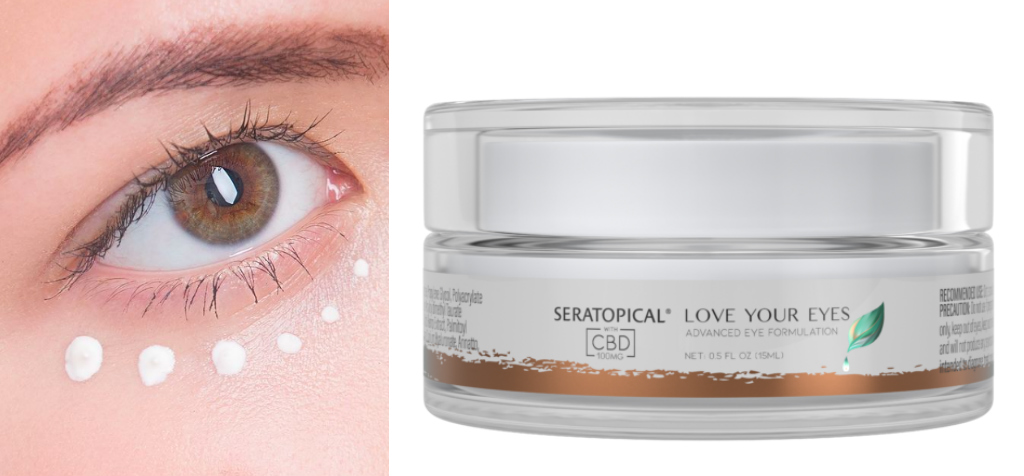 Brighten your eyes with the most comprehensive anti-aging eye treatment. This silky, ultra-hydrating formula protects the delicate skin around the eyes against dehydration and helps reduce the appearance of fine lines, wrinkles, crow's feet, dark circles, and puffiness.
5 – SeraTopical Radiant Glow Facial Oil with CBD: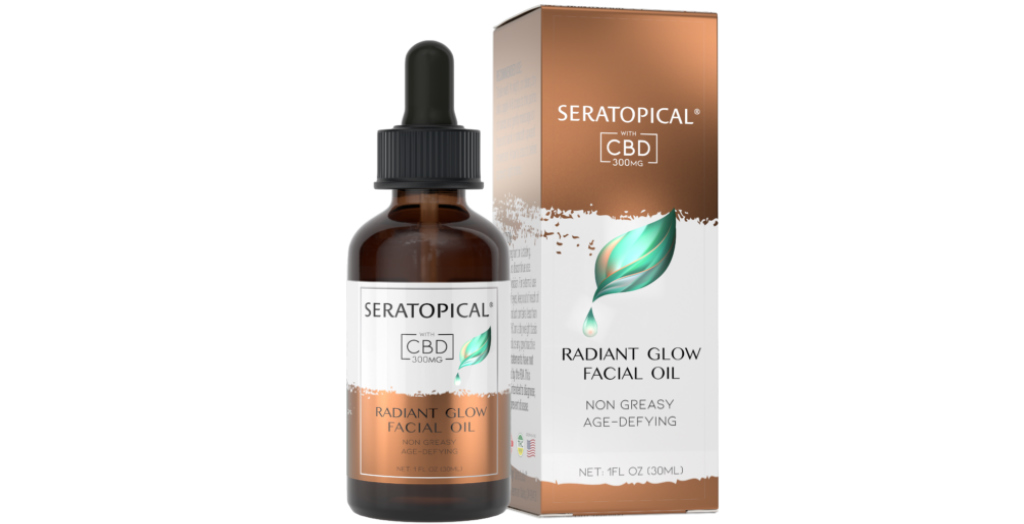 Add a few drops at night on dry skin after cleansing to get the most radiant skin. This luxuriously lightweight, fast-absorbing CBD facial oil helps instantly brighten the look of skin, leaving a silky-soft, hydrated surface with a firmer appearance. Hemp oil delivers a revitalizing effect to the skin, without any oily residue, for a firmer and more lifted look. provides long-lasting moisture and barrier protection. Apply 4-6 drops to the palms of your hands and gently massage on face and neck in smooth upward movements. Allow to absorb before applying other products. Keep out of eyes.
6 – Seratopical Overnight Hand Therapy with CBD:
Overnight Hand Therapy Masque was specifically formulated to combat what our hands go through daily with constant washing, harsh chemicals, and environmental pollutants that instantly dry the skin. This breakthrough formula with Essential Oils is the ultimate age-defying blend that will help restore and hydrate your skin with soothing Lavender Oil and CBD. Can be used at night on clean dry skin. Apply 1-2 pumps to the palm of your hands. Allow to absorb. Leave overnight. Can be used in the daytime as well.
7 – Seratopical Love Your Lips Moisturizer with CBD: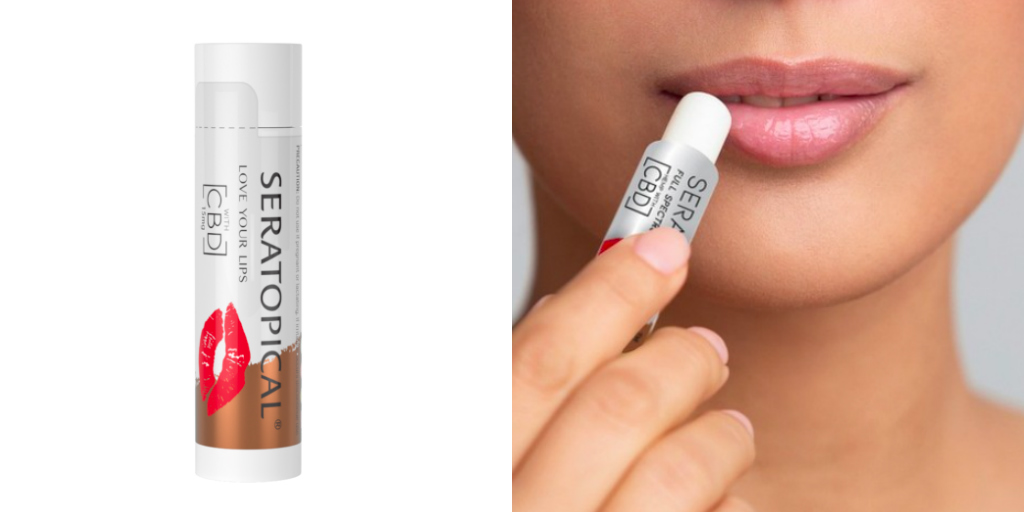 This Lip Balm combines the most luxurious ingredients available to pamper, repair, and restore dry cracked lips. It will leave your lips feeling supple and firmer.
---
Sera Labs has also created a line for our legs and feet: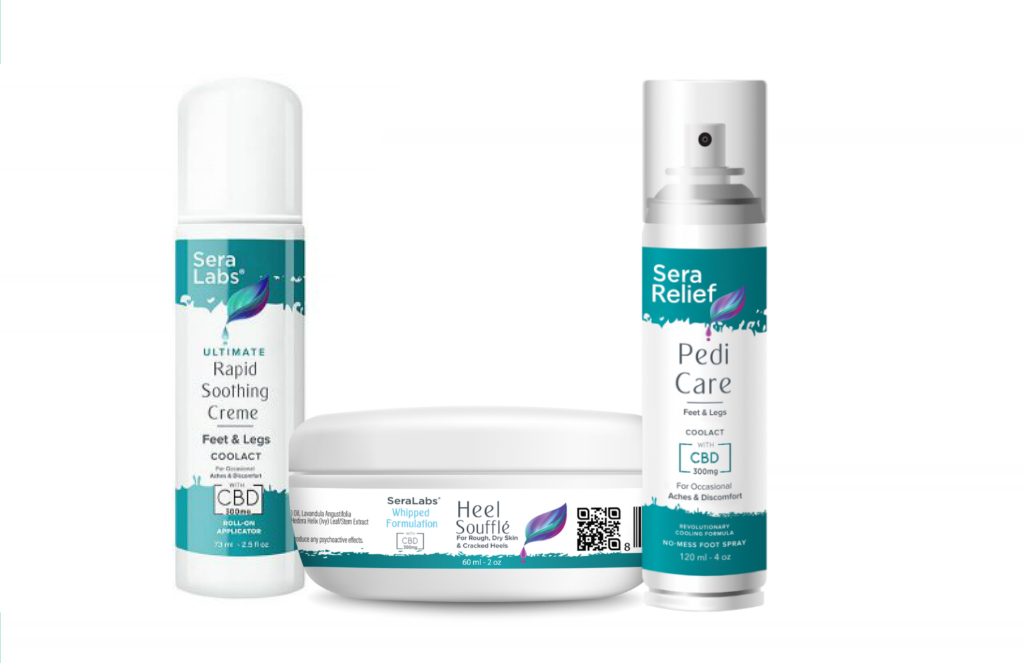 1 – Pedi Care Foot Relief Spray with CBD
With CoolAct-10 combined with 300mg of CBD, it is designed to target and defend against aches and discomforts, from walking, running, and standing. Pedi Care is a convenient no-mess spray, no need to rub it in, and it's quick-drying, just pure joy and happy feet.
2 – Cracked Heel Souffle with CBD
This amazing product melts into dehydrated skin and instantly improves cracked, dry heels and bumpy, rough skin. The advanced formula with shea butter, coconut oil, lavender oil, marula oil, and 300mg CBD soothes and protects all skin areas. It is the ultimate hydration with a lightweight, non-greasy, whipped moisturizer.
3 – Rapid Soothing Crème Roll-On:
Available in a no-mess roll-on, it glides on and provides quick relief for occasional muscle and joint pains.
I tried all these products which I declare are all winners! For more info go to www.seralabshealth.com