Sunright Tea Studio, Southern California's newest Bubble Tea Shop opens in Los Angeles in Little Tokyo in Downtown Los Angeles and on Sawtelle Boulevard in West L.A.
Sunright Tea Studio was established in Southern California in 2019, and steeped in culture, Sunright unites traditional Taiwanese flavors and current SoCal trends to bring truly delicious beverages packed with flavor. Working with fresh quintessential flavors of boba, taro and matcha alongside American classic flavors, like Oreos, Sunright guests get the best of both worlds.
The sunny theme of Sunright Tea Studio isn't limited to the atmosphere in their stores. Sunright's tea leaves are cultivated on mountaintop farms, where they soak up the essence of the sun and absorb nourishing misty evening rains. Sunright's master farmers pick the freshest leaves and carefully roll, roast, or ferment them to perfection. The tea is then blended with other natural tea varietals based on origin, weather, and season, resulting in beautifully balanced and consistent flavor. Sunright also takes great pride in bringing intention to their processing and sourcing the highest quality ingredients, whether they are prepared in-house or procured from first-class purveyors in Asia and California. This includes using locally sourced barista-grade nondairy milks from LA's Califia Farms and Yakult Probiotic Drink, produced in Orange County.
Sunright was designed to be much more than just a tea shop – it is a tea studio created to bring joy into the routine of the daily caffeine fix while introducing Southern Californians to Sunright's creative, high-quality teas and specialty beverage collections – featuring Sunright Boba Milk, Cheese Foam, Frosties, Coffee, The Right Milk Tea, Sunny Fruit Tea, Original Tea, and Brûlée Lattes with Oat Milk. Sunright's original flavor pairings combine traditional teas (Ceylon black tea, jasmine green tea, roasted oolong, and special oolong varietal called Four Seasons) with unique ingredients, bringing a new understanding of how each tea's individual qualities perfectly complement the additional flavors. The four tea varietals in Sunright beverages are selected for carefully defined attributes that deliver unmatched experiences when combined with Sunright Tea Shop's fruits and tasty Toppings – Oreos, red bean, fresh taro, lychee jelly, cheese foam, crème brûlée, brown sugar, grass jelly, pudding, boba, agar boba, and honey boba.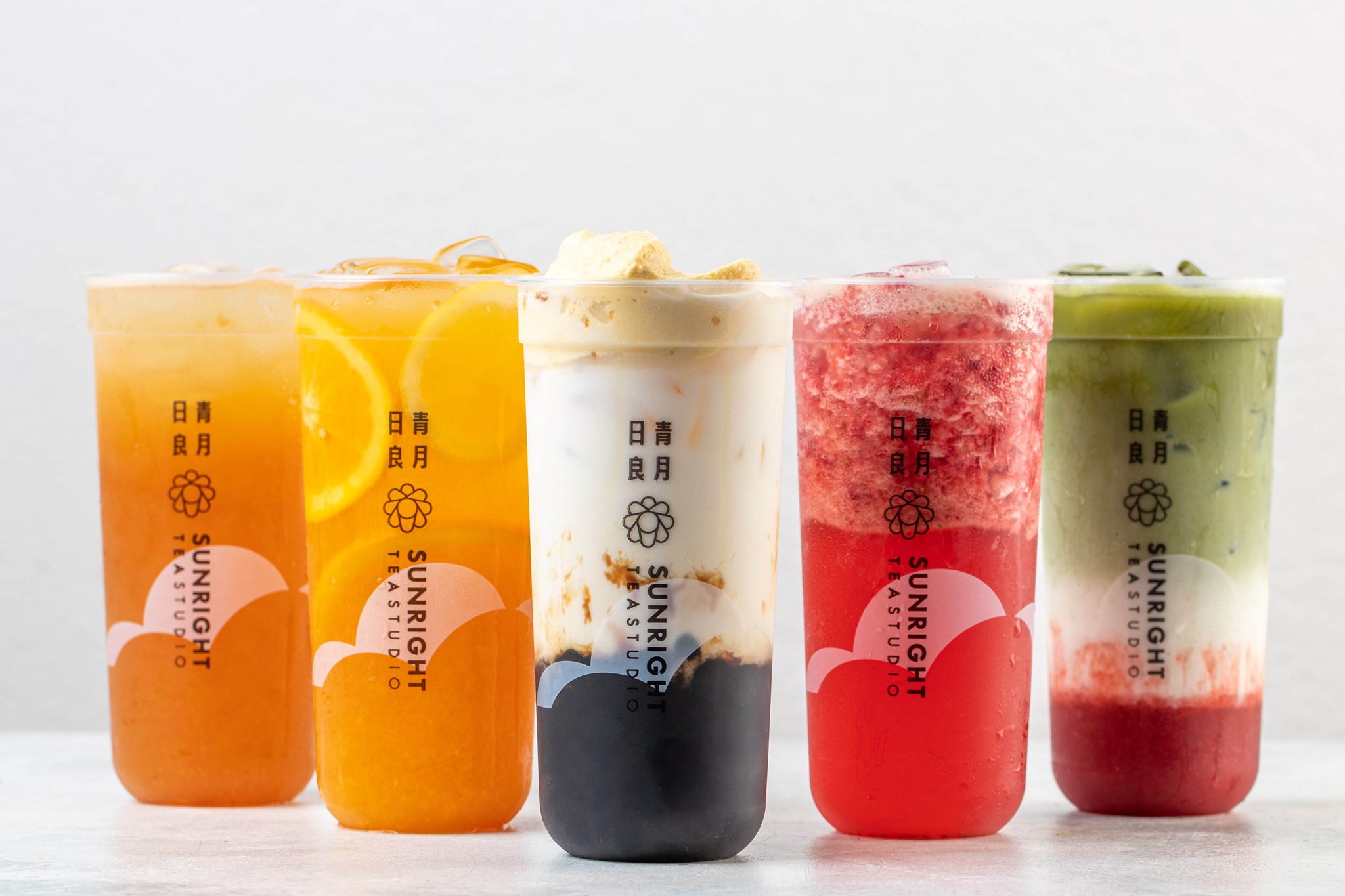 Boba, which is made of tapioca, is the foundation of Sunright Tea Studio and they take great pride in the distinctive way they prepare it. Sunright ships their boba in its uncooked form directly from Taiwan, along with their very own brown sugar. The pretty pearl-shaped boba is simmered, then cooled with water, then simmered again with brown sugar until it reaches the perfect consistency. For superior taste, boba remains fresh for only four hours after cooking, so Sunright prepares boba fresh all throughout the day at each location. The Sunright Boba Milk is uniquely special as it has the same delicious sweetness as milk tea, but without the tea. The Sunright Boba Milk collection offers tasty flavor and texture combinations with a broad selection of ingredients and Sunright guests can upgrade to organic milk or non-dairy milk. Oreo Brûlée Boba Milk is a store favorite made of a crème brûlée foam and crushed Oreos combined with sweetened fresh milk and boba. Additional selections include Brown Sugar Boba Milk, Crème Brûlée Boba Milk, Pudding Boba Milk, Red Bean Boba Milk, Grass Jelly Boba Milk, and Taro Boba Milk which has a special sweet and savory profile thanks to Sunright's special preparation of fresh taro in-house daily.
The Right Milk Tea collection is the backbone of Sunright's menu. Each drink starts with a tea and cream base and then they add eclectic ingredients to create a menu selection for everyone to enjoy. There are thirteen delectably unique Sunright Tea Studio flavors in this signature collection including the Sunright Boba Milk Tea, a Sunright staple made with a Ceylon tea base, brown sugar, and boba, along with Panda Milk Tea, Ceylon Milk Tea, Japanese Milk Tea, Oolong Milk Tea, Four Seasons Latte, Matcha Milk Tea, Hokkaido Milk Tea, Honey Milk Tea, Taro Milk Tea, Matcha Oolong Milk Tea, Strawberry Matcha Latte, and classic Thai Tea.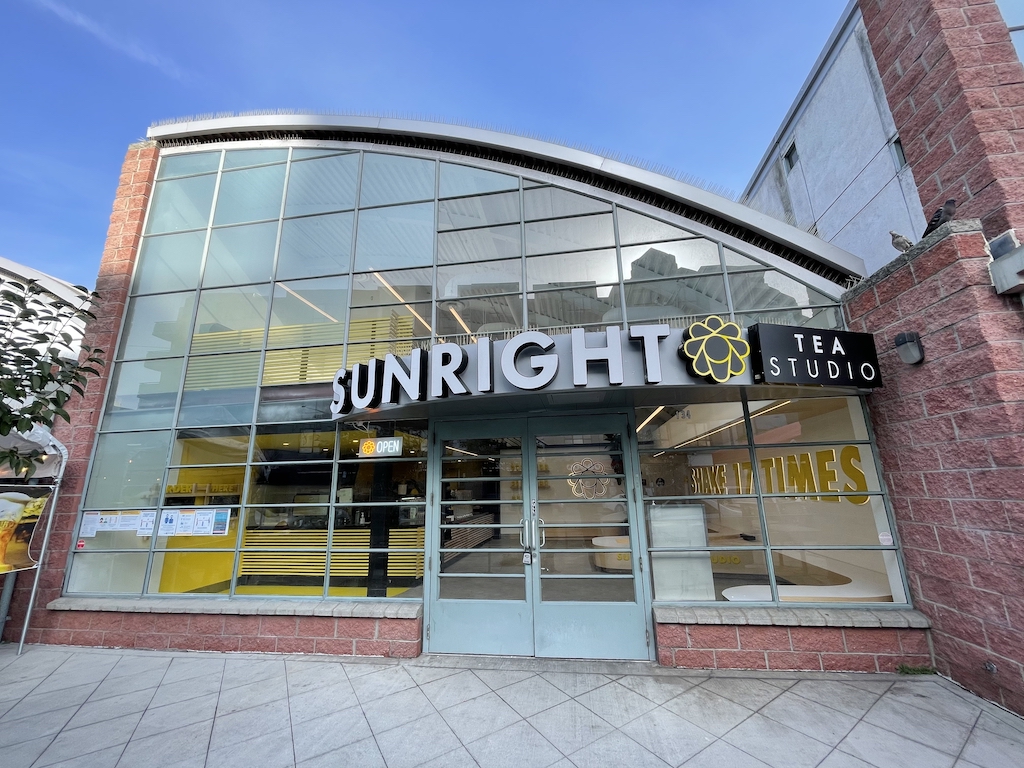 Sunright's Sunny Fruit Tea collection is influenced by the bright sun and farmland of California. Sunright Tea Studio uses fresh fruit, allowing the natural flavor of the fruit to shine through the tea base with sunny selections such as the Sunright Fruit Tea, Sunright's signature fruit tea made with Four Seasons tea, fresh squeezed orange juice, passionfruit, fresh lemon and orange slices, as well as the Lemon Jasmine Tea, Grapefruit Jasmine Tea, and Strawberry Jasmine Tea made of fresh strawberries blended with jasmine green tea. Some drinks in this collection are also topped with yogurt to allow a nice tart contrast to the citrus notes such as the Yogurt Green Tea, Yogurt Lemon, and Yogurt Orange reminding many guests of their favorite flavors growing up.
The Cheese Foam collection is a true tea lover's dream. The Cheese Foam sits on the top of the drink creating a sweet and salty combination (imagine cheesecake with a touch of sea salt) that can be mixed directly into the tea or enjoyed as a special separate layer. Sunright Tea Studio's five tasty Cheese Foam teas include Ceylon Cheese, Jasmine Cheese, Oolong Cheese, Four Seasons Cheese, and their special White Peach Oolong Cheese offering something for every enthusiast.
The fabulously fun Frostie collection is a selection of dessert-like drinks featuring bold flavors and special ingredients such as Strawberry, Matcha Red Bean, Mango, and Fresh Taro blended with fresh ingredients, milk, and ice to create a delectably creamy and perfectly rich indulgence.
Sunright's Brûlée Lattes with Oat Milk collection is a perfect pick-me-up that can enjoyed any time of the day. Featuring five flavorful teas – Ceylon Brûlée Latte, Jasmine Brûlée Latte, Oolong Brûlée Latte, Four Seasons Brûlée Latte, and Matcha Brûlée Latte, each latte is prepared with Califia Farms Oat Milk and a creamy caramel brûlée.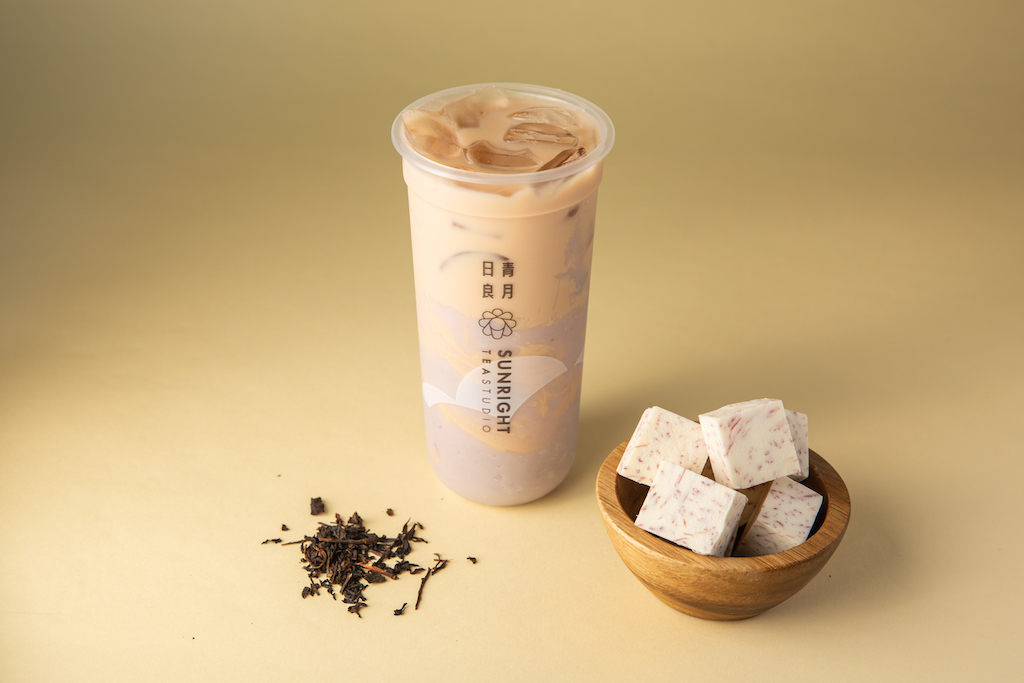 Sunright also offers four Original Teas – Ceylon Black Tea, Jasmine Green Tea, Roasted Oolong and Four Seasons for the true tea purist, and coffee lovers can rejoice at multiple locations while sipping a Sunright Americano, Latte or Coffee Oolong Milk Tea each prepared with Blue Hummingbird Coffee.
Sunright Tea Studio has locations all throughout Southern California – Chino Spectrum Marketplace, Costa Mesa (The OC MIX), Diamond Bar, Fullerton, Irvine Diamond Jamboree, Irvine Village Center, Monterey Park, Rowland Heights, Sawtelle – Los Angeles, and Little Tokyo in Downtown Los Angeles, with an upcoming opening in San Gabriel, and they also just opened their new Sunnyvale location in Northern California. Guests can order from each location directly or visit Sunright Tea Studio here www.SNRTea.com.