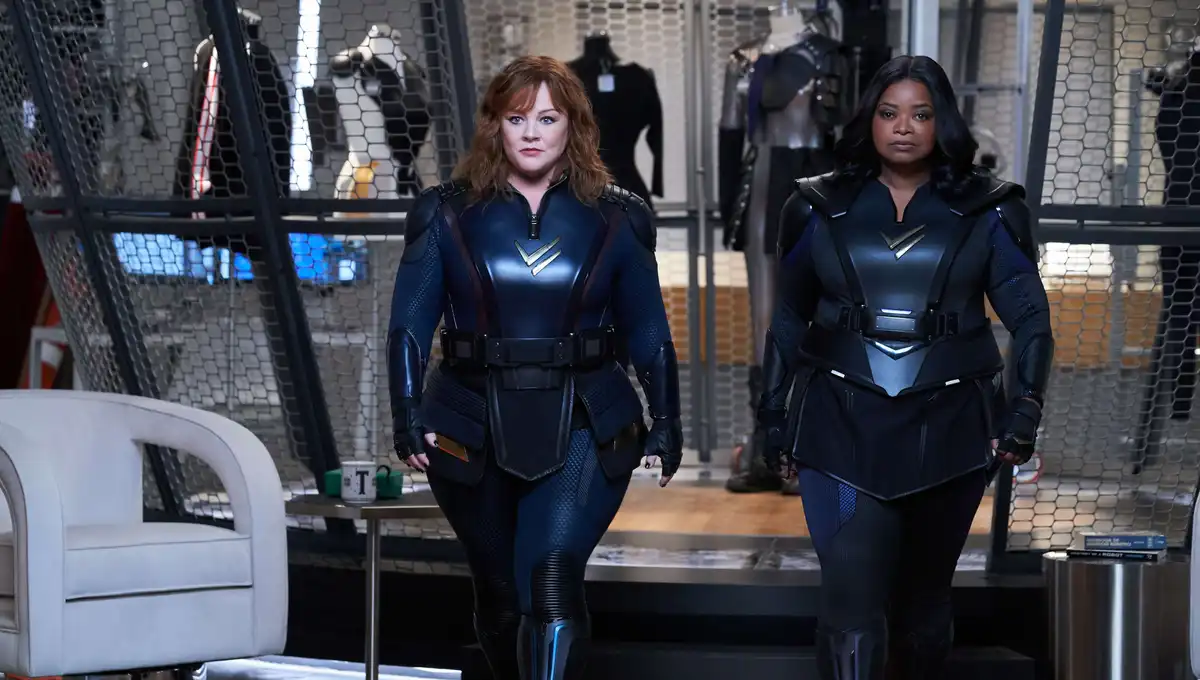 Melissa McCarthy and Octavia Spencer make for a funny duo as a pair of childhood besties who reunite to save Chicago from a gang of supervillains in "Thunder Force," a silly but sweet superhero comedy costarring Jason Bateman and Bobby Cannavale.
Marking the fifth feature McCarthy has collaborated on with her writer-director husband Ben Falcone (also an actor and producer here), this delightfully deranged take on the superhero action comedy may not leave a lasting impression but still offers up big laughs, memorable characters and some decent action sequences to boot. Although the premise is plainly frivolous and Falcone's underwritten script leaves a little too much room for improvisation, "Thunder Force" coasts by on the comedic chemistry of its costars and longtime friends, McCarthy and Spencer, and delivers enough fight sequences and superhero shenanigans to satisfy its intended audience. Between the lead actresses' comic prowess, the hilarious supporting work by Jason Bateman and Bobby Cannavale, and the story's sweet message of female friendship and empowerment, you can expect this heroic duo to make their presence felt on Netflix this Friday.
"Thunder Force" tells the story of Lydia Berman (Melissa McCarthy) and Emily Stanton (Octavia Spencer), an underachiever and overachiever who were unlikely childhood friends in the 1980's until their paths diverged in high school. Lydia went on to become a heavy machine operator while Emily followed in the footsteps of her geneticist parents and created a high-tech lab, Stanton 4.0, with a brand new headquarters in their hometown of Chicago.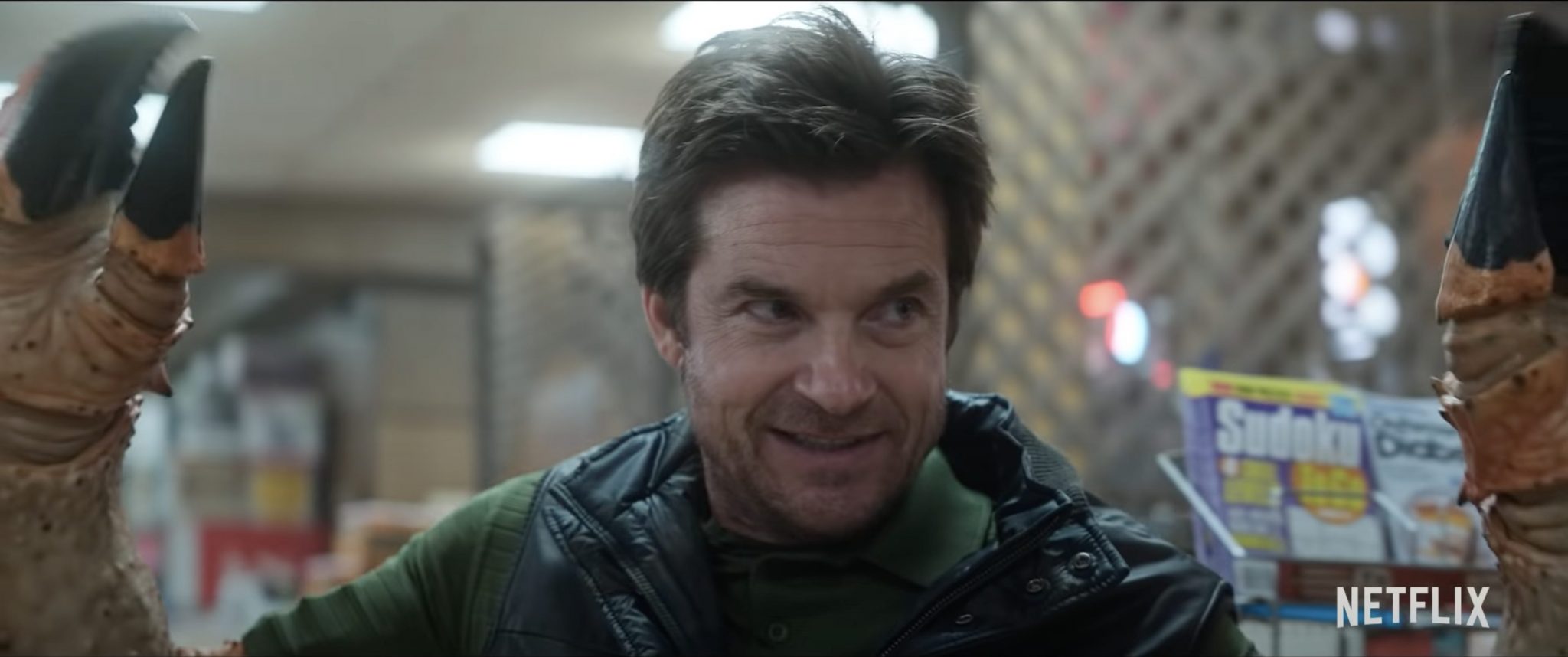 Emily's career is dedicated to her parents' work, which revolved around using genetics to give superpowers to regular people. You see, back in the early 1980s, cosmic rays struck earth, which triggered a genetic transformation in people who are predisposed to sociopathy, giving them superpowers. These supervillains, labeled Miscreants, killed Emily's parents when she was a youngster.
Emily's life work has resulted in the creation of two special formulas: one for superstrength and one for invisibility. Although Emily's intention is to take both formulas and train to fight against the Miscreants, her plan is derailed by Emily, who shows up at her office to rekindle their friendship but ends up accidentally taking the superstrength formula. It is under these less-than-ideal circumstances that Emily takes the invisibility formula and joins forces with Lydia to hone their superpowers. But with Miscreants like The Crab (Jason Bateman) and Laser (Pom Klementieff) wreaking havoc around the city, and their secret leader The King (Bobby Cannavale) leading the polls in the mayoral race, the super duo, dubbed Thunder Force, have their work cut out for them.
With their latest cinematic pairing, husband and wife collaborators Ben Falcone and Melissa McCarthy cook up a funny and frivolous entry in the superhero action comedy genre, running with their quirky concept and adding an excess of physical comedy and oddball characters to the equation. McCarthy's starring vehicles are only as good as the characters at their center, and while Lydia Berman isn't the best of the bunch, she has all the lovable and squirm-inducing qualities we've come to expect from her creations. Although the straightforward script doesn't skewer the genre in any groundbreaking manner, and a couple scenes play longer than necessary, Falcone gives McCarthy the space she needs to earn some solid laughs, and also creates some surprisingly sweet bonding scenes between Lydia and Emily.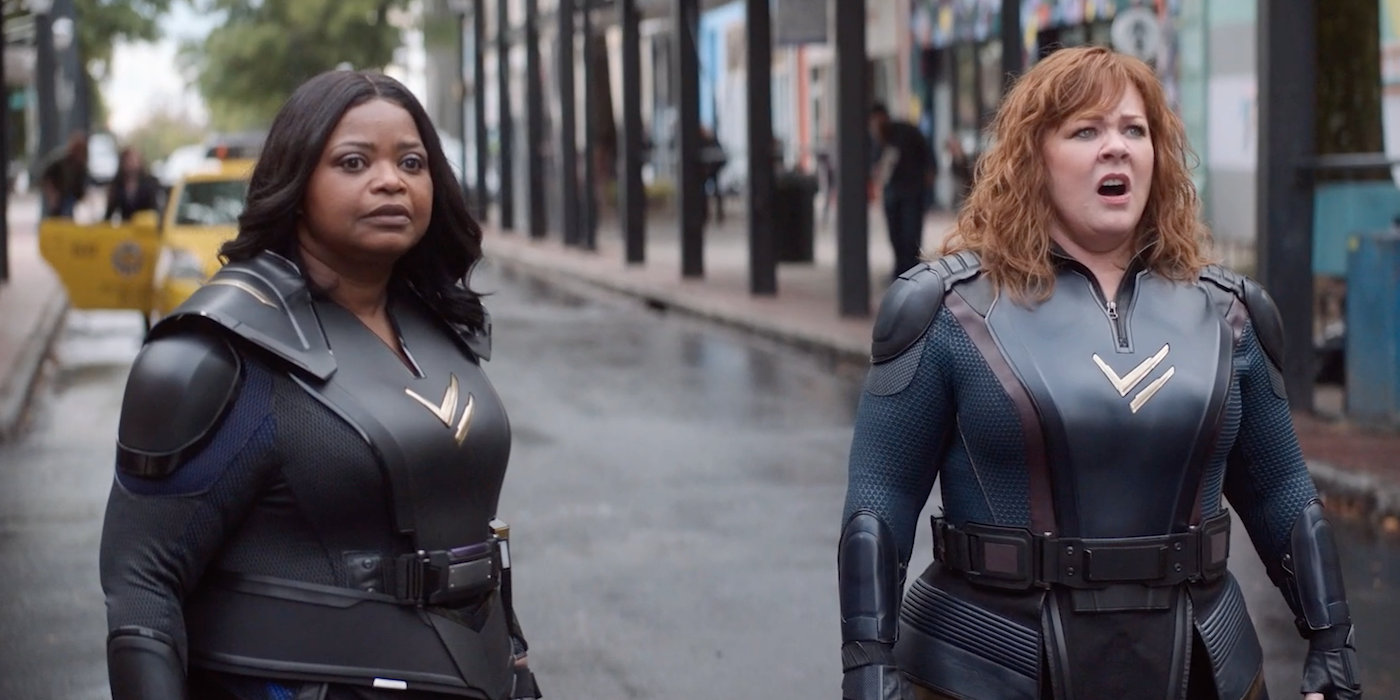 As the titular duo taking on the Miscreants of Chicago, Melissa McCarthy and Octavia Spencer prove a match made in comic heaven, bringing to the screen an easy chemistry and a relatable friendship that makes the time pass easily and the laughs flow consistently. Playing a Miscreant named The Crab who earned his name from a painful mishap on his honeymoon, Jason Bateman is comedy gold, delivering his signature snark while sporting a pair of crab claws in place of arms. Bobby Cannavale also adds some silliness as the Miscreant's egocentric and easily annoyed leader, The King.
"Thunder Force" is a superhero comedy that mostly delivers on the promise of its goofy premise.
By Lucas Mirabela
Running Time: 105 minutes
Rated PG-13 for some action/violence, language and mild suggestive material.
https://www.netflix.com/title/81079259