Anyone who has dealt with back problems, or foot pain due to wearing high heels or standing up for long hours, will appreciate this piece.  As we all know, more than ever health and comfort is everything. So be kind to yourself and listen to your feet. That's right, your feet can tell you a lot about your general health or warn you of underlying conditions. From pesky foot pain, to more serious symptoms, including numbness, your feet often show symptoms of disease before any other part of your body.
For example, if your toes are always cold, one reason could be poor blood circulation, sometimes linked to smoking, high blood pressure, or heart disease. The nerve damage of uncontrolled diabetes can also make your feet feel cold. Other causes include hypothyroidism and anemia. Several years ago, I was diagnosed with arthritis, therefore, I have been wearing flats more often. As women wear more leggings and pants, flats are the perfect accessory. Of course, when buying flats, I look for two things: the proper concealed orthotic arch support and a fashionable design. I recently came across a pair of violet, women's Debbie Driver Moccasin from Vionic. I had never heard of the label. Before settling on this specific pair, I decided to research the company. I quickly learned that Vionic began in 1979 with the work of renowned podiatrist Phillip Vasyli, a pioneer and innovator in the field of lower limb biomechanics. He was known by friends and colleagues as a "born healer." Early in his career, Vasyli realized that the only treatment options for many common foot-related ailments, like plantar fasciitis or overpronation, were costly and time-consuming. In response to the overwhelming demand for a solution, he invented one of the first heat-moldable orthotics, a low-cost option that allowed patients to walk out of his practice feeling better than when they came in. This philosophy laid the groundwork for the award-winning Orthaheel orthotic, the world's first and only true orthotic available without a doctor's prescription.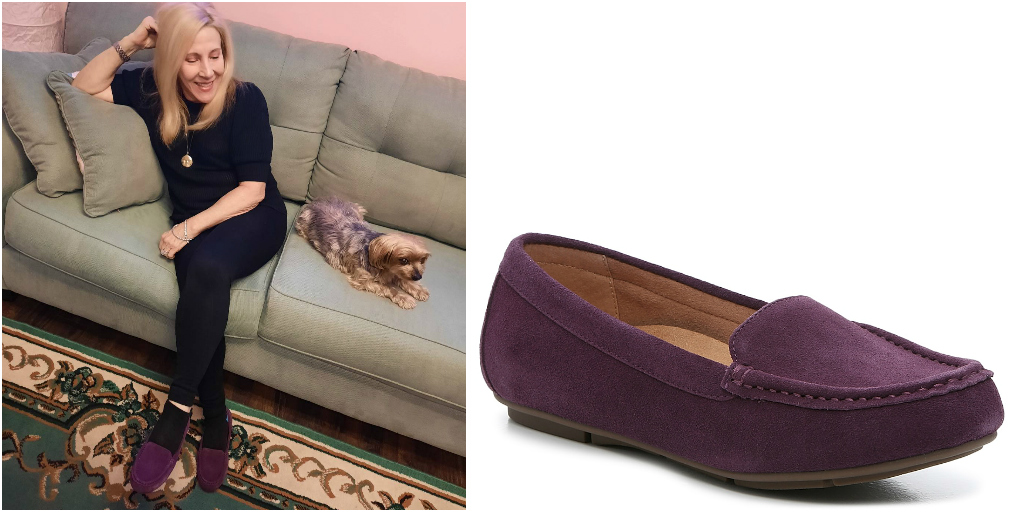 As I learned of the science, I did not hesitate and ordered from DSW the Debbie – Driver Moccasin Flats with Concealed Orthotic Arch Support, hoping that I would not have to trade style for comfort, but benefit from both. I was so excited when I received my package. They were beautiful! From their gorgeous color purple to the rubber sole. They offered support, comfort, style, and science, combining innovative biomechanics with the most coveted trends.
The Debbie Driver Moccasin is made of purple suede.  I have become a fan and highly recommend Vionic. I cannot wait to check other designs.
For more on Vionic visit www.vionic.com
To purchase visit www.dsw.com