Each day, I am mesmerized by the inventions that are made available to us. Things that we could not even imagine in the late 50s or early 60s have come to life in this age of robots and nonstop technology. This is especially true for small appliances around the kitchen. I love these little gadgets that make our lives so much easier.
Among them is the juicer, a must-have if you are into health. What do we know about its benefits?  It is a fact that many people are not getting the daily allowance of fruits and vegetables which is reflected in their lack of energy and stamina. Juicing is ideal for cancer patients who have finished their treatment. It helps them replenish the vitamins and minerals lost during their treatment. It helps to boost their immune systems, as well as flush out unwanted toxins after chemotherapy. The very first modern juicer was invented in 1930 by Dr.Norman Walker. He must have known a thing or two about the health benefits of juicing because he lived to be 108 years old. However, there are also some downsides to juicing. Drinking too much juice can cause problems for people who need to control their blood sugar. Sugars from natural fruits are released into the bloodstream fast and this can cause spikes in a person's blood sugar.
I love orange juice and apple juice but unless it is freshly pressed, I prefer not to have any. However, a fresh glass of orange juice means work, to the point that it can easily become a hassle. The best thing to do is buy a machine that can do it all for you. That in itself is another challenge. There are various types of juicers to choose from depending on the fruit or the vegetable. You need to do your homework.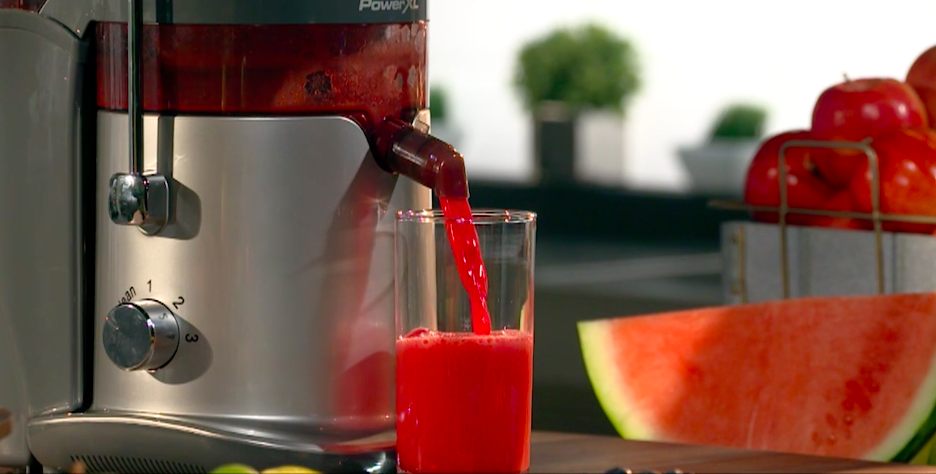 It is not unusual that fruit juicers are mistaken for blenders. The difference between a fruit juicer and a blender is that a juicer will have some kind of mechanism that will separate the pulp from the juice but in the case of a blender, it grinds the fruits or vegetables and the pulp has to be manually strained. That can be very tedious.  For the past few weeks, I have frequently seen a commercial on television about PowerXL, Self-Cleaning Juicer.
According to the commercial, it has an expanded Chute Capacity, which means an extra-large round feeder giving you even more space for fruits and vegetables so juicing is faster and easier than ever before. After obtaining one, I found out it was true.
It also has an Innovative Self-Cleaning Function that removes stubborn pulp and promotes continuous juicing and clog-free juice flow. That was also true as I tested it.

Another feature is the Removable; Non-Drip Spout so there's never any leftover juice dripping on your countertops. After juicing, simply rotate upwards to avoid drips. True again.
Other handy features include a High-Performance Motor which extracts 30% more Juice. The 1200-Watt motor goes up to 23,000 RPMs, extracting more juice than other juicers for optimal vitamin absorption. It was so powerful that it startled me when I used it for the first time. I thought the machine was going to explode.
Three Variable Speeds Accommodate Most Fruits and Vegetables. Level 1 for soft fruits and vegetables, such as strawberries, Level 2 Medium foods, such as pineapple, and Level 3 for hard foods such as carrots.

I tried it with apples, it was fantastic, as well as with oranges, some roughly pre-peeled and some with their peel. I have to admit that I preferred the pre-peeled. I found that the oranges with peels give the juice a bitter taste that I did not care for. It doesn't take much time to peel them and I thought the taste was much smoother. As for the assembly, it was pretty easy if you read the manual. DO NOT MISS page 10 when it refers to removing the silicone cover from the hooks on the self-cleaning scraper. I did not do it the first time and my juicer would not work. It would start and stop immediately. This is what you get for not consulting the manual. At the end of the day, I just love it. It is a fantastic machine.
For more info and to purchase visit www.powerxljuicer.com