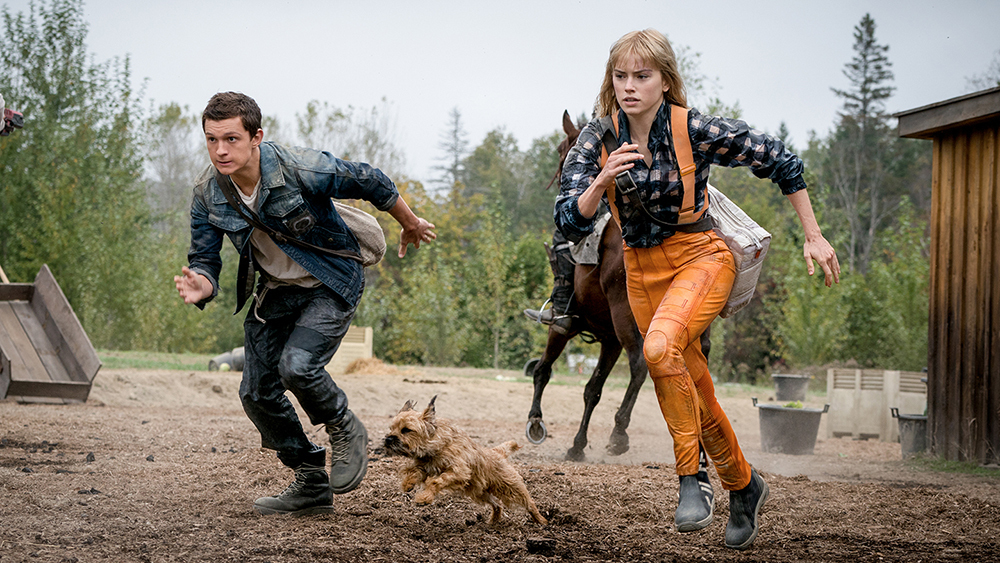 Tom Holland stars as a young man in the not-too-distant future who vows to protect a mysterious woman who crash lands on his far-off planet in "Chaos Walking," an entertaining enough sci-fi adventure co-starring Daisy Ridley.
The second film of 2021 for director Doug Liman after his pandemic set crime comedy, "Locked Down," this imaginatively staged and admirably innovative action-adventure offers up some quality sci-fi thrills and thought-provoking ideas, but will ultimately leave viewers unsatisfied with its overly intricate design. Based on Patrick Brice's best-selling novel, The Knife of Never Letting Go, the film poses some interesting questions about our culture of oversharing as well as ongoing societal issues with gender inequality, though much of these intriguing ideas are bogged down by a ho-hum romantic storyline and a distracting narrative device that externalizes interior dialogue. Still, with a committed cast led by the star power of Tom Holland and Daisy Ridley, not to mention some solid supporting work by Mads Mikkelsen and Demián Bichir, and impressive camerawork by Ben Seresin ("World War Z"), "Chaos Walking" is intriguing enough to justify tagging along on this sci-fi adventure.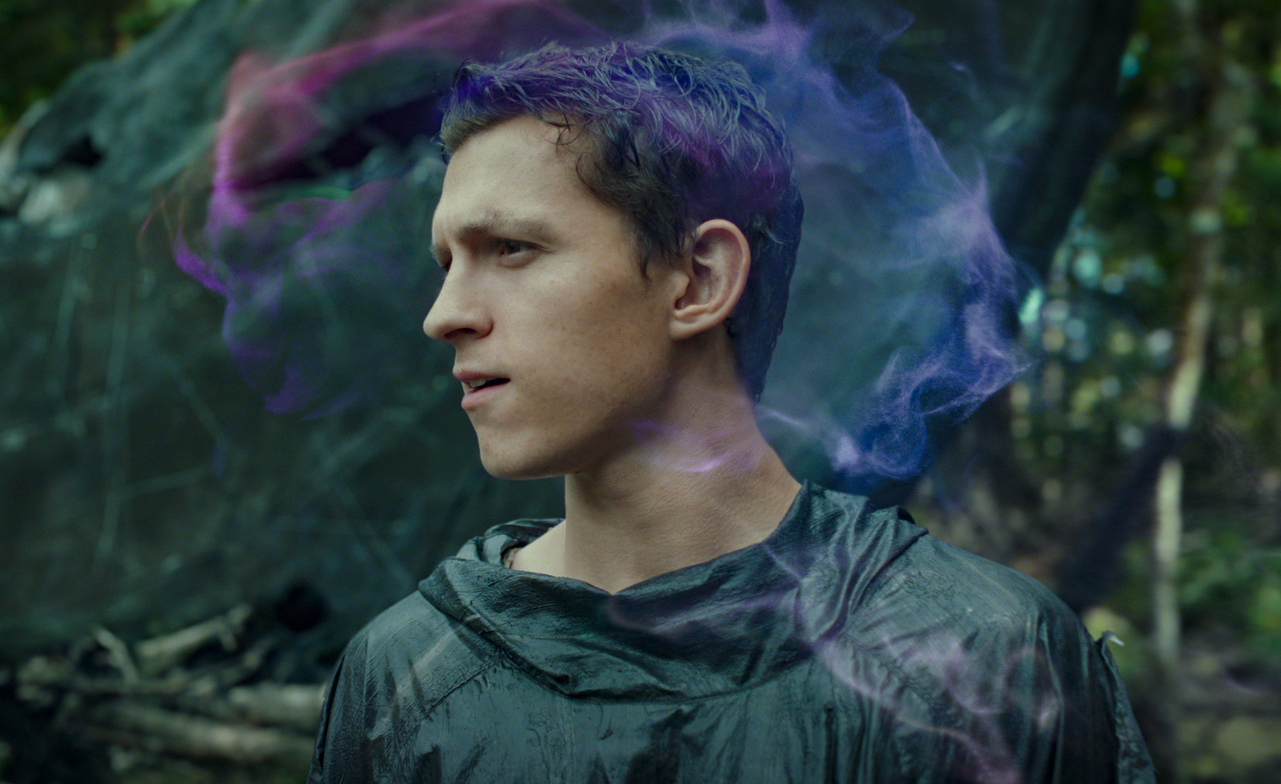 Set on the planet New World in 2257 A.D., "Chaos Walking" centers on Todd Hewitt (Tom Holland), a young man who lives and works on a beet farm with his guardians, Ben and Cillian (Demián Bichir and Kurt Sutter). According to David Prentiss (Mads Mikkelsen), the mayor of the planet's main settlement, there are no women on New World, as they are said to have been slaughtered by the planet's indigenous species, called The Spackle, who waged a war on the humans shortly after their arrival. Beyond the Spackle and the absence of women, New World is unique in that everyone can hear everyone else's thoughts, a phenomenon referred to as The Noise.
Into this otherworldly setting comes Viola (Daisy Ridley), a woman who crashlands on New World while on a scouting expedition for her mothership, which is carrying four-thousand inhabitants hoping to settle on the planet. Daisy's arrival is deemed a threat by Prentiss, whose authority will undoubtedly be challenged by the mothership's inhabitants, and he immediately takes steps to neutralize her. Wanting to help Viola and better understand her gender, Todd risks life and limb to lead her on a thrilling journey across New World in hopes of contacting the mothership before Prentiss and his posse catch them both.
Working from a script that Brice co-wrote with Christopher Ford, Liman makes the most of the otherworldly setting, giving viewers some exciting sequences that rival his work in other action films like "Edge of Tomorrow" and "The Bourne Identity," though on the whole "Chaos Walking" falls short of these other titles. Perhaps a result of having to condense the material into feature film length, the characters have relatable motivations and some affecting moments but their backstories come across as thin and at times undermine the sci-fi premise. Narrative shortcomings aside, the film is loaded with engaging special effects and immersive production design that help bring this far-flung planet to life, and the stellar cinematography of Ben Serensin nicely captures the unique setting. Some mind-blowing action sequences also stand out, with a motorcycle chase through New World's forest and a thrilling fight sequence set aboard a boat being definite highlights.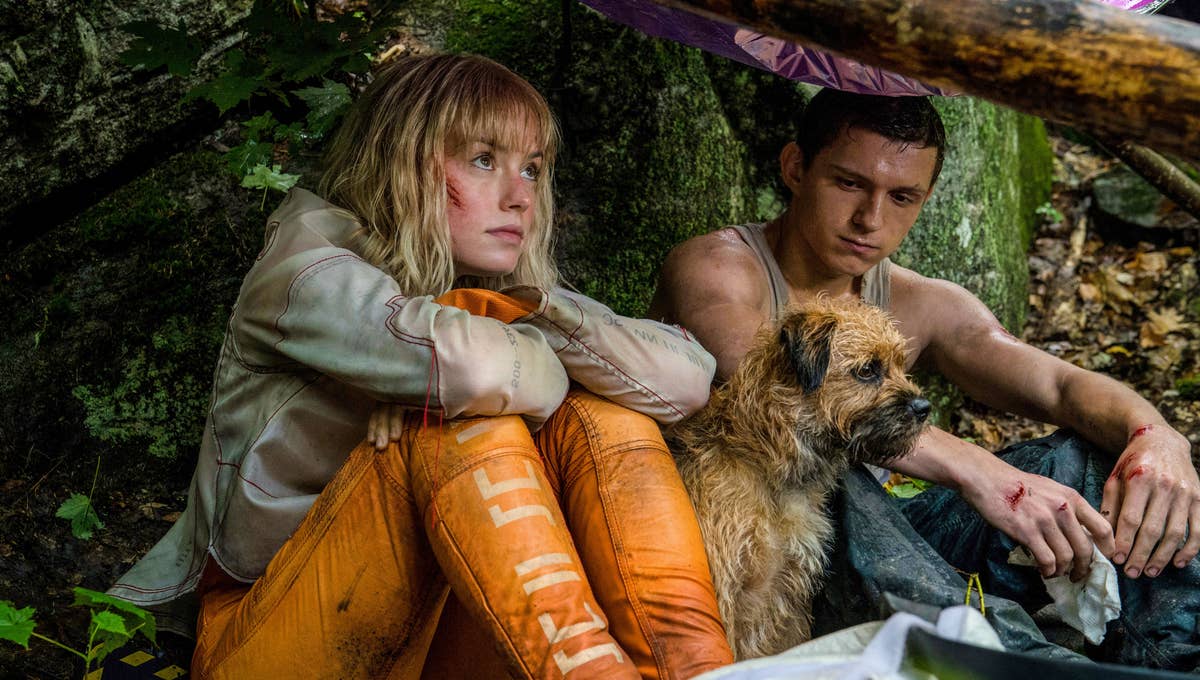 As the tormented youngster Todd Hewitt, Tom Holland serves an agreeable lead, carrying his character's emotional burden while also offering some humor along the way. It can't be an easy task to film scenes where you're forced to act out your interior dialogue, as is the case here due to the previously mentioned Noise phenomenon, but Holland handles the task with ease, even if the device itself will strike some viewers as annoying. Playing the "space girl" seeking a better life on a new planet, Daisy Ridley is as likable as ever, and her chemistry with Holland elevates the proceedings on the whole. Demián Bichir is also a striking presence as the concerned caretaker of Todd Hewitt, while Mads Mikkelsen excels as the ruthless Mayor of Prentisstown.
"Chaos Walking" offers sufficient sci-fi thrills.
By Lucas Mirabella
Running Time: 109 minutes
Rated PG-13 for violence and language
https://www.lionsgate.com/movies/chaos-walking