We constantly hear about "women's inequality" in this country, and though this may exist, it should not be used as an excuse to blame someone for your lack of success. Instead, it should motivate one to excel and prosper like so many women worldwide in various walks of life who have made incredible contributions to society. From medicine to beauty and engineering, to business and more, there are, and have been, plenty of successful women who are also mothers and wives. These are the women we should emulate and reference as our role models. They paved the way for all women. I have personally been influenced and motivated by them believing that if they could achieve their goals, so could I. A perfect example, and someone who has inspired me, is Estée Lauder.
Have you ever wondered about the woman behind the brand? Even if you have not, her story is quite inspirational. Estée was the niece of a Hungarian chemist; she was trained in the art of face creams at an early age. Born Josephine Esther Mentzer in New York City, her parents Rose Schotz, a Hungarian Beauty and Max Mentzer, a Czechoslovakian businessman, named her Etsy. Her name was changed to Estée when she enrolled in school. And although the beauty entrepreneur would celebrate July 1st every year as her birthday, she was always noncommittal about her age.
Estée Lauder is not just the name of a beauty product but an incredibly talented and determined woman who worked hard and tirelessly to change our world, to educate us and to set the example that her accomplishments could be attained by anyone willing to commit to hard work. She was strong and the epitome of elegance, something that she passed on to her brand. "All great things begin with a vision…a dream," said Estée Lauder. And when she set out to launch a beauty company in 1946, immediately after the second world war when the economy was less than flourishing, she certainly had a clear vision for her future — it was the guiding force in everything she did. What she might not have imagined, however, was that she would set the standard for the entire beauty industry for decades to come. From product, to packaging, to simply hiring the right people for her newly founded company, Estée Lauder ushered in a new era of beauty. She did not want her customers to buy a lot of products. She was very aware that times were hard for everyone. "Never sell a customer what she doesn't want or need," she wrote. Of course, sales were important as she grew her brand, but at the end of the day, Estée strongly believed that the ideal beauty routine required only a few key products, and no more than 3 minutes each morning and evening to apply them. No elaborate rituals necessary.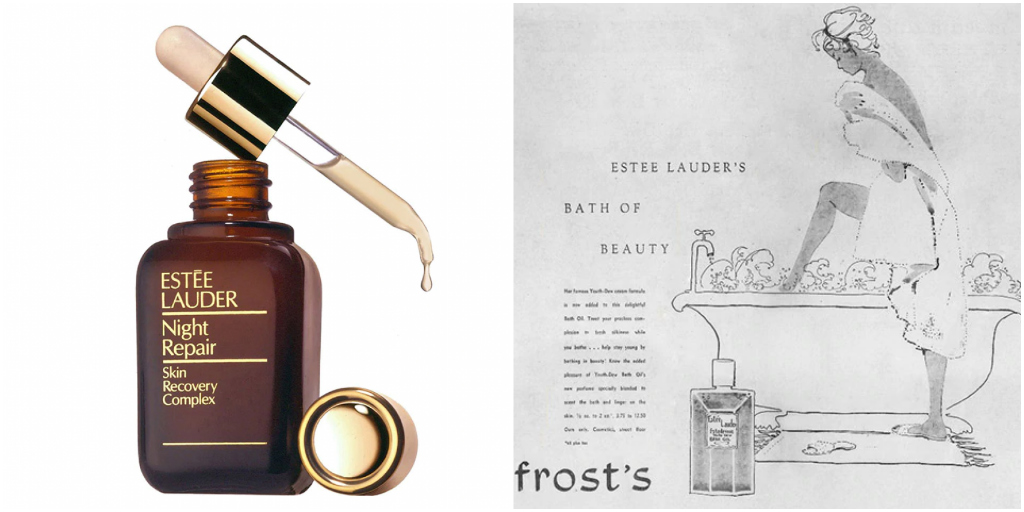 (Right) Youth-Dew Bath Oil Ad
Did you know that she created the first-ever night serum? Today, beauty shelves are flooded with them, but back in 1982, Night Repair —as it was originally called — was revolutionary. Estée was one of the first to understand that skin is best able to repair itself at night, and that a lightweight texture (what we now know as a serum) was better able to penetrate deeply into the skin's surface to help it repair. Night Repair was also the first to use an apothecary-style brown bottle to help protect the formula's active ingredients. She changed the course of the fragrance industry. Before she created Youth-Dew Bath Oil in 1953, it was unheard of for women to buy fragrances for themselves. Perfume was only to be worn for special occasions, and women relied on the men in their lives to gift them with it. But, by selling Youth-Dew as a bath oil that doubled as perfume, Estée gave women license to buy fragrance for themselves and indulge in it anytime they liked. Even as her small company grew into a corporation, Estée wanted to know every employee. "I don't look at their resumes…I look at them," she told the Boston Sunday Globe in 1969. "My decision is based on chemical reaction."
She also had an intense love of flowers, which served a purpose in everything she created. She found them to be a constant source of inspiration. As she told House & Garden magazine in 1980, "What's the great secret to vitality? It can be derived by surrounding yourself with growing things — plants and flowers." Perhaps not surprisingly, flowers play a crucial role in many of their products — from the Re-Nutriv Ultimate Lift Regenerating Youth collection, which features the remarkable Himalayan Gentian flower, prized for its ability to thrive in extreme environments — to their iconic Beautiful eau de parfum, known as "the fragrance of a thousand flowers."
By now you guessed it, I am a fan of the brand. A short while ago, while browsing Estée Lauder website, I decided to try four new products that I was not familiar with. What intrigued me the most is that all these treatments work while you sleep.
First – The Advanced Night Repair; Synchronized Multi-Recovery Complex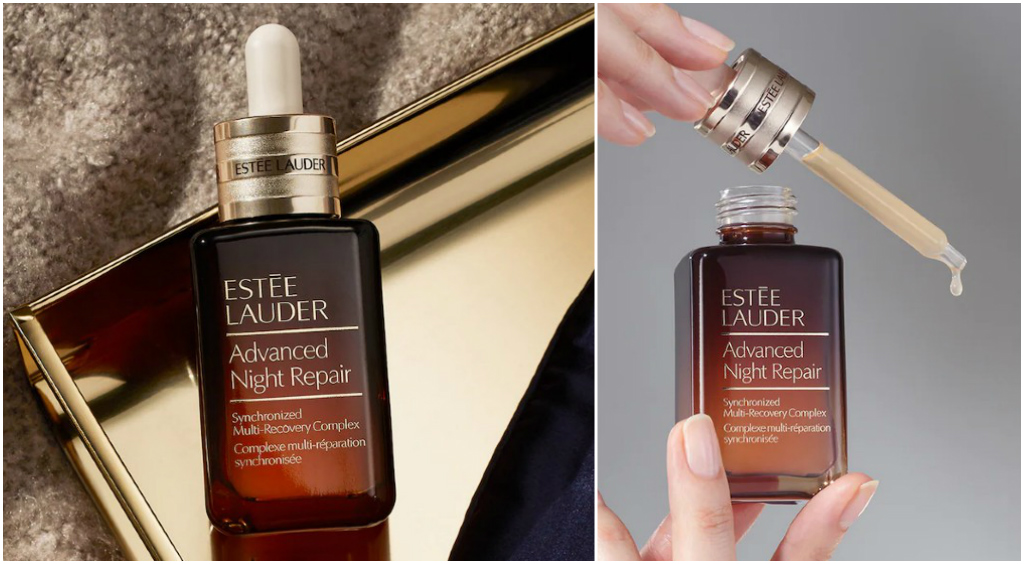 A Fast Repair and Youth-Generating Power. The most comprehensive Advanced Night Repair serum ever. Now with Chronolux™ Power Signal Technology, this deep- and fast-penetrating serum reduces the look of multiple signs of aging caused by the environment. Skin looks smoother and less lined, younger, more radiant, and even toned.
Second – Revitalizing Supreme + Night Intensive Restorative Crème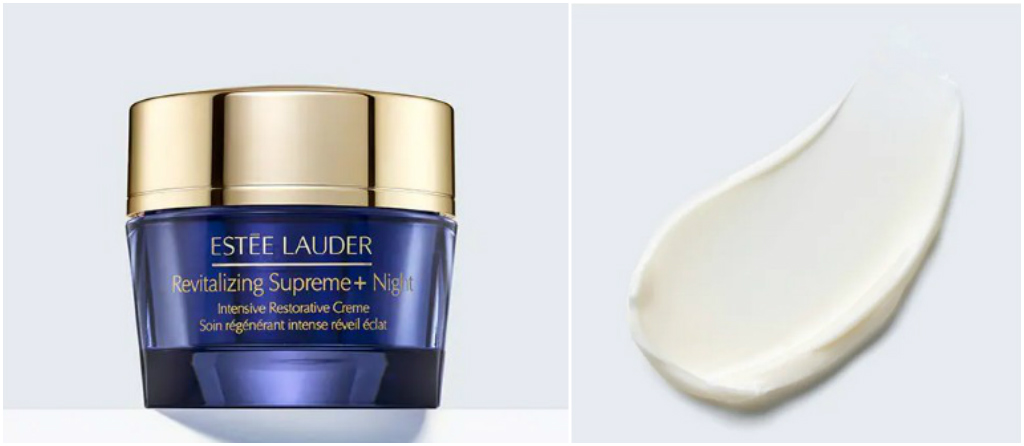 This rich, ultra-nourishing multi-action creme is especially effective during the night. The combined effects of the concentrated Moringa Extract, Sea Lavender Flower Extract and RevitaKey protein, helps amplify the skin's own production of plumping Hyaluronic Acid by 80%.
It leaves skin feeling firmer, replenished and significantly reduces the look of lines while you sleep.
Third – Advanced Night Repair Eye Supercharged Complex Synchronized Recovery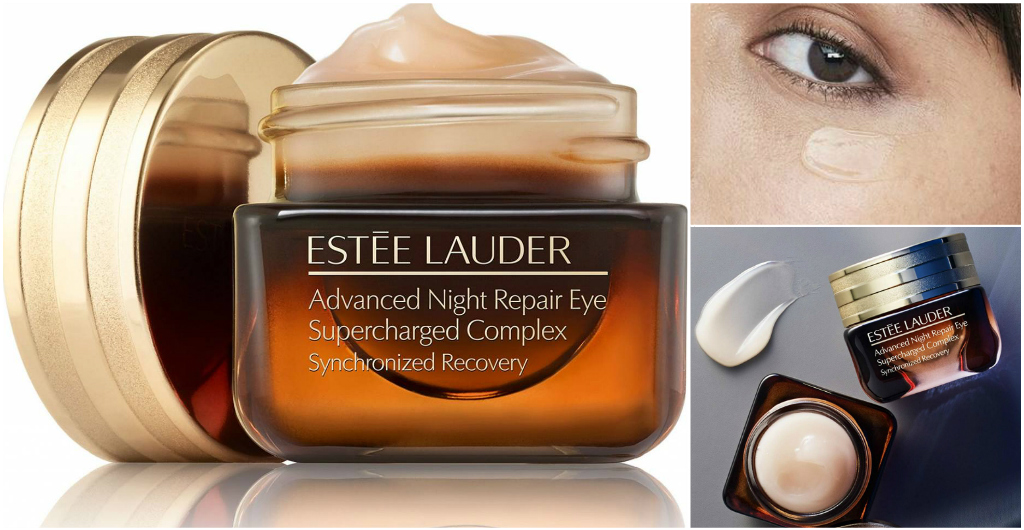 This supercharged treatment — now with 10x Concentrated Repair Technology — helps repair the visible impact of lack of sleep, UV, pollution, even blue light. It dramatically reduces the look of every key sign of eye aging, including puffiness, lines and dryness and brightens dark circles. It is proven to reveal a bright, hydrated, visibly revived look with comprehensive benefits for the eye area.
Fourth – Pure color Envy Nighttime Rescue Lip-oil serum Baby Your Lips.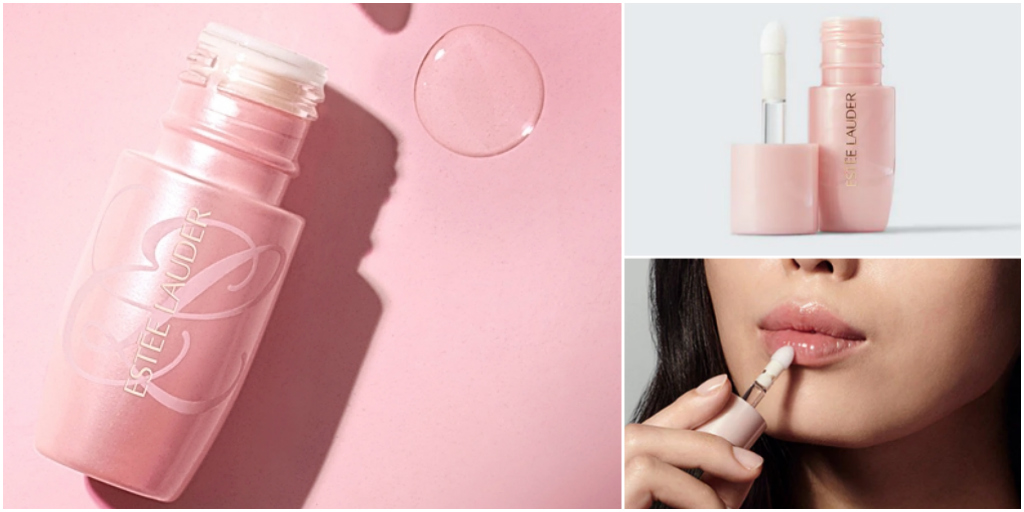 We do not think enough about treating our lips. Check out this revitalizing overnight treatment which rescues lips from the day. Infused with nourishing hydrators and precious, naturally derived Camellia, Rose, and Lavender Oils, it leaves lips feeling soft, supple, and soothed. It also includes collagen filling spheres. Lips feel nourished and plumped with moisture. Fine dry lines look minimized.
I highly recommend each and every one. They make a difference.
For more info: www.esteelauder.com