The tragic yet fascinating true story of how Black Panther Party chairman Fred Hampton was betrayed by an FBI informant in the late 1960s is thrillingly told in "Judas and the Black Messiah," a highly engrossing biopic starring Daniel Kaluuya, Lakeith Stanfield, Jesse Plemons and Martin Sheen.
With his first foray into studio filmmaking, director Shaka King, whose previous credits include episodic comedies like "People of Earth" and "Shrill," delivers a searing look at one of the unsung heroes of American history. It's the kind of audacious and impassioned big screen treatment that the subject deserves, providing an unflinching depiction of a seminal moment in our nation's history centered on a charismatic figure whose importance to his cause still resonates to this day. Working from a story they crafted with Kenny and Keith Lucas, the screenplay by King and Will Berson is an impressive feat of storytelling, offering all the suspense of a traditional thriller while still doing justice to the revolutionary leader's essential life story. Bringing this fiery biopic brilliantly to life is the pair of award-worthy performances at its center, with Daniel Kaluuya virtually disappearing into the role of Fred Hampton and Lakeith Stanfield showing off his full range of talents as the smart but slippery con man that betrays him.
The film starts off with a speech by FBI Director J. Edgar Hoover (Martin Sheen) describing the agency's counterintelligence program COINTELPRO, whose mission is to discredit dissenting political voices, especially those in the Black and Civil Rights community. One of those voices is Fred Hampton, the charismatic chairman of the Black Panther Party's Illinois chapter. Hampton's ability to fire up an audience and command the stage is second to none, and he uses his skills as a natural born leader to unite everyone from gang leaders to political allies toward their shared goal of social change.
At the same time, a con man named William O'Neal (Lakeith Stanfield) gets in trouble for stealing a car and impersonating an FBI agent. In lieu of a seven-year prison sentence, an FBI interrogator (Jesse Plemons) convinces O'Neal to infiltrate the Black Panthers and inform on Hampton. Posing as a young revolutionary, O'Neal stands right alongside Hampton as he takes the Black Panthers to new heights. As O'Neal embeds himself further into the organization, his camaraderie with Chairman Fred and belief in the Black Panthers' fight results in some serious moral ambivalence.
A film bursting with passion and pain, this bold biopic captures the full extent of its subjects' struggles and draws powerful parallels to how Hampton's fight continues to this day. Featuring a soulful score by Mark Isham and Craig Harris, visually rich cinematography by Sean Bobbitt and first-rate production and costume design capturing the late 1960s setting, "Judas and the Black Messiah" is a masterfully told piece of filmmaking from start to finish. Featuring the kind of carefully crafted storytelling one would expect from a veteran director, Shaka King more than rises to the occasion for his studio debut, capturing everything from the period details to the complex character relationships with awe-inspiring precision.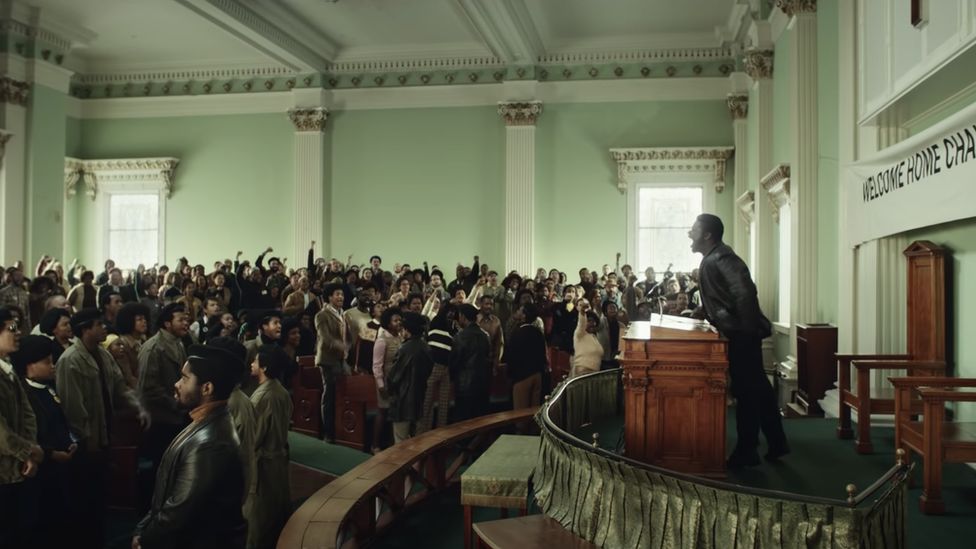 "Judas and the Black Messiah" earns its dramatic power not only from the urgent filmmaking of Shaka King but also from the profound performances of the two actors in the title roles, Lakeith Stanfield and Daniel Kaluuya. Playing the con man that infiltrates the Black Panthers, Lakeith Stanfield is finally given a role that fully showcases his considerable acting talents, and he captures the character's smarts and slipperiness with equal skill. But while Stanfield is a fascinating presence every moment onscreen, Daniel Kaluuya is tasked with filling out the towering role of Fred Hampton, and to say he rises to the occasion doesn't even begin to describe the power of his performance or how completely the actor inhabits him. The supporting cast similarly excels, with Dominique Fishback proving herself a vital presence as Hampton's devoted girlfriend Deborah Johnson and Jesse Plemons reliably menacing as the FBI interrogator who flips O'Neal.
"Judas and the Black Messiah" is an essential biopic with two phenomenal performances at its center.
By Lucas Mirabella
Running Time: 126 minutes
Rated R for violence and pervasive language
https://www.judasandtheblackmessiah.com