Have you ever noticed that small appliances always break down at the most inconvenient time? For example, right in the middle of preparing dinner. Well, I experienced this when my steamer and fryer both broke in the same evening. As a result, dinner was ruined because I could not steam my vegetables or make my French fries. The following morning, I made it a point to go online and find products comparable to what I had but technology is so ever-changing that similar items did not exist anymore and so the research process began. There are so many appliances to choose from that after a couple of hours looking at steamers and fryers, I was exhausted. I wanted something simple and practical; not too big, not too small so that they would fit on my kitchen counter. I eventually decided on Hamilton Beach.
Their Digital Steamer had everything I needed.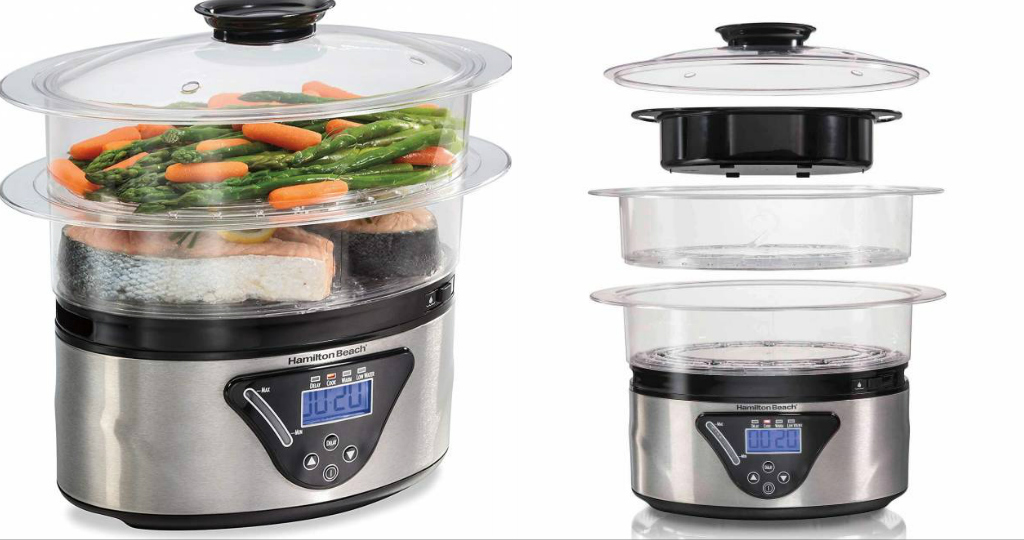 You just fill the base with water, place your food atop the bowl, and set the cooking timer. When your food is ready, a beep sounds and the Steamer automatically switches to warm for one hour. The Steamer comes with two bowls which makes it easy to cook anything. Use either or both. One bowl will accommodate small quantities of veggies or fish but if you need to have a bigger capacity, stack up the second bowl. you just have to remove the divider between the bowls to steam large foods such as corn on the cob or a head of broccoli.
What I like about steamers is that they are extremely healthy. It is much better to steam certain types of food such as delicate fish, lobster, shrimp, clams, mussels, and oysters than fry them. You can also use it for steaming chicken breasts and hot dogs. The steamer also includes a rice bowl that is perfect for white or brown rice and small foods. It cooks eggs upright from soft to hard-boiled.
Other features include a digital touchpad which makes setting the countdown timer and other functions easy. You also have the convenience to DELAY/START the timer. It lets you fill the steamer with produce in advance and begin steaming later (do not use for raw fish, seafood, meat, or poultry) The Rice bowl and drip tray are dishwasher safe and the Steaming chart is included in the Use & Care guide.
You can steam seafood or chicken breasts in the bottom bowl and vegetables in the top. Since food cooks faster in the bottom bowl, always place food with longer steaming times in first, closer to the base. It is light and looks great on the countertop. Reasonably priced, it is a must.
For more info go to www.hamiltonbeach.com
---
I was also in the market for a Fryer, so I stayed on their website to search for one. I found the Hamilton Beach 2.1qt Oil Capacity Deep Fryer – Stainless Steel.
No kitchen is complete without a fryer. After all, French fries are probably the number one side dish loved by children and grown-ups. the Hamilton Beach 8-Cup Oil Capacity Deep Fryer is simply perfect for 1 to 4 people. Throw in some wings and fries, and you are set for a great party when entertaining your friends. It holds up to 15 chicken tenders or up to 5 servings of fries at once, making deep frying an easy and fun dinner choice. A timer with a tone lets you set it, allowing you to attend to the rest of your dinner.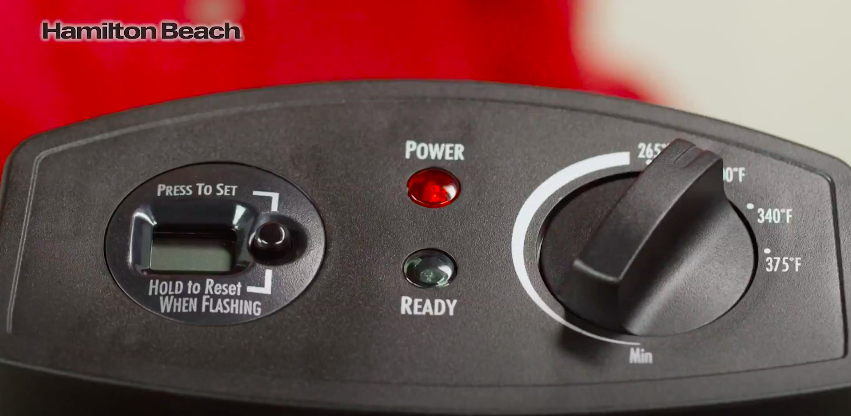 It is light and is esthetically pleasing with its stainless-steel look which fits perfectly with the rest of my kitchen. Other features include: See-Through Lid, See-Through Window, indicator light, Adjustable Thermostat, and Timer.
If you need a steamer, do not hesitate to give it a try. I highly recommend it.
For info go to www.hamiltonbeach.com