Anne Hathaway and Chiwetel Ejiofor are simply splendid as a bickering London-based couple who are placed in mandatory lockdown just as they're deciding to separate in "Locked Down," a spirited rom-com set and shot during quarantine.
A lively comic caper that makes the most of its minimal settings, "Locked Down" is aided enormously by the crafty direction of Doug Liman, who knows a thing or two about mixing thrills and humor, as seen in such standout films as "Mr. and Mrs. Smith" and "American Made." Bolstered by a wonderfully witty script by prolific screenwriter Steven Knight whose punchy dialogue transcends the static settings, this Covid-era curiosity offers viewers no shortage of humor to go along with its caper thrills and romantic underpinnings. Featuring a savvy storyline that never fails to entertain, even when the audience is cooped up with this crazy couple as they hash out their many differences, and an all-star supporting cast including Ben Stiller, Ben Kingsley and Stephen Merchant, "Locked Down" makes the most of its creative limitations and should be a hit with audiences when it premieres on HBO Max.
Mostly set in the couple's London home, "Locked Down" revolves around Linda Jarvis (Anne Hathaway), a neurotic and constantly stressed corporate exec, and her longtime partner Paxton (Chiwetel Ejiofor), a delivery driver struggling to keep his sanity. With their relationship already having run its course, the couple is ready to call it quits when they're placed on two-week lockdown, which of course only exacerbates their relationship troubles. Add to this combustible environment a surplus of wine, cigarettes and poppy bulbs from which Paxton learns to make opium, and you've got a recipe for one chaotic quarantine.
The couple's career paths cross when Paxton is hired to deliver a truckload of expensive goods, including an extremely valuable diamond, from the luxury department store Harrods where Linda works. Knowing the diamond will be sold to a tyrannical world leader, and that Paxton will be working under an alias because he has a criminal background, Linda and Paxton decide to add some excitement to their lockdown by planning a jewelry heist of epic proportions.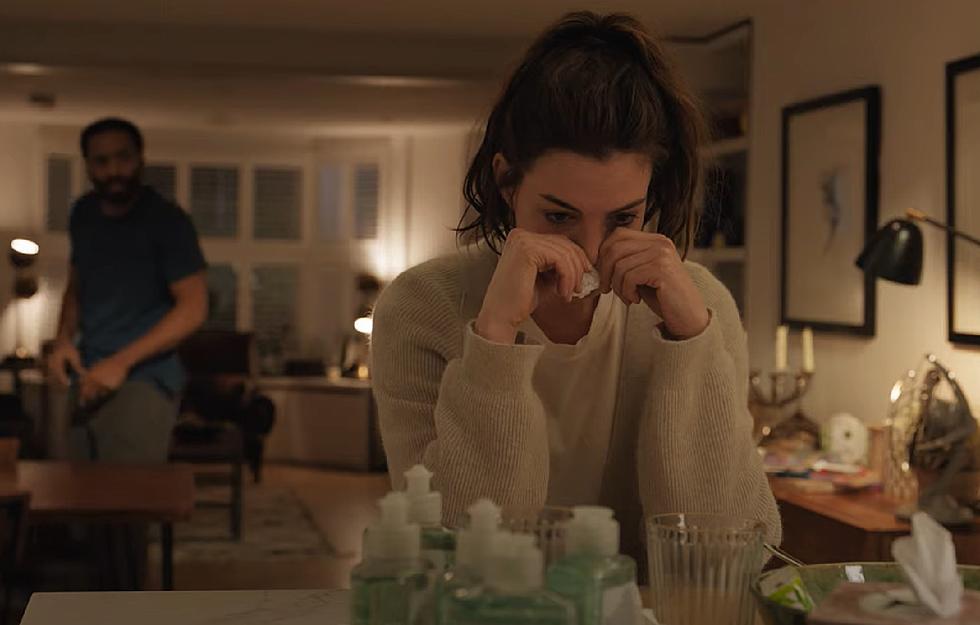 For a film set almost entirely in a single household, and that relies upon virtual interactions with other characters, "Locked Down" is a surprisingly engaging affair. Much of the story's entertainment is a result of the superb screenwriting of Steven Knight, who not only cooks up some great comedic scenarios, but also crafts some genuinely interesting characters, whether it's the pugilistic couple at the story's center or the peripheral roles. Director Doug Liman overcomes the setting's limitations by switching up the screen format to keep things visually interesting, alternating between Zooms and FaceTimes and a more traditional single cinematic setup, always looking for opportunities to make the most of the dialogue-heavy scenes. And while the story could probably have benefited from a little more caper hijinks and a little less relationship drama, the quality of the writing and the ingenuity of the direction makes this setback a minor one.
Liman's penchant for steering actors toward memorable performances is on display in "Locked Down," and nowhere is that more evident than in the two lead performances by Anne Hathaway and Chiwetel Ejiofor, who both fully commit to their easily excitable characters. As the neurotic corporate exec, Hathaway is tasked with firing off pages of dialogue in scene after scene while navigating her character's whirlwind of emotions, and she pulls it off with serious skill. And while Ejiofor's dialogue load is perhaps a bit less as the lovable cynic Paxton, his performance is no less impressive. As for the supporting actors, Ben Stiller makes a welcome Zoom appearance as Hathaway's Vermont-based boss, Ben Kingsley is a lively presence as Paxton's mischievous boss and Stephen Merchant excels as Linda's former coworker at Harrods.
"Locked Down" is a winning rom-com that will help audiences through these trying times.
By Lucas Mirabella
Running Time: 118 minutes
Rated R for language throughout and some drug material.
https://www.hbomax.com/coming-soon/locked-down
Available on HBO Max January 14th