Tommy Lasorda, the son of Italian immigrants and a professional pitcher who became a legendary Dodgers manager, global baseball ambassador and national treasure, died on Thursday. He was 93.
Commissioner Rob Manfred issued the following statement:
"Tommy Lasorda was one of the finest managers our game has ever known. He loved life as a Dodger. His career began as a pitcher in 1949 but he is, of course, best known as the manager of two World Series champions and four pennant-winning clubs. His passion, success, charisma and sense of humor turned him into an international celebrity, a stature that he used to grow our sport. Tommy welcomed Dodger players from Mexico, the Dominican Republic, Japan, South Korea and elsewhere — making baseball a stronger, more diverse and better game. He served Major League Baseball as the Global Ambassador for the first two editions of the World Baseball Classic and managed Team USA to gold in the 2000 Summer Olympics in Sydney. Tommy loved family, the United States, the National Pastime and the Dodgers, and he made them all proud during a memorable baseball life.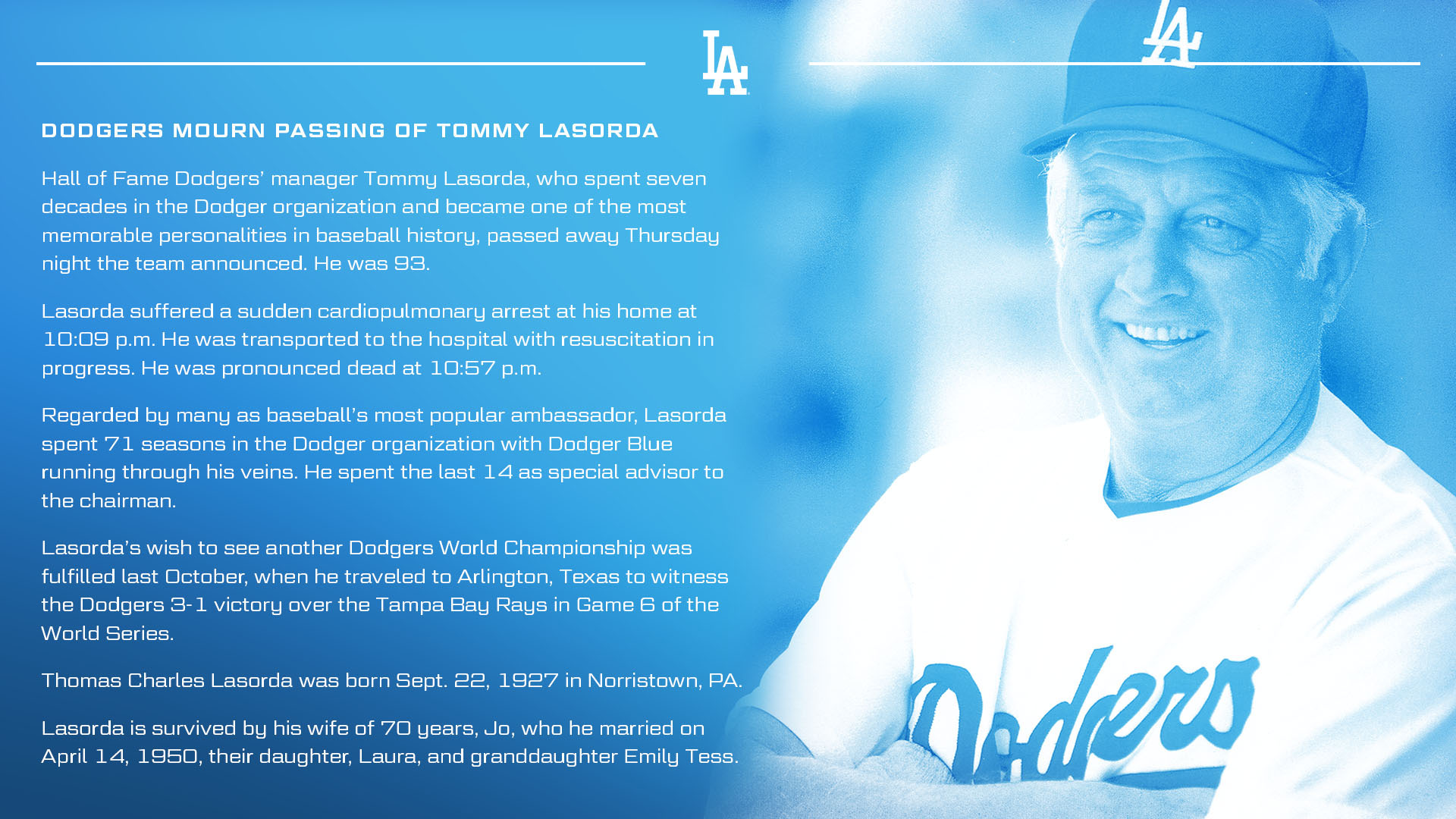 "I am extremely fortunate to have developed a wonderful friendship with Tommy and will miss him. It feels appropriate that in his final months, he saw his beloved Dodgers win the World Series for the first time since his 1988 team. On behalf of Major League Baseball, I send my deepest sympathy to his wife of 70 years, Jo, and their entire family, the Dodger organization and their generations of loyal fans."
In three seasons as a Major League pitcher, Lasorda went 0-4 and reminded nobody of Sandy Koufax, who replaced him on the Brooklyn roster. But as the Dodgers manager for two decades, Lasorda crafted a body of work that earned him a place alongside Koufax in baseball's Hall of Fame. Before his death, Lasorda was the oldest living Hall of Famer, a distinction that now passes to Willie Mays, 89.
He died after serving in his 71st season with the Dodgers, an extraordinary display of loyalty. He spent the last two decades as a special advisor to the chairman (currently Mark Walter), having been rescued by previous chairman Frank McCourt from an exile imposed when News Corp. bought the club from Peter O'Malley and his sister, Terry Seidler.
"My family, my partners and I were blessed to have spent a lot of time with Tommy," said Walter in a statement. "He was a great ambassador for the team and baseball, a mentor to players and coaches, he always had time for an autograph and a story for his many fans and he was a good friend. He will be dearly missed."