CBD Living was founded in Southern California in 2013 by Bill Di Segna, when the CBD oil business was in its infancy. It all started with a flagship product — CBD Water — which at the time, was a total breakthrough in the industry. Bill dedicated his career to building a reputable brand of CBD products backed by the science of cutting-edge nanotechnology, an in-house scientist and the input of several renowned PhD scientists and university professors.
A lifelong entrepreneur, Bill began his career in 1988 when he moved to Temecula, Calif. after foreseeing an impending construction boom in the area. His Demolition Concrete Company became one of the most respected construction companies in the Inland Empire. His next venture was a charter fishing Boat Company in Central America which he started with his wife.
Upon their return to California, Bill became interested in the cannabis industry and purchased several medical cannabis dispensaries and cultivation sites, eventually learning more about the benefits of CBD and moving into that burgeoning industry. Since then, they've assembled an impressive team of scientists, entrepreneurs, and innovators to offer potent, 0% THC products around the world.
During the holidays, I had the chance to try several of their products, starting with their coffees and teas. Like many people, I love a good cup of coffee or tea after lunch. However, I am always hesitant as I do not want to stay awake at night.
But being on vacation, I decided to go for their CBD Living Instant Matcha Coffee which utilizes their Proprietary Self-Emulsifying delivery system which absorbs more CBD into your system faster. It is quick; just pop a cup of water in the microwave, add a tea spoon of Matcha coffee and enjoy. It was delicious. Then I tried the CBD Coconut Herbal Loose Leaf Tea which combines 250 mg of organic nano CBD with the highest-quality organic tea leaves. Like the Matcha coffee, it utilizes their Proprietary Self-Emulsifying delivery system which increases bioavailability, meaning you absorb more CBD into your system, faster. Ideal for those whose taste buds are on "island time," this flavor is caffeine-free. Simply delicious!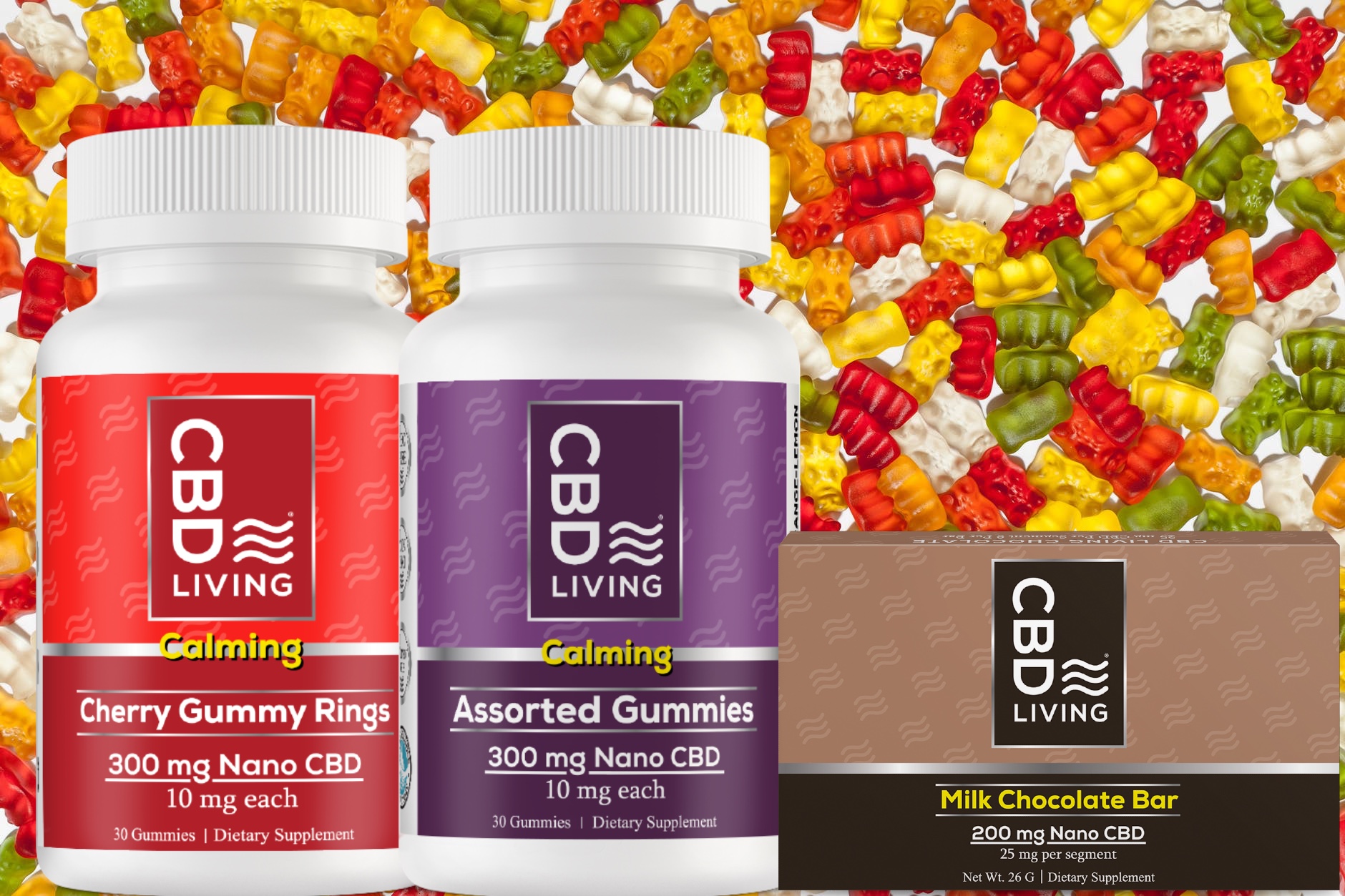 Of course when I realized that they offered CBD Chocolate Bars, I could not wait to try them. In my book; the only thing better than chocolate is chocolate. These were not only regular chocolates but delicious, creamy chocolate bars combined with CBD, utilizing their Proprietary Self-Emulsifying Technology. As soon as the oil hits the stomach's aqueous media, a water soluble micelle structure is formed with a particle size of <100 nanometers. The droplets are carried from the lymphatic system directly to the bloodstream for fast, sustained relief with no "hempy" aftertaste! The bar comes in two flavors, Milk chocolate and Dark chocolate containing 200mg of broad – spectrum Nano CBD with 25mg per segment. I had both flavors and of course, I loved them both!
Next on the list were edibles. I ordered the Cherry Gummy Rings which are available in 100 mg (10 mg – 10 ct.) and 300 mg (10 mg – 30 ct.)
Each cherry ring contains 10 mg of broad spectrum nano-CBD, 10 calories and 4 grams of sugar which make them sweet and flavorful. Utilizing the Water Soluble Nano Technology, their scientists break down the CBD into nanoparticles, allowing it to pass easily through the blood membrane. Result; the nano-sized CBD immediately penetrates into your body's cells, giving increased bioavailability at the cellular level – no waiting. I was asleep in less than 30 minutes.
I also ordered the Assorted Flavors Gummies which are available in 100 mg (10 mg – 10 ct.) and 300 mg (10 mg – 30 ct.)
They come in five fruity flavors – Cherry, Pineapple, Apple, Orange and Lemon – each gummy contains 10 mg of Broad Spectrum Nano CBD, along with 10 calories and just 1 gram of sugar. Delicious and quite effective, I truly enjoyed them.
All CBD Living products contain organically grown hemp from Colorado and are made in the USA. If you have not had a chance to try these products, I highly recommend it.
For more info go to: www.cbdliving.com