Carey Mulligan is more than meets the eye playing a mysterious woman whose traumatic past brings out her vengeful side in "Promising Young Woman," a genre-defying thriller with a wicked sense of humor and a killer supporting cast including Bo Burnham, Alison Brie and Clancy Brown.
A phenomenal directorial debut from multi-hyphenate Emerald Fennell, who is best known as the showrunner of season 2 of "Killing Eve," this wonderfully twisty suspense flick is a heart-stopping thrill ride that is sure to leave audiences on edge. Boasting surprising emotional depth and a twisted sense of humor, this intelligent and endlessly entertaining take on the revenge film features a knockout storyline whose revelations unfold in unforgettable fashion. With an award-worthy script by Fennell that deftly delivers on the promise of its premise, a superb score by Anthony Willis that navigates the story's tricky emotional terrain, vibrant cinematography by Benjamin Kracun and crafty editing by Frederic Thoraval that accelerates the story swiftly down its dark path, "Promising Young Woman" is a bold piece of filmmaking from any director, let alone a first-timer. Add to the equation a one-of-a-kind performance from lead actress Carey Mulligan that is about as nuanced as they come, and you've got a wickedly enjoyable revenge film for the ages.
As the plot carefully reveals itself, we gather that the promising young woman of the title is Cassandra Thomas (Carey Mulligan), a med school dropout whose ambitions were cut short by an unspoken incident from her past. Much to the dismay of her parents (Jennifer Coolidge and Clancy Brown), Cassie has allowed this incident to completely overtake her life, causing her to move back home and abandon her ambitions in favor of working a dead-end job at a coffee shop.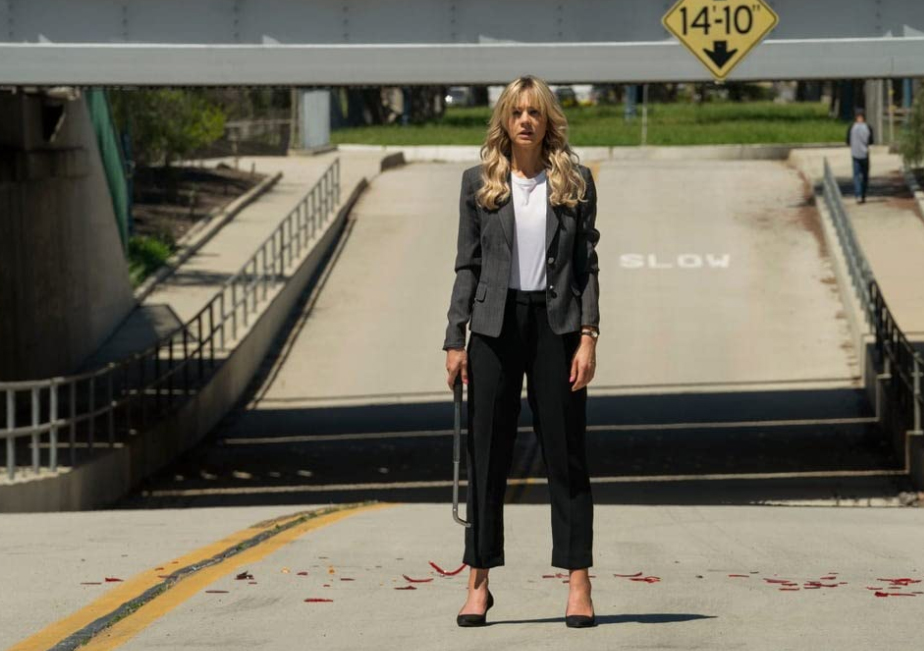 Without giving too much away, Cassie has a very particular way of dealing with her trauma: getting blackout drunk and going home with predatory men she meets at bars. In reality, though, her motivation for these late-night excursions is much more cunning, which becomes increasingly clear as the story plays out. When Cassie reconnects with a med school acquaintance turned pediatric surgeon (Bo Burnham), the two hit it off, and she finally begins to accept love and climb her way out of her destructive cycle. But Cassie is a woman of many mysteries, and the audience waits with bated breath to find out if her motivations are as pure as they seem, or if this is just another scheme in her vengeful mission.
It is hard to overstate the narrative pleasures of this smart and slick revenge tale, and it all starts with the brilliantly plotted script by first-time director Emerald Fennell. From its breathtaking twists and deliberate withholds to its ear-catching dialogue and well-crafted characters, the script grabs audiences attention from the very first scene and doesn't let go until the crowd-pleasing finale. As a director, Fennell proves an astute handler of her original material, knowing just what to underscore and what to underplay in order to achieve maximum dramatic effect in her mystery-laden storyline. Helping Fennell achieve her vision is cinematographer Benjamin Kracun, whose imagery alternates between vibrant and brooding in keeping with the tonal shifts, and Anthony Willis, whose standout score similarly enhances the drama. Frederic Thoraval's accomplished editing also helps immeasurably with the film's pacing, ensuring this suspense tale hits all the right narrative notes.
It goes without saying that Carey Mulligan is an enormously talented actress who has exhibited her considerable dramatic range throughout her successful career, but her portrayal of Cassandra Thomas in "Promising Young Woman" is far and away her most memorable performance yet. The amount of emotional depth she is able to convey, especially in a film that relies so heavily on plot, is truly something special, which is partially attributable to good writing but mostly it's a testament to Mulligan's incredible skill as an actress. Surrounding Mulligan's performance is an inspired supporting cast led by comedian Bo Burnham, who is surprisingly affecting as the pediatric surgeon who puts a pause to Cassie's destruction, Alison Brie as a former med school friend who could use a lesson in empathy, and Clancy Brown as Cassie's beleaguered father.
"Promising Young Woman" is a deliciously twisted revenge tale from a very promising young filmmaker.
By Lucas Mirabella
Running Time: 108 minutes
Rated R for strong violence including sexual assault, language throughout, some sexual material and drug use.
In theaters December 25th