Helen Woodward Animal Center's annual Surf Dog competition has become synonymous with smiles – not only for the spectacle of dogs on boards, but for the unique characters the sport attracts.
Four years ago, two such characters came onto the scene in a big way. In addition to the blue mohawks both were showcasing, their names (a surfing human named Kentucky Gallahue and his surfing pup named Derby) had a delightful ring when announced over the loud speaker. Now the adorable duo is gaining worldwide popularity on Amazon Prime's surefire hit THE PACK which premiered last Friday. The pair is already dazzling viewers, but when Kentucky and Derby selected Helen Woodward Animal Center as their charity of choice, they demonstrated that their unique glimmer stems from hearts of pure gold.
Kentucky and Derby's story began in 2012 in Atlanta. Kentucky jumped in to rescue the 1 year old Goldendoodle (then named Midas) when a Georgia family decided to give him away. Kept in the backyard for the first year of his life, the dog was unfamiliar and scared of nearly everything and Kentucky made it his mission to help the pup find his footing. Kentucky was struggling too, however. Working as a bartender and dealing with a recent divorce, Kentucky was at a low and feeling "worthless." He knew he needed a change and his sister, living in San Diego, provided him an opportunity but he was scared. That is when his dog returned the favor.
"The trip across the country was very scary to me," explained Kentucky. "Not knowing what to expect and leaving a life and friends I had known for so long. Derby was there getting me through it. To this day I don't think I would have left Atlanta if Derby had not been there with me."
San Diego provided a variety of new experiences including surfing. Kentucky was determined to learn but he insists it was Derby who took to it first.
"Derby kept swimming out to me. I got fed up and put him on the board, pushed him into a wave and he rode the board all the way to the beach," states Kentucky.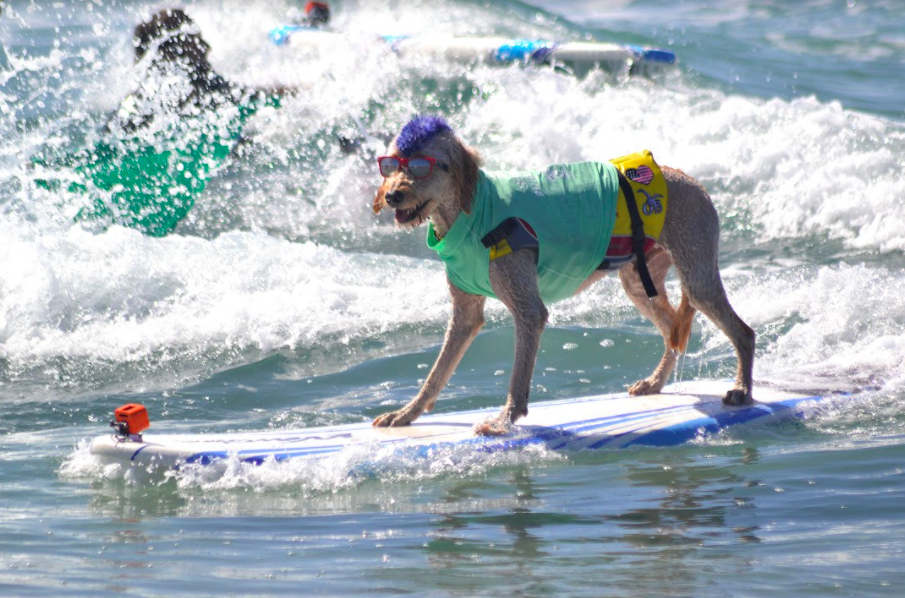 Blue mohawks, sunglasses, costume contests and eventually surf competitions followed, all of which Derby took to like he was born for it. From 2016 to the present, Kentucky and Derby have made their mark on Helen Woodward Animal Center's Surf Dog Surf-A-Thon, winning top prizes in the Freestyle Competitions and in the large dog weight category, where Derby took 1st this year, making people smile all along the way.
Perhaps what makes Kentucky and Derby most unique, however, is their enormous hearts. Deeply grateful to his furry buddy Derby, Kentucky began attending every dog event he could find that benefitted an animal charity. Dog festivals, contests, and competitions organized to raise money to help animals became his focus. Kentucky even started a t-shirt line called Derby California and sold a limited edition t-shirt with a percentage of proceeds supporting Helen Woodward Animal Center. The shirts sold out almost immediately but more are on the way. Up next, the duo is putting out a human and dog tie-dye matching hoodie set, also supporting the Center, available in the coming months. For information on the new line, check out their Instagram link @shopderbycalifornia.
When the opportunity to participate in Amazon Prime's THE PACK became a reality, Kentucky selected Helen Woodward Animal Center as his charitable organization. Structured like The Amazing Race, the show sends teams travelling around the world to compete in challenges. Of course, there is one major and delightful difference, in this show each pair is comprised of a person and their pup. Kentucky and Derby, who have overcome their greatest life challenges together, seem tailor made for this big time shot. With a hint at what can be seen in the streaming episodes, Kentucky says they have now traveled together by boat, train, canoes, airplane, kayaks, helicopters, ATVs, scooters, paddleboards, bicycles, skateboards, motorcycles and more.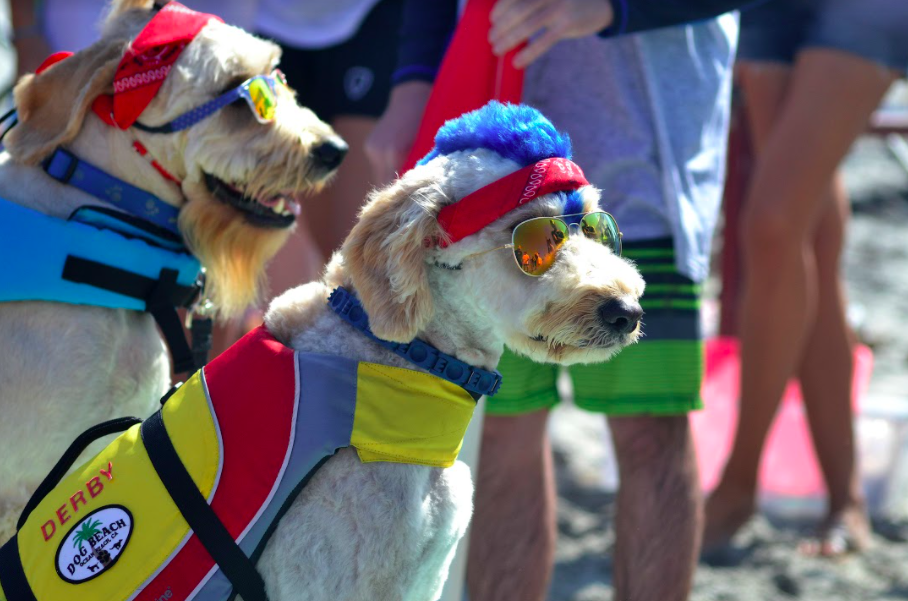 "Through all of this, Derby has always been my ride or die partner and has made starting a new life easy for me," stated Kentucky. "I love to share what joy Derby brings to me. So if someone sees us two goof balls that look alike doing crazy things and it puts a smile on their face, then it was all worth it."
THE PACK is streaming on Amazon Prime, available now. Tune in to watch Kentucky and Derby, as they prove that a man and his best friend can not only steal your heart but they can do anything they set their minds to.
Helen Woodward Animal Center's Amazon Wish List is available HERE.