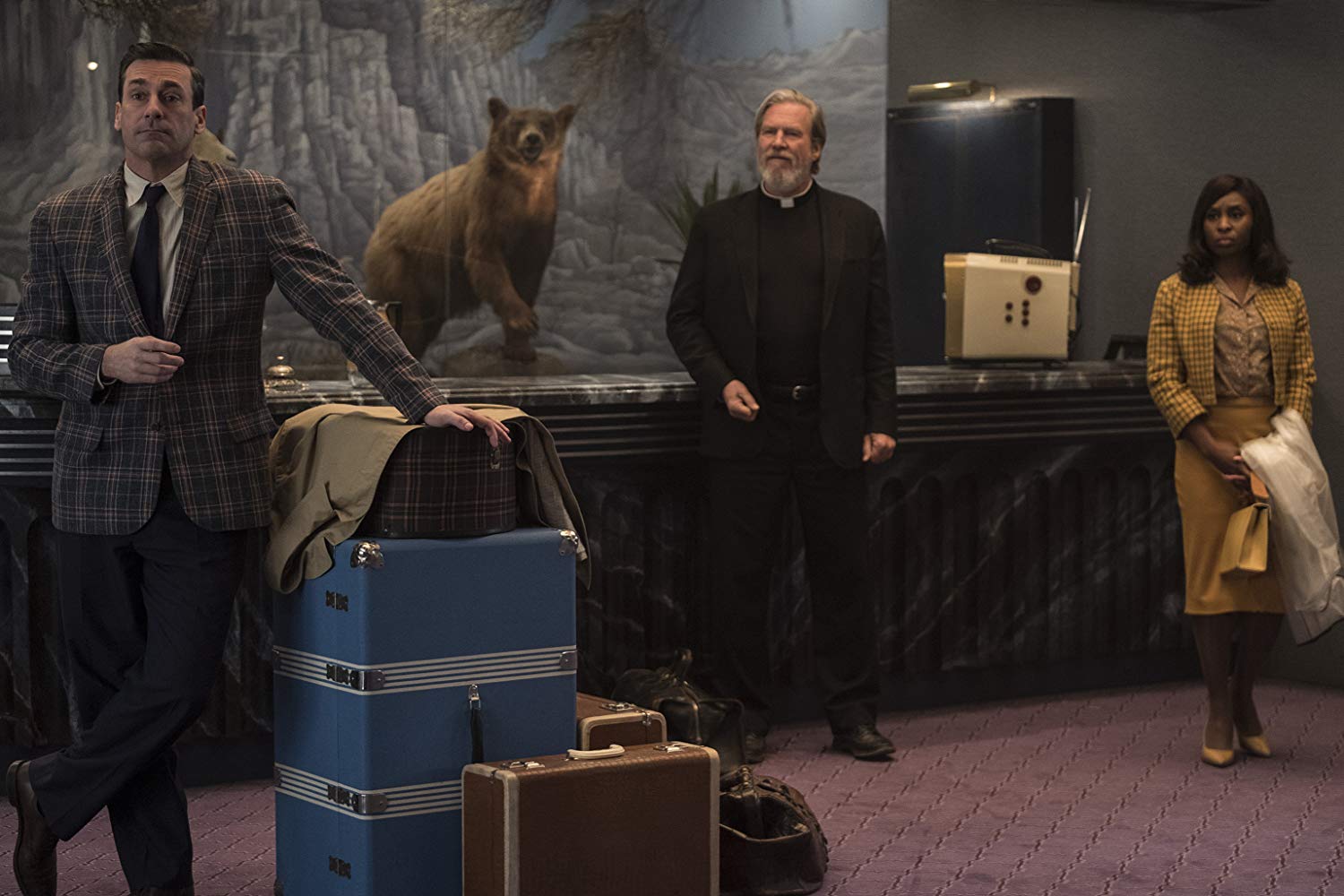 Seven strangers converge at a once-famous resort in search of a duffel bag full of cash in "Bad Times at the El Royale," a slick and stylish thriller that ultimately wears out its welcome, featuring Jeff Bridges, Jon Hamm, Dakota Johnson and Chris Hemsworth.
Written and directed by Drew Goddard ("The Cabin in the Woods"), this cleverly conceived but familiarly executed period thriller follows dangerously close to the Tarantino mold, and consequently will draw unfriendly comparisons to his films, especially those set in one location, shot in long takes and that unfold from multiple perspectives. Although the twisty plotline will keep audiences entertained throughout much of the proceedings, the constant perspective shifts and extended musical interludes eventually grow tiresome and seem intended to mask the script's deficiencies. Still, with a range of compelling characters inhabited by an excellent cast, stylish camerawork that captures the unique setting and brutal violence with flair, and a wealth of dazzling musical sequences, guests can expect some fleeting pleasures at the El Royale.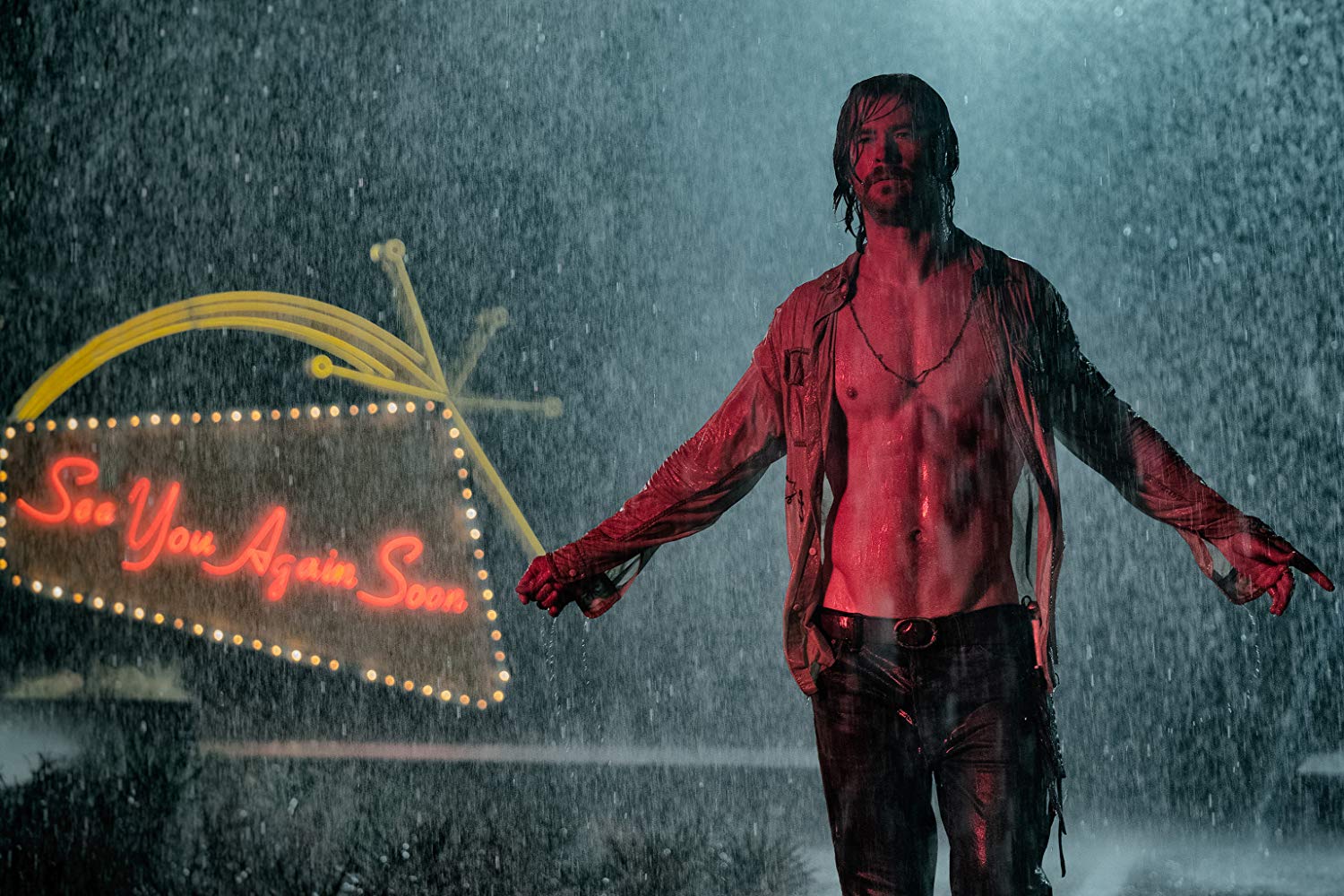 "Bad Times at the El Royale" kicks off in the late 1950s with a man burying a duffel bag of cash in the floorboards of a hotel room, only to be disposed of by a shotgun blast moments later. Cut to 1969, the hotel in question, a once-popular Lake Tahoe destination called the El Royale whose property straddles the state lines between California and Nevada, has fallen on hard times, its clientele a mishmash of disreputable types.
As the resort guests – an aging priest (Jeff Bridges), a traveling salesman (Jon Hamm), a soul singer (Cynthia Erivo), a hippy girl and her little sister (Dakota Johnson and Cailee Spaeny) – check in with the boyish manager (Lewis Pullman), it becomes clear that all is not well at the El Royale, and that the establishment abounds with secrets and hidden agendas. Before long, the motel's seedy underbelly comes to the fore, and as the character's true identities and motivations are revealed, the bodies start to pile up. Toss into the mix a cult leader (Chris Hemsworth), a decorated soldier with over a hundred and thirty kills and a heavy dose of Nixon era paranoia, and you're in store for some devilish thrills at the El Royale.
With his second feature film after the 2012 horror comedy "The Cabin in the Woods," writer-director Drew Goddard puts a premium on flair, but while the filmmaker's splashy style pairs well with the thriller genre, it also feels highly derivative of Tarantino. Also, at nearly two and a half hours, try as it might, "Bad Times" has an exceptionally difficult time sustaining audience interest throughout its extended running time, and no amount of stylized violence, cult chaos or musical flourishes can mask that reality. And while the look of the film feels very lived-in, both in terms of its Western-themed resort setting as well as the late 60s milieu, the script's attempts to ground the story in that era largely comes across as superficial.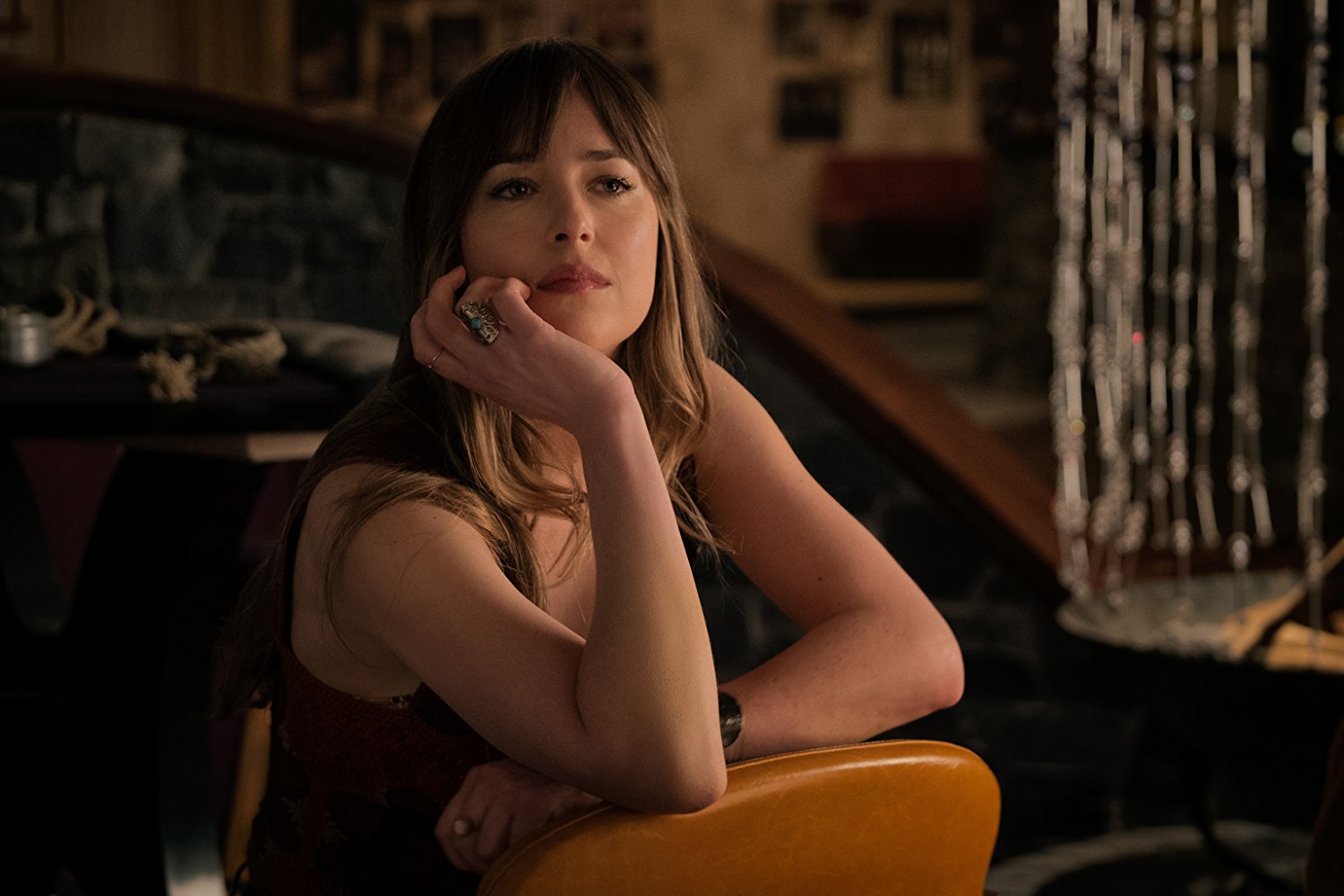 If there's a reason to see "Bad Times" beyond the stylish filmmaking, it's the multifaceted acting ensemble who slide their way into a host of slippery roles. For the marquee names, Jeff Bridges is aces as the alleged priest who has some unfinished business to settle at the El Royale; Jon Hamm excels as a traveling salesman involved in some governmental conspiracy; Dakota Johnson intrigues as a sadistic cult member; and Chris Hemsworth is all charisma and outsized ego as the Mansoneque cult leader. In the up-and-coming category, Cailee Spaeny makes her presence felt as Dakota Johnson's brainwashed younger sister while Lewis Pullman is amusingly offbeat as the motel manager; but it's Tony Award winning actress Cynthia Erivo who steals the show as the soul singer who shows surprising grit in the thick of the madness.
There are some good times to glean from "Bad Times at the El Royale," but this resort is little more than a façade.
By Lucas Mirabella
Running Time: 142 minutes
Rated R for strong violence, language, some drug content and brief nudity.
https://www.foxmovies.com/movies/bad-times-at-the-el-royale