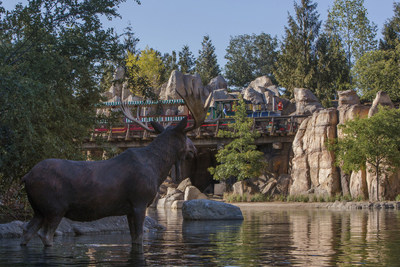 Once again, guests will enter Walt Disney's original Magic Kingdom to the sounds of train whistles and chugging engines, a familiar part of the Disneyland Railroad.
The Disneyland Railroad, re-opened July 29 and now travels a new scenic route along the north bank of the "Rivers of America," providing guests with a view of new rockwork and waterfalls along both sides of the train.
Guests also will enjoy this new landscape from the water as they welcome the return of the popular watercraft – "Mark Twain Riverboat," "Sailing Ship Columbia" and "Davy Crockett Explorer Canoes."
Kim Irvine, art director for the "Rivers of America" project, envisioned what it will be like for guests: "It's hard to believe that right here, smack dab in the middle of bustling freeways and high-rises, you can enjoy a relaxing ride on an open-air train car and sail on a ship or canoe down a rolling river, surrounded by towering pine and oak trees with sightings of deer, elk, moose and beautiful waterfalls."