There are so many things to do in and around Los Angeles during the holiday season. But what are the top activities!?
The Queen Mary's CHILL
CHILL transforms over two million pounds of sparkling ice into larger than life hand carved colorful ice sculptures in a giant Igloo called The Ice Kingdom.
Charles Dickens' classic tale of A Christmas Carol comes to life. Walk-through chilling scenes from the Nutcracker complete with castles and sugar plum fairies. The Ice Kingdom is kept at a frosty nine degrees Fahrenheit to preserve the ice. Guests receive parkas to help protect them from the chilling temperatures.
Along with the Winter Village, there's Glacier Glide Ice Tubing with six lanes of glistening ice slides standing two stories tall and 100-feet long in front of the Ice Kingdom. Ice skate under the stars on the 6,000 square-foot ice skating rink with the backdrop of the picturesque Queen Mary ship. CHILL pricing starts at $34.99 for adults and $24.99 for kids (ages 4-11).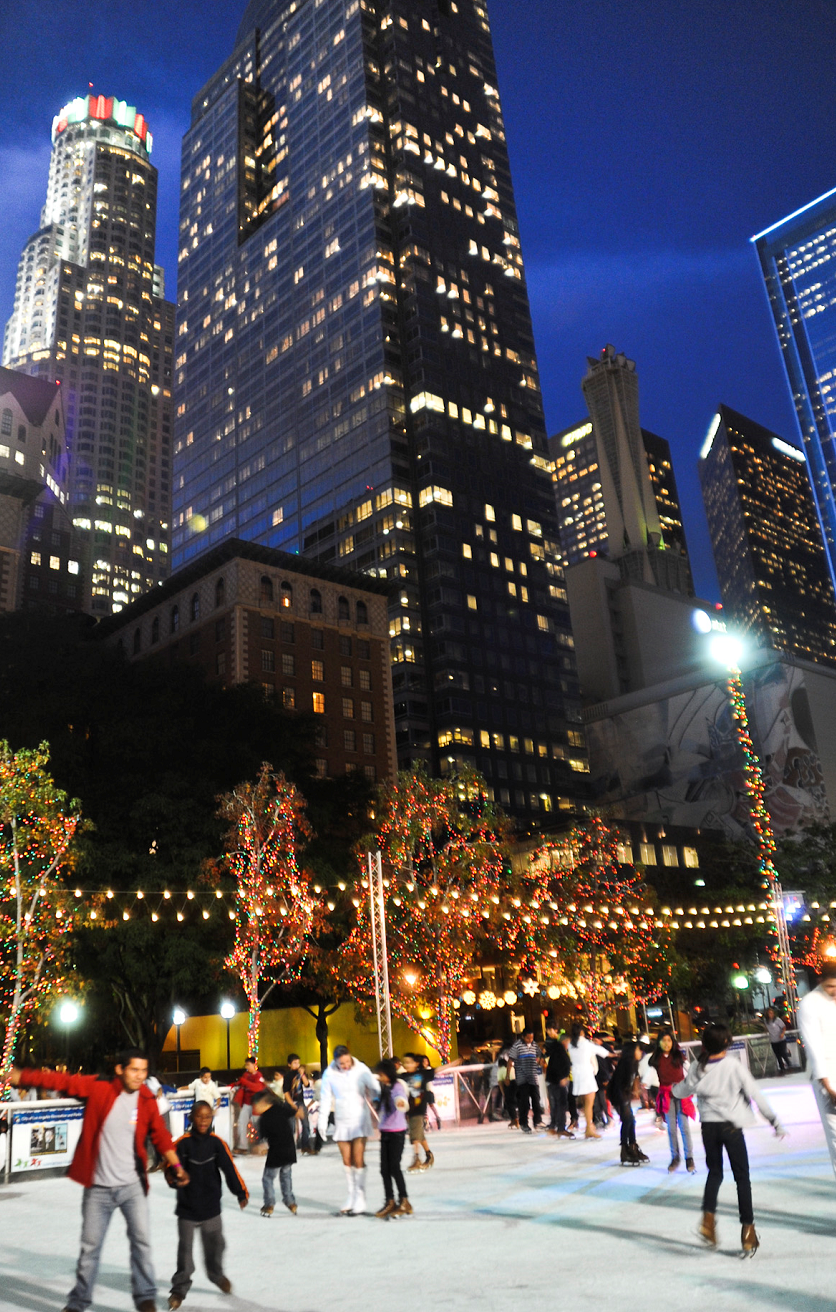 Holiday Ice Rink® in Pershing Square
Outdoor skating is in the heart of downtown LA for the 18th season and is open until January 18th. The rink hosts free events to bring people together — Single in the City, Snoopy Showcase, Deejay Thursdays, Holiday Hounds on Ice, the Polar Bear Skate, and more.
The rink is easily accessible by car, bus or Metro (Pershing Square stop). A partnership with Metro allows riders to receive a $1 skating session discount by showing their Metro transit receipt/pass. There is also convenient underground parking. General admission is $9. Figure skate and hockey skate rental is $4.
Kitty Bungalow's Holiday Party
On December 12th from 12-3pm at Pussy & Pooch in Beverly Hills! Kitty Bungalow is a nonprofit committed to changing the face of the oft-overlooked issue of feral cats. Who wouldn't want to snuggle with kitties, get their face painted and drink Meowmosas?
15% of all shopping will be donated to Kitty Bungalow!
Marina Del Rey Boat Parade
Also on December 12th… come on down to the small-town fishing village for the 52nd anniversary of the Marina Del Rey Boat Parade. 70 boats glide through the marina with holiday lights and decorations in competition. Categories include Best Theme, Best Animation, Best Band, Best Lights and more. The festivities begin at 5:55pm with fireworks, and the boat parade starts at 6pm, rain or shine.
The Grove
Holiday shopping with a view! Experience The Grove's 100-foot Christmas tree, Santa Claus and more! For special events:
http://thegrovela.com/calendar.php
For all of the events.. TimeOut LA has what you're looking for!