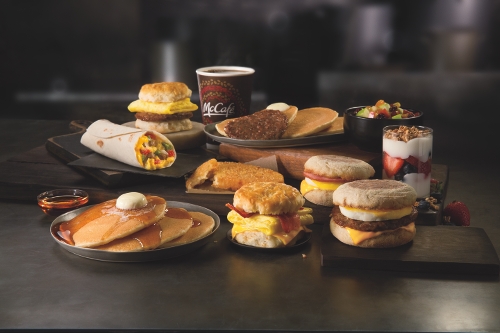 I will never miss the days when I reached the McDonald's drive-thru speaker and I was just 1 minute TOO LATE to order a breakfast sandwich. The breakfast menu was gone and I was forced to order a Big Mac instead (not that there's anything wrong with that). But, finally… The All Day Breakfast Menu at McDonald's starts today which means breakfast has been liberated!
Say goodbye to the traditional notion of breakfast. 10:30 a.m. will no longer be the end of breakfast.

Since September, @McDonalds responded to tens of thousands of people who had asked for All Day Breakfast on Twitter since 2007, letting customers know their dreams were about to become a reality. It's finally time for breakfast on your own terms.

Depending on your location, All Day Breakfast will have a limited menu that focuses on either McMuffin or Biscuit items. This decision is made at the local level based on customer preference. And this is just the beginning. McDonald's will continue to evolve the All Day Breakfast Menu as we receive customer feedback.
McMuffin Market Menu
McMuffin Sandwiches
· Egg McMuffin
· Sausage McMuffin with Egg
· Sausage McMuffin
Platters
· Hotcakes with Sausage
· Hotcakes
Sausage Burrito

Sides
· Fruit 'N Yogurt Parfait
· Fruit & Maple Oatmeal
· Hash Browns*
*available breakfast items vary by location

Biscuit Market Menu
Biscuits
· Bacon, Egg & Cheese Biscuit
· Sausage Biscuit with Egg
· Sausage Biscuit
Platters
· Hotcakes with Sausage
· Hotcakes
Sausage Burrito

Sides:
· Fruit 'N Yogurt Parfait
· Fruit & Maple Oatmeal
· Hash Browns*
*available breakfast items vary by location