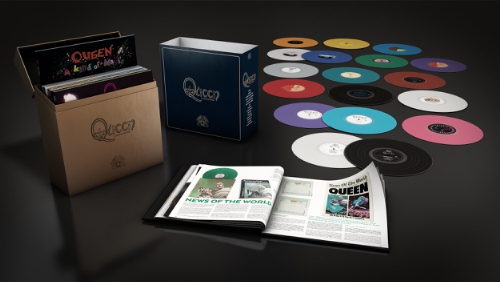 This is how listeners first heard the now legendary Queen in the 1970's when vinyl was the predominant format for recorded music. This September, Queen: The Studio Collection, re-mastered will be relased on the ultimate set of vinyl LPs available on September 15, 2015. The box-set offers many special features. Most noticeable is the colored vinyl: designed for collectors, each album has been given a different color, in keeping with its original artwork, giving a unique record-deck experience. The color discs have been custom-produced especially for this set, using new material technology which ensures the sound quality is uncompromised. 
The collection has been five years in the making. Throughout this time Queen's production team has worked extensively on all stages of this painstaking mastering process. To ensure optimum quality in mastering the music, the Queen team asked a number of world-renowned mastering engineers to deliver their best efforts on the same three songs.
The 18 vinyl LP box set comes with a illustrated 12 x 12 inch 108 page hardback book which features introductions to each album, quotes from Queen themselves, hand-written lyrics, rare photographs, memorabilia, and information on singles and videos – all made possible with unlimited access to Queen's own archive plus the personal archives of Brian May, Roger Taylor and some generous fans.
The Queen Studio Collection
Queen
Queen II *
Sheer Heart Attack
A Night at the Opera
A Day at the Races
News of the World
Jazz
The Game
Flash Gordon
Hot Space
The Works
A Kind of Magic
The Miracle
Innuendo
Made in Heaven
* 2 disc special edition exclusive to the box set.  1 disc standard edition available separately.