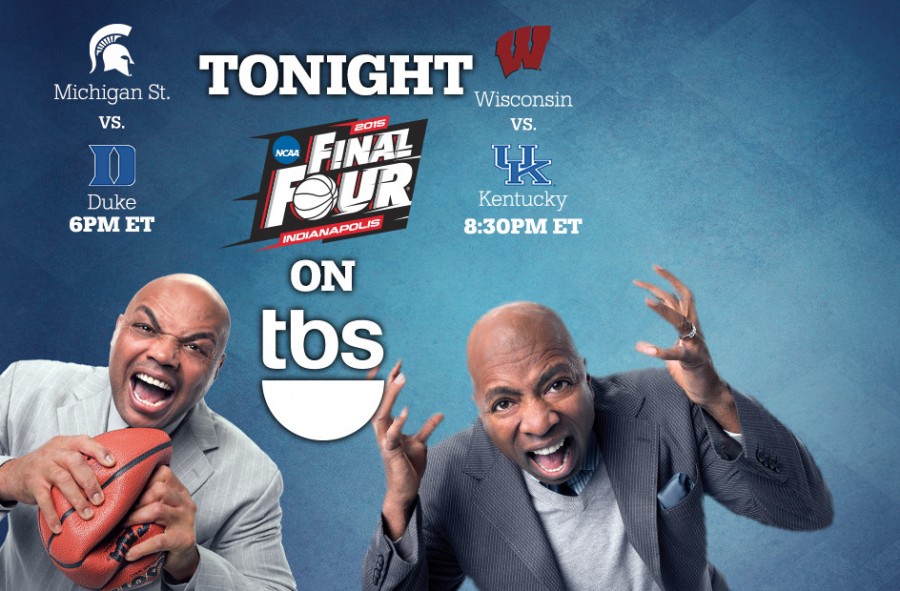 Tonight is the night. TBS will televise the NCAA Final Four National Semifinal games on Saturday, April 4, with game coverage beginning at 6 p.m. ET.  The network will feature three hours of pre-game coverage beginning at 3 p.m.
Saturday's NCAA Final Four National Semifinals will feature Duke against Michigan State at 6:09 p.m. on TBS. Kentucky against Wisconsin will follow 40 minutes after the completion of the Duke/Michigan State game. Jim Nantz will call the action with analysts Grant Hill and Bill Raftery with reporter Tracy Wolfson.  Nantz will be calling his 25th Final Four and National Championship, with Hill and Raftery working the marquee event for the first time this year.  
Ernie Johnson will host studio coverage from the Final Four and National Championship with analysts Charles Barkley, Clark Kellogg and Kenny Smith – joined by Greg Gumbel and analysts Reggie Miller, Seth Davis, Steve Smith and college coaches.
In addition to TBS' Final Four National Semifinal game coverage, TNT and truTV will feature "Team Stream Presented by Bleacher Report" or team-specific presentations tailored to the schools participating in each game. The inventive concept will continue to present the game with unprecedented local flavor including comprehensive team and player storylines, custom graphics, music, graphics and show packaging, additional cameras and team-centric replays, custom halftimes with school features and more.
Accompanying the live television coverage, NCAA March Madness Live will once again provide live streaming of the NCAA Final Four National Semifinals — including the Team Stream presentations — and the National Championship Game.
CBS will broadcast the National Championship on Monday, April 6, with pre-game coverage live from AT&T Stadium beginning at 8:30 p.m., and the game tipping off earlier this year at 9:10 p.m.