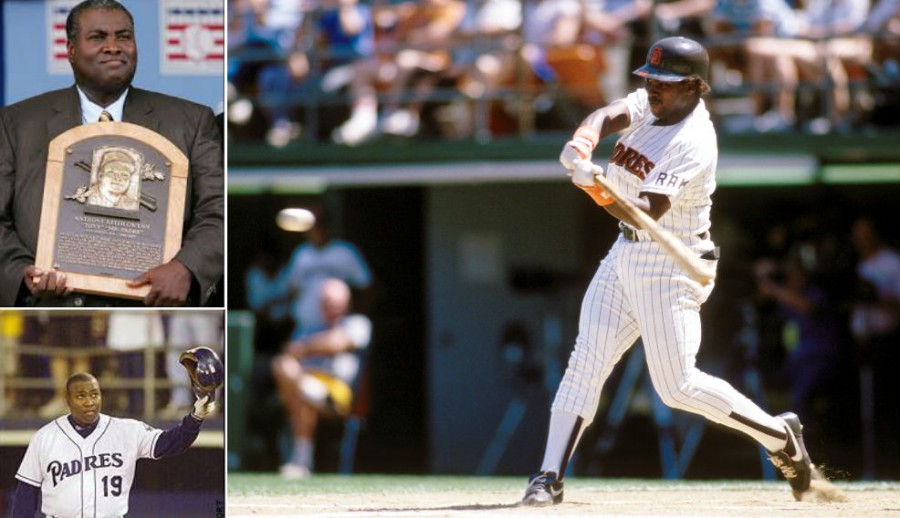 Baseball Hall of Famer and San Diego Padres legend, Tony Gwynn, died Monday morning after a battle with mouth cancer. He was 54.
Gwynn is one of Major League Baseball's most prolific hitters, amassing 3,141 hits and a career .338 batting average over 20 seasons, all with the Padres. In 2007, Gwynn was inducted as a first-ballot nominee for the Baseball Hall of Fame, sharing the honor with Baltimore Oriole great Cal Ripken Jr.
"Major League Baseball today mourns the tragic loss of Tony Gwynn," commissioner Bud Selig said in a statement Monday. "The greatest Padre ever and one of the most accomplished hitters that our game has ever known, whose all-around excellence on the field was surpassed by his exuberant personality and genial disposition in life.''
Gwynn led the Padres to their only two appearances in the World Series in 1984 and 1998. An anomaly in today's athlete culture, Gwynn spent his entire career with the Padres and left millions of dollars on the table out of loyalty to the organization. Since 2002 he was the head baseball coach at San Diego State University, his alma matter.
"Today I lost my Dad, my best friend and my mentor," Tony Gwynn Jr. said on Twitter over two tweets. "I'm gonna miss [you] so much pops. I'm gonna do everything in my power to continue to make [you] proud!" Gwynn's son is a member of the Philadelphia Phillies.
Gwynn was surrounded by family and friends at the time of his death. He is survived by his wife and two children.