Fifty years after gaining international recognition in the classic musical, "The Umbrellas Of Cherbourg," screen legend Catherine Deneuve hasn't lost a step, as evidenced by her wonderful performance in "On My Way," a lighthearted French road movie written and directed by Emmanuelle Bercot ("Clement").  
Deneuve has worked with some of the world's most celebrated directors and earned an Academy Award nomination for Best Actress in the 1992 film, "Indochine." She is perhaps best known for the icy femme fatale roles she portrayed in Roman Polanski's "Repulsion," Luis Bunuel's "Belle de Jour" and "Tristana."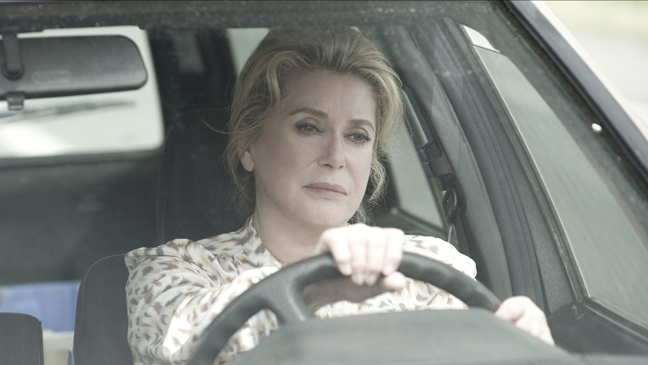 In "On My Way," Deneuve plays the multi-dimensional character, Bettie, a former beauty queen who is now the owner and head chef of her family's restaurant in Brittany. With her mother in her twilight years and her daughter estranged, Bettie oversees the daily operations of the family business; but when she discovers that her lover has jilted her, she decides to drop everything and go out for a drive to clear her head. That short drive quickly turns into an aimless trip through the French countryside, where Bettie engages in self-reflection and meets a host of quirky characters along the way. Some of her many exploits include: a hilariously desperate attempt to find a cigarette, a drunken fling with a much younger man, a pit stop at a gala for former Miss France participants, and a memorable bonding experience with her estranged grandson.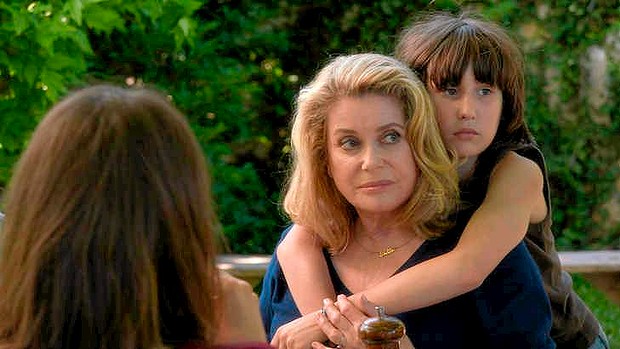 In the wrong hands, "On My Way" could be a very depressing story.  Luckily, the embarrassingly talented Deneuve brings to the character a childlike stubbornness that belies her age, and this disparity between her age and behavior is played for laughs on a number of occasions. This is not to say that Bettie is a caricature of an aging woman desperately trying to reclaim her youth.  Despite its many lighthearted moments and a generally uplifting vibe, the film is an unflinching depiction of a woman struggling to find the meaning of life.  
Partially inspired by Deneuve's earlier collaborations with Francois Truffaut, writer-director Emmanuelle Bercot excels at imbuing her film with a sense of realism, giving her scenes a slow, deliberate pace that helps underscore Bettie's sense of ennui. Bercot also enlisted the services of her talented husband, cinematographer Guillaume Schiffman, who captures the beauty of the French countryside, as well as her son, Nemo Schiffman, who gives an excellent performance as Bettie's estranged grandson. 
Overall, "On My Way" is an entertaining road film best suited to a more sophisticated audience. It's also concrete evidence of why Catherine Deneuve has captivated audiences for five decades and is still France's most iconic actress.
By Lucas Mirabella
This film is not rated; 113 minutes