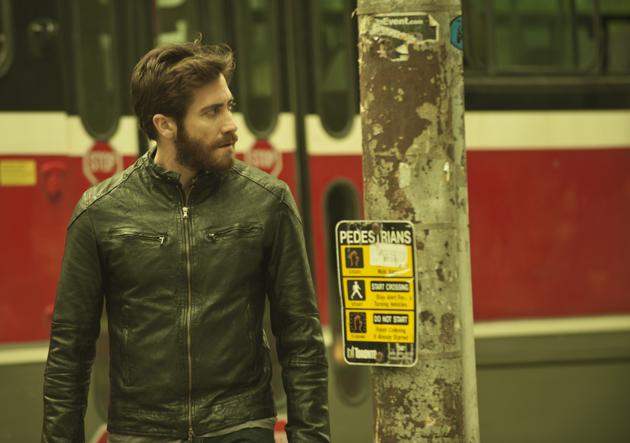 After chilling audiences with last year's child abduction tale, "Prisoners," director Denis Villenueve and actor Jake Gyllenhaal have reteamed on "Enemy," a psychological thriller co-starring Melanie Laurent and Sarah Gadon. 
Based on the novel, "The Double," by Portuguese writer Jose Saramago, "Enemy" is just as transfixing as the actor and director's previous pairing, and will have audiences on the edge of their seats wondering how this surreal story will play out. With an excellent cast centered around dual roles by Gyllenhaal, a mind-bending screenplay by Javier Gullon, haunting cinematography by Nicolas Bolduc and a moody score by Danny Bensi and Saunder Jurriaans, "Enemy" continually mesmerizes and provides the kind of sensory overload one looks for in the filmgoing experience. Certain plot elements are admittedly baffling, but it's purposefully disorienting, delving deep into the subconscious, and not a moment passes where the audience isn't fully immersed in the story's intricate web of duplicity.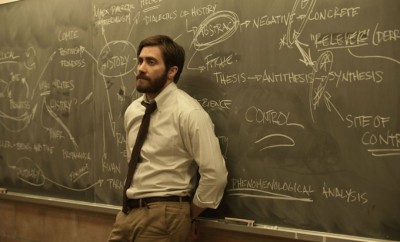 "Enemy" follows the story of Adam Bell (Jake Gyllenhaal), a gloomy history professor at a Toronto university whose life has reached an impasse. Bored with his job and nearing the end of a relationship with an icy girlfriend, Bell asks a colleague for a movie recommendation – something "cheery" – to get him out of his funk. He watches the film disinterestedly and goes to bed, but later that night he is startled awake by a haunting realization: there was an actor in the film that looks exactly like him. Unsure if his mind is merely playing tricks on him, he gets up to scan through the film and sure enough, a background actor playing a bellhop is his exact double. After some contemplating, Bell's curiosity gets the better of him and he takes the necessary measures – legal and otherwise – to get in touch with the aspiring thespian.
When Bell first reaches out to the actor, both parties are thoroughly creeped out by the implications of this eerie coincidence.  Nevertheless, they agree to meet in a discreet location. But at this encounter, Bell finds their similarities – same appearance, same voice, even the same scar on their torsos – too much to handle and he runs away from the hostile actor. Bell's obsession grows into the actor's obsession and their lives become entangled in ways that no one could anticipate, all the while leading up to a final plot twist so jarring and unexpected it will have viewers returning for multiple viewings.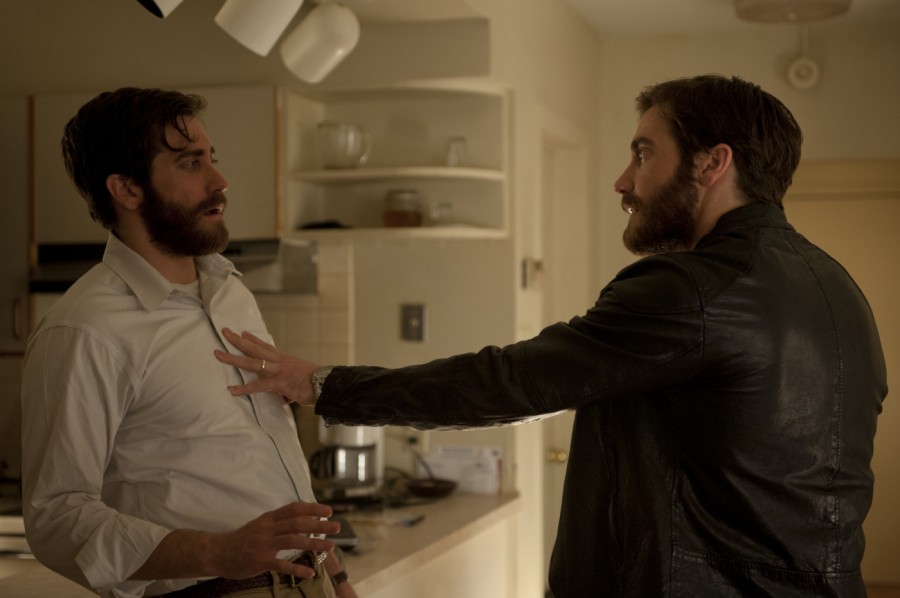 On the surface, the premise sounds somewhat gimmicky. Luckily, when placed in the hands of a masterful filmmaker like Denis Villenueve, the story really comes to life.  Aside from the excellent performances he coaxes out of his actors, what places him in the filmmaking stratosphere is his ability to weave together every aspect of the cinematic process to achieve such an assured tone. "Enemy" is like the worst of nightmares come to life, and everything from the cinematography to the production design on down helps achieve this effect.  Villenueve may not be as well known in the States as other international directors like Guillermo Del Toro or Fernando Mereilles, but after "Prisoners" and now "Enemy," he's quickly becoming a household name.
"Enemy" hinges on the audience's willingness to accept Gyllenhaal in two distinct roles, and there's no denying he rises to the occasion to pull off this tricky double duty. This feat is most evident in the scenes Gyllenhaal shares with his doppelganger, as we can see the differences in each character onscreen at the same time. Performing these scenes alone must have been an arduous task, but Gyllenhaal makes it look easy. Also impressive is his ability to not only play two distinct characters, but for those characters to have completely credible relationships with different women. Melanie Laurent (Shosanna in "Inglourious Basterds") is appealing as the detached girlfriend stuck in a broken relationship.  As the actor's pregnant wife, Sarah Gadon ("Cosmopolis") really delivers in the juicier of these two female roles; her reaction shots and general discomfort with the situation add greatly to the unsettling air that pervades the film.
Without giving too much away, the final plot twist will ultimately divide viewers, as it unfolds in such a way that makes you question the reality of the events that preceded it.  That being said, once this film has you in its surreal clutches, it doesn't let up until the final frame. Audiences who demand clear-cut closure from their entertainment may not find this film satisfying in the traditional sense, but it's all about the journey, not the destination, and "Enemy" is one hell of a ride.
By Lucas Mirabella
"Enemy" is Rated R for nudity and language, 90 minutes