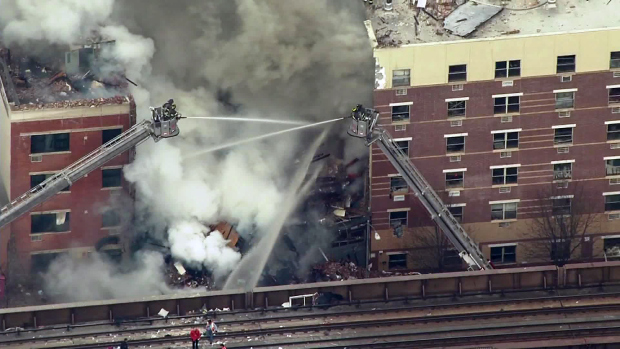 Photo Courtesy of newyork.cbslocal.com

The scene in East Harlem, New York around a three block radius is covered in smoke and dust from an explosion which took place on Wednesday. One building has collapsed and there is no news yet on the second building. The flames took over around 9:15 a.m. on Park Avenue on 116th Street, the FDNY said. One of the buildings that collapsed had a piano repair shop with apartments above. The second housed a church. According to CNN, 3 are reported dead and over 16 injured.
Con Ed spokesman Bob McGee said they received a call of a gas leak at 9:13 AM. The call came from a resident at one of the newer buildings on Park Avenue. Although a truck was dispatched, by the time they had arrives, the explosion had already occured, a spokesman told CNN.
Dark smoke hovers over cars with windows blown out. Currently, Metro North rail service has been suspended due to debris from the explosion which landed on tracks across the street. 
FDNY is continuing its efforts to contain the fire and put it out. The cause was due to the gas leak explosion.