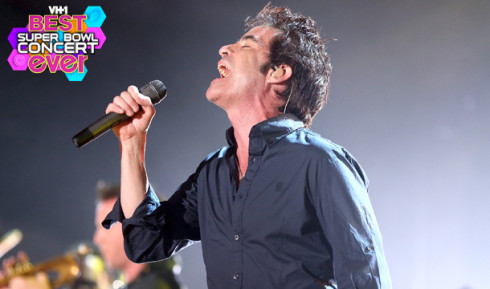 Team VH1 and NFL have the home field advantage in 2014 as Super Bowl XLVIII pregame festivities tackle New York and New Jersey.  Expanding on its successful collaboration with the NFL on the annual pre-Super Bowl live concerts, VH1 and NFL are taking it to the streets and multiplying the excitement six-fold in NY and NJ.
Some of music's biggest names will huddle up for six concert shows throughout the five boroughs and New Jersey in the six days leading up to football's biggest game. The VH1 Super Bowl Blitz (#VH1BLITZ) will begin on Monday, January 27 th through Saturday, February 1 at 11PM ET/PT, and rain or shine, snow or hail, no part of the NY/NJ area will be untouched.  From Queens to the Bronx, through Brooklyn and Manhattan, passing through Staten Island and concluding in the game's host state of New Jersey, VH1 is bringing this year's chart-topping musicians to a series of performances each night to celebrate Super Bowl XLVIII.  Talent and ticket information will be announced shortly via @VH1 on Twitter and VH1's Facebook page.
The VH1 Super Bowl Blitz will be the ultimate music fan's pregame party –six nights in a row.  Viewers and concert-goers are invited to different venues around the city and into New Jersey for a live show by one of today's hottest artists. The journey ends at the biggest sporting event of the year – the Super Bowl.
The VH1 Super Bowl Blitz locations include:
Queens: Monday, January 27
Bronx: Tuesday, January 28
Brooklyn: Wednesday, January 29
Manhattan: Thursday, January 30
Staten Island: Friday, January 31
New Jersey- Saturday, February 1
But tickets are not for sale. These are private shows with a limited amount of tickets up for grabs via Twitter.  Imagine seeing the tweet "Meet me at the Brooklyn Bowl at 11pm 'cause (insert your favorite music group) is playing! #VH1BLITZ"
The VH1 Super Bowl Blitz, is executive produced by Michael Dempsey for Dempsey Productions.  Lee Rolontz and Rick Krim are executive producing and Lara Fried is producing for VH1.