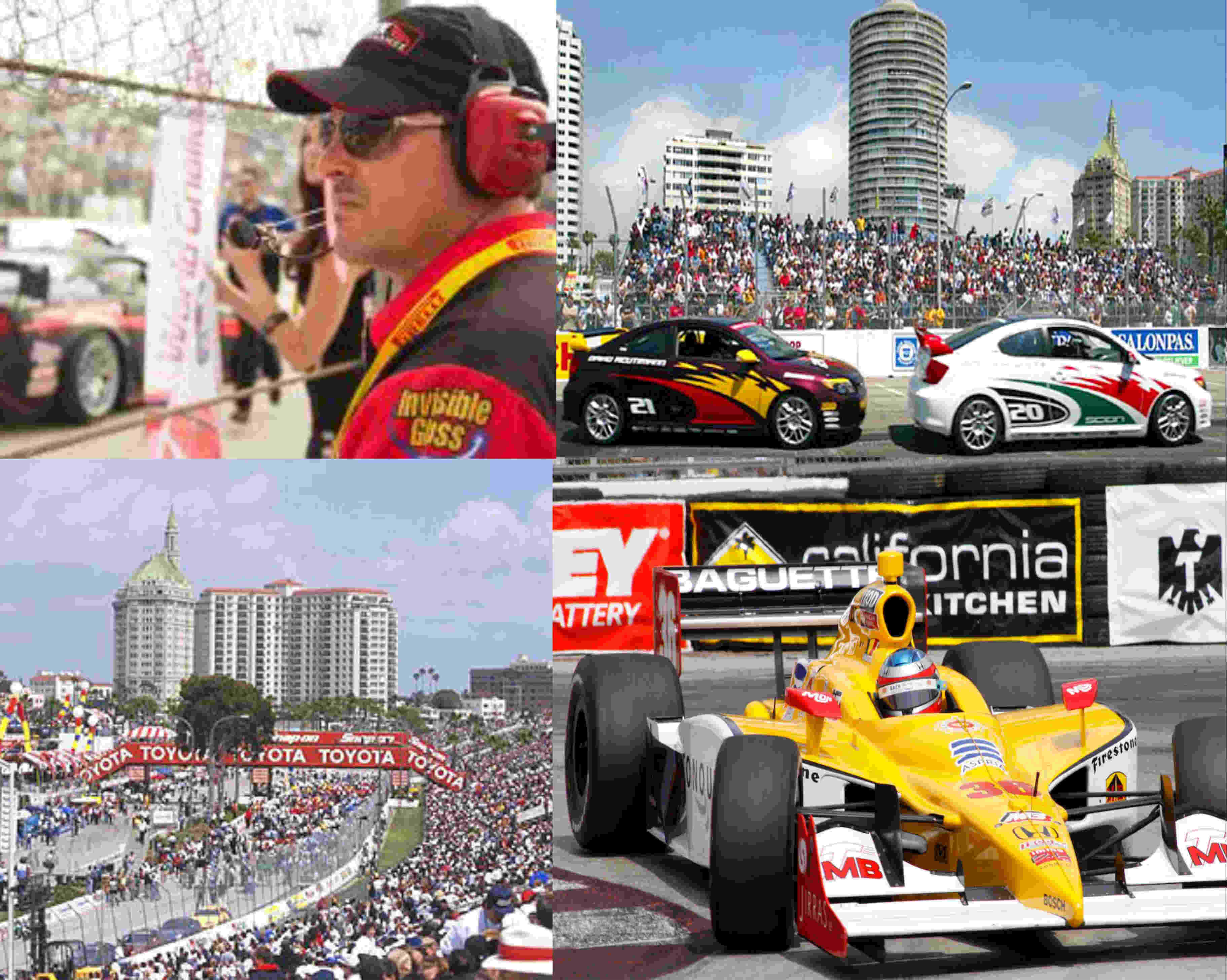 Yesterday marked the opening of the 39th Annual Toyota Grand Prix of Long Beach, April 19-21! America's #1 Street Race has a menu of unique VIP Clubs open to any racing fan who wants to be up close to the action. 
The 2013 Toyota Grand Prix of Long Beach will feature racing from the IZOD IndyCar Series, Toyota Pro/Celebrity Race, Tequila Patrón American Le Mans Series, Firestone Indy Lights, Pirelli World Challenge, Robby Gordon OFF-ROAD Stadium SUPER Trucks and the Motegi Racing Super Drift Challenge.  
Tickets for the 2013 Toyota Grand Prix of Long Beach are available now at www.gplb.com.  Fans can select their seats, parking and paddock passes on the website or by calling the toll-free ticket hotline, (888) 82-SPEED.  Also featured on gplb.com is the latest Toyota Grand Prix of Long Beach news, a downloadable ticket brochure and racetrack information, photos and ongoing announcements of special race week activities.
Ticket prices range from $28 for a Friday General Admission ticket to $130 for a three-day ticket that includes Sat./Sun. reserved seating in grandstand upper levels.  A wide variety of Hospitality Club packages are also available.
Fans can follow the Toyota Grand Prix of Long Beach on Facebook at GrandPrixLB, on Twitter @ToyotaGPLB (#TGPLB) and on Instagram at ToyotaGPLB.
Full Schedule:
Friday, April 19
7:00 a.m. Gates open
7:30 – 9:30 a.m. American Le Mans Series Practice
10:30 – 11:15 a.m. IZOD IndyCar Series Practice
11:30 a.m. – noon Toyota Pro/Celebrity Race Practice
12:15 – 1:15 p.m. Firestone Indy Lights Practice
2:30 – 3:15 p.m. IZOD IndyCar Series Practice
3:30 – 4:00 p.m. Toyota Pro/Celebrity Qualifying
4:00 – 5:00 p.m. IZOD IndyCar Series All-Driver Autograph Session (IndyCar Paddock – FREE to all ticket holders for this activity)
4:15 – 4:45 p.m. Pirelli World Challenge Championship Practice
5:00 – 6:30 p.m. American Le Mans Series Qualifying
6:45 p.m. Tecate Light Fiesta Friday Concert Starring Moderatto and Moenia
7:00 – 7:45 p.m. Motegi Racing Super Drift Challenge Practice
7:45 – 9:00 p.m. Motegi Racing Super Drift Challenge Qualifying
Saturday, April 20
7:30 – 8:15 a.m. Pirelli World Challenge Practice
8:30 – 9:15 a.m. Firestone Indy Lights Practice
10:40 – 11:25 a.m. IZOD IndyCar Series Practice
11:40 a.m. – 12:40 p.m. Toyota Pro/Celebrity Race (10 laps)
12:55 – 1:40 p.m. Firestone Indy Lights Qualifying
2:00 – 3:10 p.m. IZOD IndyCar Series Qualifying & Firestone Fast Six
3:55 p.m. American Le Mans Pre-Race Ceremonies
4:30 – 6:30 p.m. Tequila Patron American Le Mans Series Race (120 minutes)
6:45 p.m. Tecate Light Rock-N-Roar Concert Starring Bret Michaels
7:00 – 9:00 p.m. Motegi Racing Super Drift Challenge
Sunday, April 21
7:20 – 7:40 a.m. Stadium SUPER Trucks Practice
8:00 – 8:25 a.m. Pirelli World Challenge Qualifying
9:00 – 9:30 a.m. IZOD IndyCar Series Practice
9:55 a.m. Firestone Indy Lights Pre-Race
10:15 – 11:15 a.m. Firestone Indy Lights Race (60 minutes)
11:30 – 11:38 a.m. Mothers Polishes Exotic Car Parade
12:00 p.m. – 12:20 p.m. Stadium SUPER Trucks Exhibition Race
12:30 p.m. IZOD IndyCar Series Pre-Race Ceremonies
1:38 p.m. "Drivers, Start Your Engines!"
1:45 – 3:30 p.m. Toyota Grand Prix of Long Beach (Round #3 of the 2013 IZOD IndyCar Series)
3:55 – 4:10 p.m. Formula DRIFT Demonstration
4:30 – 5:30 p.m. Pirelli World Challenge Championship Race (60 minutes)
Schedule Subject to Change Without Notice