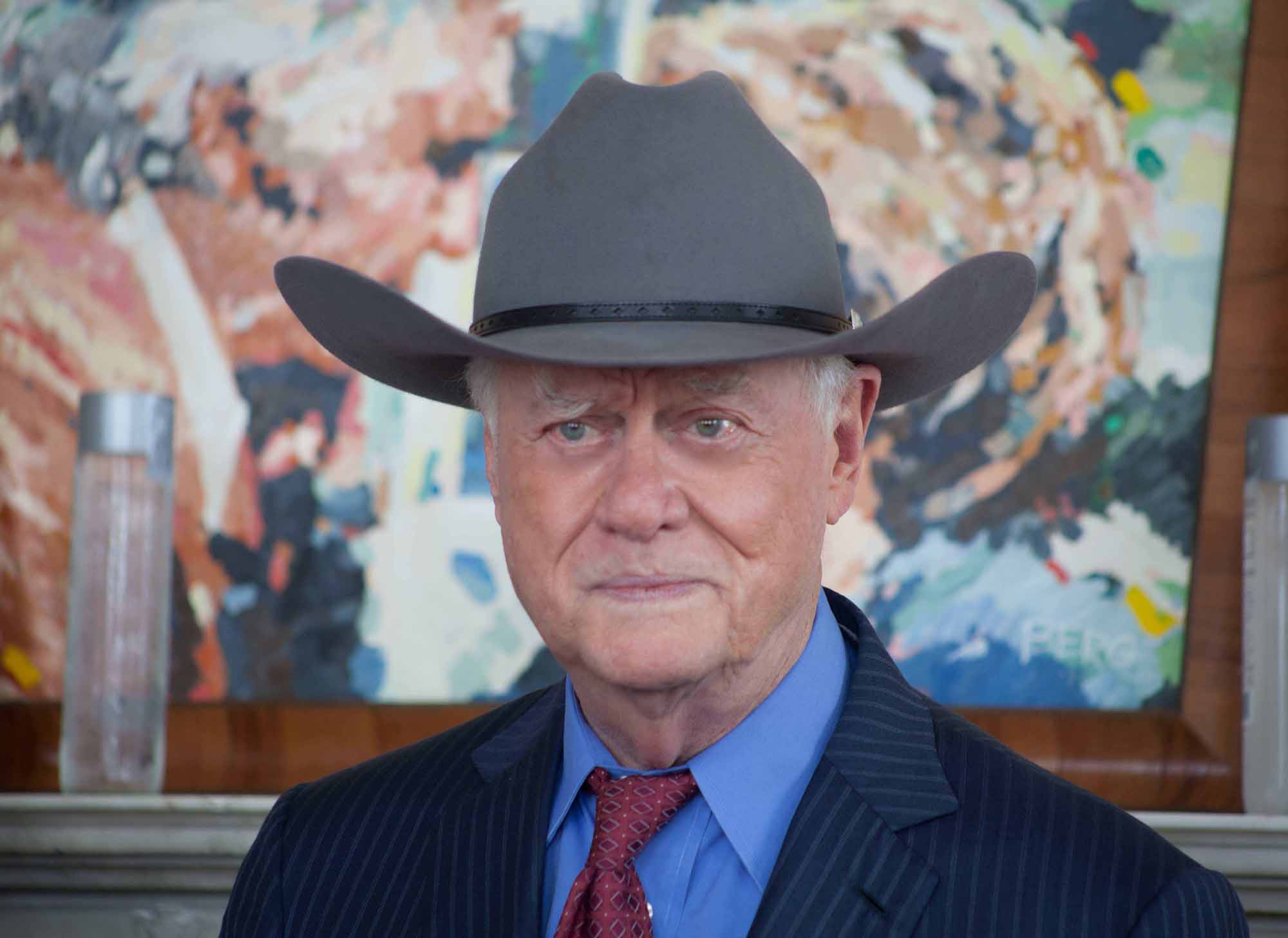 Larry Hagman's legacy will forever live on in LATF's heart. We were so lucky to have met him last year when we interviewed the Dallas star for our Issue #24 cover story. Now Bonhams will present a selection of items from the Estate of the actor who was best known for portraying J.R. Ewing on the classic soap opera Dallas. May 5th marks the Entertainment Memorabilia auction and May 12 Period Art and Design auction, both to be held in Los Angeles.
Hagman began his career in the 1950s on the New York stage, but his breakthrough role was as Major Anthony Nelson, Jeannie's "master" on I Dream of Jeannie. Items related to the show include several replica "Jeannie" bottles, including one designed by Hagman himself (est. $1,000-1,500 each), as well as a photograph of Hagman with Barbara Eden, lovingly inscribed by the actress to her former costar (est. $200-300).
Items on offer from Dallas include a complete set of Hagman's scripts from season 7 of the show (est. $600-800); a portrait of him by Oenone Acheson, featured in season 13 (est. $1,500-2,000); a group of photographs of him with his Dallas costars Linda Gray and Patrick Duffy (est. $300-500); a pair of Hagman's Dallas cast jackets (est. $300-500); and a group of awards Hagman received for his role on the show (est. $500-700).
The May 5 auction will also feature a large collection of custom leatherwork by Edward Bohlin, leathermaker to the stars, including a saddlebag (est.$1,000-1,500), Hagman's Dallas script binder (est. $600-800), his briefcase (est. $600-800) and his director's chair (est. $2,500-3,500), plus a custom Bohlin "J.R." belt buckle, made of silver and 10kt gold and decorated with rubies (est. $3,000-5,000), recently featured on the 2013 season finale of TNT's Dallas.
The Estate also includes Stetson hats, a Southfork Ranch belt buckle, a cartridge belt with holsters, hunting clothing and accessories, photographs, posters and other memorabilia of varying estimates. Additionally, it features memorabilia relating to Hagman's mother, Broadway legend Mary Martin, including a book inscribed to her by Truman Capote (est. $400-600), a sterling silver picture frame gifted to her by Carol Channing (est.$300-500) and a sterling silver salver gifted to her by Fieldcrest, for whom Martin served as a spokesperson (est. $800-1,200).
The auction catalog will be available soon at www.bonhams.com