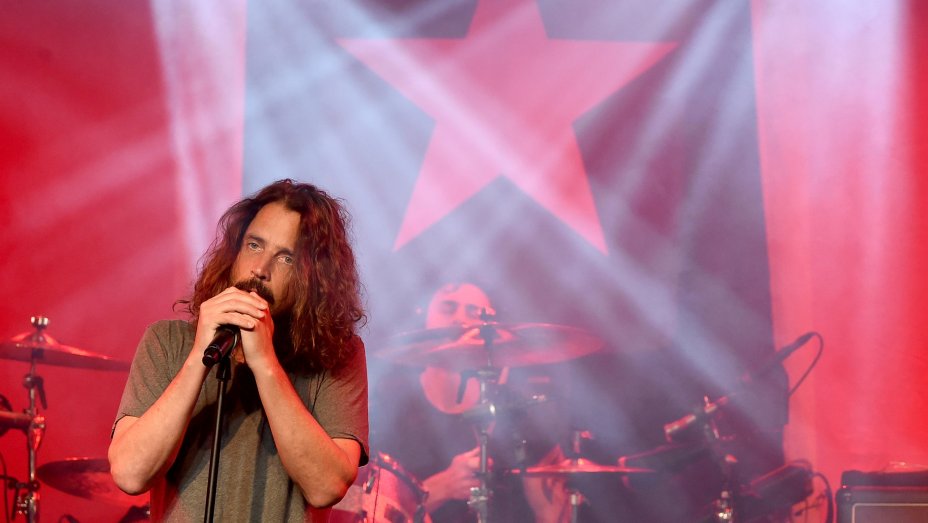 Less than 24 hours after the Wayne County Medical Examiner's Office determined that Soundgarden singer Chris Cornell died as a result of suicide by hanging himself inside his Detroit hotel room early Thursday morning, Cornell's wife and attorney called that ruling into question. "Without the results of toxicology tests, we do not know what was going on with Chris — or if any substances contributed to his demise," lawyer Kirk Pasich said in a statement, noting that both are "disturbed at inferences that Chris knowingly and intentionally" took his life.
They added that Cornell was a recovering addict with a prescription for the anti-anxiety medication Ativan and that he may have taken a bigger than recommended dosage. "The family believes that if Chris took his life, he did not know what he was doing, and that drugs or other substances may have affected his actions," they wrote, with Pasich adding that some medical literature indicates that "Ativan can cause paranoid or suicidal thoughts, slurred speech and impaired judgment." "Ativan is a sedative in the benzodiazepine family, like drugs such as Xanax or Valium. It's something that in the same way we talk about people with alcohol who can have a social drink and it's never associated with anything bad, but situationally alcohol can completely disinhibit someone and lead them to do things and mixed with other substances it can be lethal," said Dr. Praveen R. Kambam, a clinical assistant professor at UCLA Department of Psychiatry who has an addiction medicine certification and a focus in forensic psychiatry. "People often die with alcohol or benzos in their system and if you mix them with the wrong thing it can lead to confusion and delirious symptoms."
Kambam told Billboard that an overdose of a benzo such as Ativan can lead to cardiac issues and cause a patient to stop breathing. "Let's say you were delirious from medication and not fully aware of what you were doing or the consequences that could happen?" he said, noting that in his work with children there is sometimes a "paradoxical reaction" to certain benzo drugs where the patient can get very agitated and hurt themselves or get disinhibited in another way that clouds their judgment or conjures dark impulses they are unable to control.
On Friday, Men's Health magazine resurfaced an 11-year-old interview with Cornell in which the singer discussed his long struggles with depression and dark thoughts. "I was depressed for a long time. If you're depressed long enough, it's almost a comfort, a state of mind that you've made peace with because you've been in it so long. It's a very selfish world," he told the magazine.