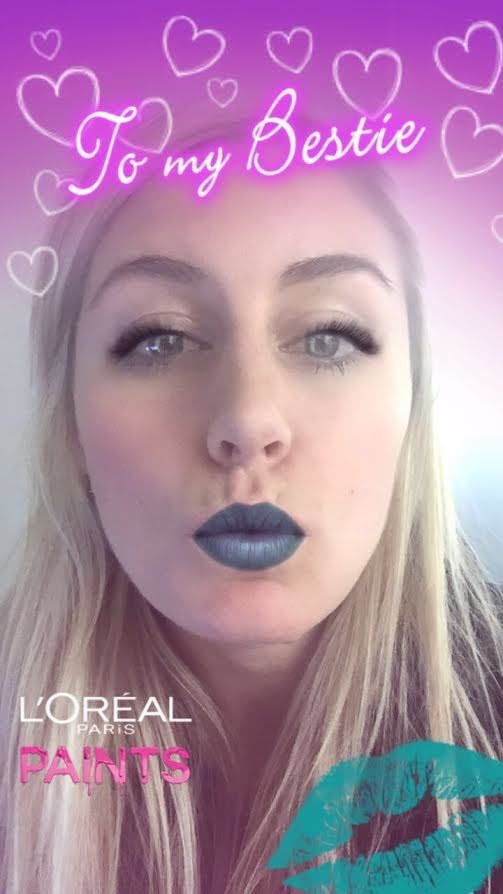 Forget sending traditional Valentine's Day cards this year and get ready to experience the holiday in a beautifully modern way, thanks to L'Oréal Paris. To mark the holiday and celebrate the brand's new Infallible Paints™ makeup collection, the #1 global beauty brand is launching a Valentine's Day-themed Snapchat lens available exclusively today. The lens makes it easy for users to send a Valentine to their friends, family and sweethearts alike, conveying messages of love and worth. This marks the brand's third Snapchat lens, having debuted the first branded beauty lens in June 2016.
A fun and interactive way to commemorate Valentine's Day, the lens includes the customizable option of addressing a "Sweetheart" or "Bestie". The vibrant, colorful nature of the lens not only expresses the essence of the holiday, but also that of the brand's new makeup collection. When used, a series of kisses – colored brightly by the new Infallible Paints™ assortment of hues – populates the screen.
In addition to the lens, L'Oréal Paris can be found in the Snapchat Valentine's Day Live Story, debuting four new Infallible Paints™ advertisements.
"We are excited to build on our leadership in digital innovation to include a lens that is truly interactive, and that prompts subsequent sharing and engagement," says Kristen Comings, Vice President of Integrated Consumer Communications, L'Oréal Paris USA. "The lens was specifically designed to be inclusive so that everyone can take part - whether sending to a significant other, family member or a friend."
Infallible Paints™ is a collection of lip, eye and face products centered on professional, high impact pigments paired with comfortable wear. From liquid lacquer lips, to a blush compact that is sure to become a staple in makeup bags nationwide, Infallible Paints™ allows women to express themselves in a daring, new way. The entire Infallible Paints™ collection is available at mass, food and drug retailers nationwide.