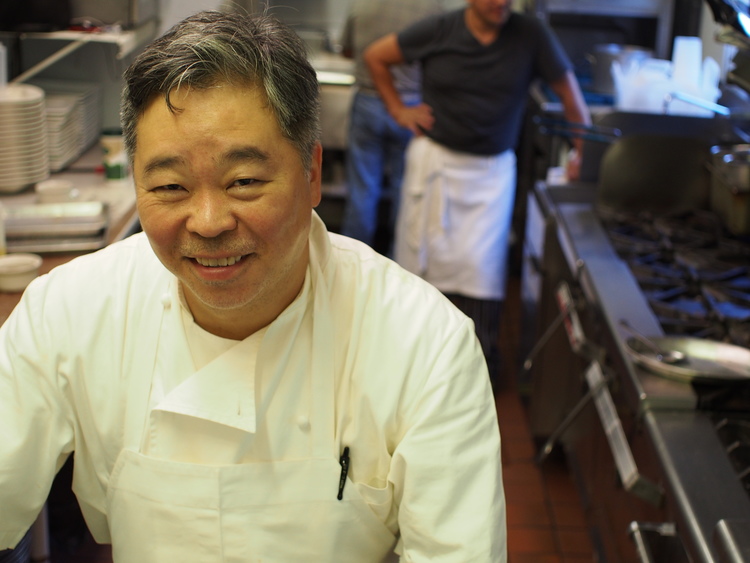 For our 50th issue of LATF The Magazine, the Gourmet Detective traveled over 3,000 miles to Branford, Connecticut to dine at one of the most talked about French restaurants in the North East. Every year during the holiday season I bundle up and visit picturesque Connecticut, located less than two hours from New York City. With streets lined with quaint coffee shops and ice cream parlours, one of the most charming stops in the town of Branford is Chef Roy Ip's Le Petit Café.
In an economy when many restaurants are here today and gone tomorrow, Chef Roy's bistro has withstood the test of time for almost twenty years since he first opened his doors in 1997. Born and raised in Hong Kong, two questions come to mind: Why specialize in French cuisine and settle in small town U.S.A?
Chef Roy explained that he began cooking when he was very young.
"I came from a big family in Hong Kong and I'm the 5th child of my six siblings. Everyone worked and helped. Usually the sixth child is the one being pampered, so who does all of the work? (Laughter), the 5th child! I experienced different kinds of cooking helping my mom; chopping and doing the dishes."
Two decades ago, Chef Roy made the big move to follow his passion for cooking.
"French cooking always intrigued me and was fascinating. The presentation, the principle and the attitude is so meticulous. When I came to America in 1994-95, I first lived in Manhattan. I saw the French Culinary Institute in New York and I wanted to give it a try to see if this was what I was dreaming of. Twenty years later…"
It turns out that his dreams came true. He wanted to open a bistro because he finds the art of bistro cooking "very down-to-earth." He describes it as home-cooking, but a level up in terms of the cooking technique and sophistication.
Chef Roy opens Le Petit Café for dinner Wednesday through Sunday and on Saturday evenings for two fixed seatings at 5:30 PM and 8:30 PM. Every morning, he prepares all of the organic and natural ingredients to create the evening's menu. All sauces, baked goods and pastries are made from scratch in the kitchen. To keep the intrigue, Chef Roy changes the Menu du Jour on a weekly and seasonal basis.